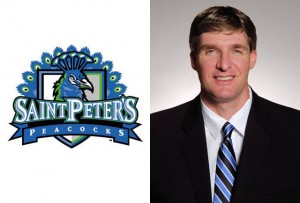 A weekly round-up of men's basketball in the Metro-Atlantic Athletic  Conference.
Saint Peters and John Dunne agree on contract extension
Saint Peter's College has announced that Head Men's Basketball Coach John Dunne has received a contract extension through the 2015-16 season. He led the Peacocks to their first MAAC Championship and NCAA Tournament appearance since 1995 and their first 20-win season since 1990-91.
"John has done an excellent job rebuilding the men's basketball program over the past five years," said Director of Athletics Patrick Elliott. "Throughout his tenure he has guided our student-athletes to success both on the court and in the classroom. We are excited about the future of Saint Peter's basketball with Coach Dunne leading the way."
Dunne won just 11 games over his first two seasons at the helm, but has won 47 over the past three seasons, including 30 MAAC wins. The Peacocks have put together back-to-back winning seasons for the first time since the 2004-05 and 2005-06 seasons. They also have won 16 games in back-to-back seasons and 11 MAAC games in back-to-back seasons for the first time since the 1987-88 and 1988-89 seasons.
Masiello names Kidani Brutus Manhattan team captain
RIVERDALE, N.Y. – After a successful off-season signing three recruits, Manhattan first year men's basketball coach Steve Masiello designated the Jaspers' leader for the 2011-2012 campaign by naming senior Kidani Brutus team captain. Brutus is the program's first team captain since 2006-2007 when former Jasper Guy Ngarndi '07 proudly served the role. Brutus becomes the 122nd Manhattan men's basketball team captain in the program's rich 105-year history.
"Kidani has represented what we want from all our guys," said Masiello. "He is always positive; he takes on every challenge; he is always upbeat; and he doesn't shy away from hard work. We want his attitude to be contagious."
Meet Siena's Lionel Gomis and Imoh Silas
Ben Davis completes Siena staff
Ben Davis has been hired as the new men's basketball assistant at Siena College. Davis recently completed his third season as assistant coach at Stonehill College in Easton, Mass. He fills the position vacated by Steve Ott, who accepted an assistant coaching position at Lehigh on May 27.
"Ben has demonstrated a phenomenal work ethic, and will be a valuable asset to our staff," Buonaguro said. "I was looking for someone who could hit the ground running in this position, and handle many of the day-to-day responsibilities surrounding our program. I'm confident Ben is the right man for the job."
African forwards adjust to Siena
LOUDONVILLE – I talked this week to African big men Imoh Silas and Lionel Gomis, both incoming Siena freshmen, for a story for tomorrow's paper.
The 6-foot-8 Silas, from Nigeria, and 6-9 Gomis, from Senegal, are on campus along with the other freshmen, taking summer classes and playing pickup basketball.
Both moved from Africa three years ago and attended Northeast prep schools – Silas at Holderness (N.H.) School and Gomis at Blair (N.J.) Academy.
"Things are going good," said Gomis, whose native language is French. "I like it pretty much. The team is pretty fun, and that's really what I thought before I committed. So I'm enjoying it right now."
And now a word from our partner

Click here for more information about Flash Tags.
Ride the Pine on the go!
Sounds like an oxymoron, but use your free Microsoft Tag App to scan the image below and stay connected with Pickin' Splinters!
NBA draft loaded with Siena opponents
As expected, Siena senior forward Ryan Rossiter wasn't among the 60 players taken in Thursday's NBA Draft.
However, a glance at the board does reveal nine drafted players who faced Siena, UAlbany, or both programs over the past few years.
Two of them appeared at Times Union Center last season. Georgia Tech guard Iman Shumpert, whose team lost at Siena, went No. 17 to the New York Knicks. Butler guard Shelvin Mack, whose visiting team beat the Saints, was selected No. 34 by the Washington Wizards.
Celtics' pick had success vs. MAAC teams
Your hoopscribe certainly won't profess to be a professional basketball scout, but I will claim to have a working knowledge of talent … enough to predict with some accuracy which players will have success in the professional ranks.
That said I will congratulate the Boston Celtics for the manueverings on draft day to wind up with Purdue's slender 6-foot-10 center/forward Ju Juan Johnson after a trade of first-round draft picks with the New Jersey Nets.
And while Johnson obviously is not from the MAAC, the likelihood is that a couple of conference coaches would agree with my belief that he will have a nice pro future.
Those would be Siena's Mitch Buonaguro (and, former Saints' coach Fran McCaffery) and Saint Peter's John Dunne.
Off-Season Report: Looking at St. Peter's
After a fourth-place conference finish in the regular-season, the Peacocks were the surprise team of the post season sweeping the MAAC tournament with wins over three very good teams: Loyola, regular-season champion Fairfield and, then, Iona. Saint Peter's mostly did it with defense as its field-goal percentage defense of .376 was second-best nationally and its points allowed total was 12th best nationally. That was never on display more than in the conference tournament where the Peacocks' dedication to a hard-nosed defensive style paid dividends and made offensive life miserable for three straight opponents. On the season the 20 overall victories was the first time that happened for the program since the 1994-95 season, which was the last time it went to the NCAA tournament.
Road to "MAAC"-achusetts
As many know, the Metro Atlantic Athletic Conference's Men's and Women's Basketball Championships will be played in Springfield, MA at the MassMutual Center for the next three years, 2012-2014!
Therefore, the Road to MAAC-achusetts has begun! The official countdown began the day after St. Peter's Men's Basketball and Marist Women's Basketball won their respective championships. And everyone is excited to see what the new season will bring.
As the offseason is underway, the "Road to MAAC-achusetts" webpage will be highlighting different schools, updating fans with news and scores around the MAAC' s Men and Women basketball teams, as well as prepare everyone to come to Springfield, Massachusetts and the MassMutual Center in 2012.
Coming soon
Stay tuned for the first annual Pickin' Splinters rundown on the MAAC's incoming class. Fans can get an in-depth look at all the new student-athletes who will play next season in the Metro Atlantic Athletic Conference.