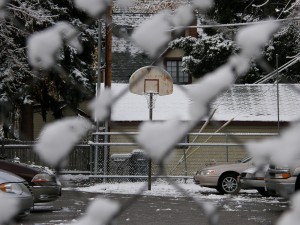 The Outside World is a weekly recap of the best basketball writing and analysis the internet has to offer.
– If you'd like to learn more about some the available advanced statistics available to measure defense, let me give you a tour, using Corey Brewer as our guinea pig.
– Not everyone loves March Madness. You'll hear few complaints about extra basketball on TV, but here's an excellent argument that the NBA outshines the tournament in almost every way.
– The Chicago Bulls have gone from upstarts, to contenders, to favorites?
– The argument against Lamar Odom for 6th Man of the Year revolves around just one statistic: 34 games started. I tend to agree with Zach Lowe of The Point Forward: "The value of a sixth man shouldn't be limited to his ability to come off the bench and help his team, often in crunch time. Depending on the circumstances, his value can also come from having the versatility to pop into the starting lineup when needed and happily return to a bench role when things return to normal."
– If we polled NBA players on the colleague with the best arsenal of trick shots, how many votes do you think Bucks' forward Jon Brockman would get? How about now?
– The possibility of an impending NBA lockout is the story no one wants to talk about, no one except Union Head Billy Hunter.
– David Berri points out a valuable lesson the Memphis Grizzlies should be learning concerning the case of Rudy Gay. He also pens one of my favorite lines of basketball analysis ever: As we see in the data, players don't really "create" shots.  Players just "take" shots.  And who are they taking their shots from?  Of course, shots are taken from their teammates.
– If you like Derrick Rose for MVP and give any weight at all to statistics than you also need to consider Russell Westbrook . . . and Kyle Lowry.
– JaVale McGee with the block of the year. Done. Right it down.
You can also find Ian at Hickory-High.com, TheTwoManGame.com and Indycornrows.com