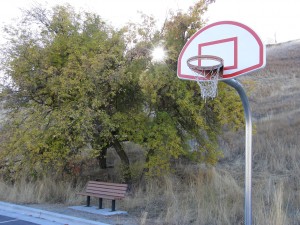 By Ian Levy
The Outside World is a weekly recap of the best basketball writing and analysis the internet has to offer.
– The Pacers made 20 of 21 from the field during the 3rd Quarter of Tuesday's game against Denver. Anyone want to watch all 20 made baskets back to back?
– Here's a photo break down of Toronto's defensive "system." If you have stomach problems or are prone to fits of naseau, you might want to skip this one.
– Hardwood Paroxysm's Zach Harper comes through with 1,000 words on the NBA's best point guard. I'll give you a hint, it isn't D.J. Augustin.
– Proof for all you advanced stat heads that there is no place for math in pro basketball.
– There was a lot of discussion this summer on several blogs about the relative usefullness of the current system of designating positions in the NBA. Andrea Bargnani and Erick Dampier are both listed as Centers. They literally do they exact opposite things on the court. What's the point of calling them both Centers if the only similarity is height? CanisHoopus has an interesting breakdown of the merging in many people's minds of the shooting guard and small forward position, and how it may be hurting the Timberwolves this season. My questions is, The positions should be providing slightly different skills, but does it matter where they come from? What's the problem with having a bruising rebounder/defender playing shooting guard, and a shooter/slasher at small forward?
– If you were wondering what happened to disgraced NBA referee Tim Donaghy, he apparently showed up at a game in Finland to make an atrocious offensive foul call wiping away one of the most impressive dunks you'll ever see. He's like the Keyser Soze of referees. And like that . . . poof . . . he's gone.
– You know those crazy scenarios where one team has the ball with less than a second left, looking for a crazy lob play? Apparently there is a pretty comprehensive way to defend against it, besides of course just staying close to your man.
– The Hardwood Paroxysm crew presents their first podcast edition of the year. The first edition is titled "Be More Like Ricky Davis." If that doesn't pique your interest, then I don't know what will.
– This is an absolutely terrific post from PistonPowered, comparing Rodney Stuckey to John Wall, Derrick Rose and Russell Westbrook. Before you start shouting, take a minute to read through it. The comparison is not in terms of production or potential, but in style and physical attributes. The argument is that the connection between Stuckey and those other players is what has kept the Pistons so committed to him despite his on court struggles.
You can also find Ian at Hickory-High.com and Indycornrows.com