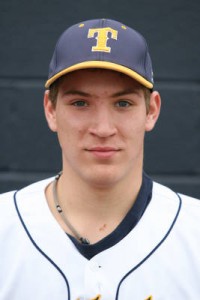 By Paul Casey Gotham
(Webster, N.Y.) Through the first ten games of the 2010 New York Collegiate Baseball League season, Dave Brust's Webster Yankees played five games decided by one run. For six and a half innings Thursday night, it looked like the home nine would add to that total.
That is until the seventh inning.
Johnny Brill (Rollins) and Chase Grissom (UNC Pembroke) slashed back-to-back doubles as the pinstripes plated three runs in the seventh en route to a 6-2 triumph over the Geneva Red Wings in NYCBL action at Basket Road Field.
Grissom's hit brought home Brill and Thomas Kufel (Mercyhurst). One out later, Corey Goeggleman (Waynesburg St.) delivered with a single for the four-run lead, and Webster starter, Jared Locke (Toledo) had more than enough runs for the win.
The native of Dundee, Michigan retired the side in the eighth for his first win of the campaign. Locke held Geneva to five hits  and finished with  four strike outs and four walks on the night.
"My team was great behind me," said Locke making special mention of Webster shortstop Matt Boulter (So. New Hampshire) who had seven put outs on the evening. "I'm a ground ball pitcher, and it's great when the team makes so many plays."
Locke worked through a bases-loaded jam in the sixth. Dan Gliot (Oakland) took a lead-off walk. Brantley Miller (UT Permian Basin) and Paul Bello (Georgetown) followed with consecutive bunt singles before Locke settled into a rhythm. He induced a lazy fly ball that scored Gliot before getting a strike out and an easy ground out to first.
"You gotta compete," commented Locke. "As I went on, my arm felt better. My sinking fastball was working, and I was keeping them off-balance with my change up.  I was just trying to make them hit my pitch. Ollie (Webster catcher Bertrand – Flagler) called a great game. He helped me settle in."
Tonight's outing looked similar to Locke's previous two for the summer. The freshman got a no-decision back on June ninth and took a loss five days despite holding then first place Alfred to just one run. The difference tonight came from the Webster offense.
"Look what speed does," said Brust. "Yeah, we had big hits, but our speed kept the pressure on them."
Webster pasted single runs on the board in the second, fourth and sixth frames.
Brill led the fifth with a base hit. One out later, Wes Winkle (Ball State) dropped a sacrifice bunt down the third base line. Brill made a heads-up play recognizing the vacated bag and took the extra bag.  Brill eventually came home on a wild pitch.
Bertrand had a hand in the other two runs. In the second, Kufel tripled off the fence in right field scoring the catcher. In the fourth, Bertrand's sacrifice fly brought home Boulter.
Tim Johnson (St. John Fisher) retired the side in order in the ninth with a strike out.
Webster's hosts Niagara Friday night. Kyle Raleigh (Ball State) will take the ball for the Yanks. First pitch at "The Basket" is scheduled for 7 p.m.