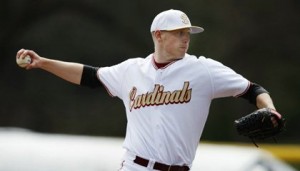 By Paul Casey Gotham
Many dream the dream. Few get a chance to fulfill it.
Every kid that puts a glove on his hand or takes a turn in the batter's box dreams of some day playing professional baseball. Earlier this week, that dream became less illusion and more reality for former Webster Yankees, Cory Brownsten ('08) and Dan Jurik ('09).
Brownsten and Jurik heard their names called during the Major League Baseball draft.  The Atlanta Braves chose Brownsten in the 15th round with the 464th pick of the draft. Ironically, the Braves later chose Jurik in the 25 th round with 764th pick.
Although the two never played on the same squad for Webster, they will together make their first steps in professional baseball when they travel to Florida to begin workouts next week in preparation for the June 21st start of the Gulf Coast Rookie League.
While Brownsten and Jurik arrive at the same place, the two have taken different paths. Brownsten will find some familiarity when he arrives in Florida. Jurik, on the other hand, blazes a trail for others to follow.
A native of Vestal, New York, Jurik represents the first MLB draft pick in the 60-year existence of St. John Fisher College.  The 6'4″ right-handed pitcher went 7-3 in 14 appearances for the Cardinals this spring. Jurik struck out 85 and walked 30 in 77 innings of work for Fisher.
"It's surreal," said Jurik about being chosen in the draft. "It hasn't hit me yet. I suppose it will when I get on the plane heading to Florida."
That he was chosen wasn't as much of a surprise as when he was chosen.
"I was on campus Tuesday morning playing catch and running," added Jurik. "I didn't expect to go before the 30th round. I hadn't planned to get home as soon as I did."
Thankfully, Jurik decided to make the two-hour trip from Rochester to Vestal when he did.
"I was home with my mom and dad listening on MLB radio and watching the draft tracker online," mentioned Jurik. "I was happy to share that moment with my mom and dad."
Jurik made 11 appearances for Webster last summer. He fanned 38 and walked 13 in 35 innings of work.
When Brownsten arrives in Florida, he will find some familiar faces. Joe Leonard, his teammate at the University of Pittsburgh, earned a draft spot as did Matt Foutch, Brownsten's teammate on the Peninsula Pilots of the Coastal Plain summer league.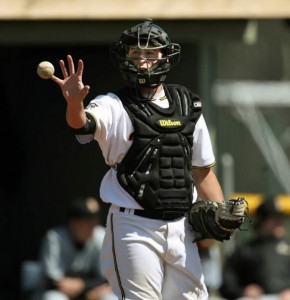 Brownsten earned All-Big East honors hitting .395 with 17 extra-base hits, including three home runs and 48 RBI. The right-handed hitter walked 16 times, stole three bases in six attempts and finished with a slugging percentage of .530. Brownsten's most defining number lies somewhere between 1.8 and 1.9. That is the catcher's Pop time – the measurement used by scouts to represent the time elapsed between when the ball hits the catcher's mitt and when he releases, and it hits the second baseman's glove. Brownsten's time is consistent with average Major League catchers. He has maintained this stat since his days at Monroe Community College.
"I was relaxing in my room when I got the phone call," said Brownsten of his draft experience. "My mom was kind of antsy listening to the draft on the internet."
In his sophomore season with the Tribunes, Brownsten earned Junior College D2 Defensive-Player-of-the-Year honors to go with a Gold Glove. He garnered first-team All-American, All-District and All-Region hitting .390 with seven home runs, 50 RBI and a slugging percentage of .615. MCC finished the 2008 season third in the nation.
Brownsten earned all-league honors with the 2008 Webster Yankees. In 27 games, he hit .272, seven extra-base hits and 19 RBI.
"It's everyone's dream," said Brownsten of being drafted. "I realize not many get the chance, and I appreciate the opportunity."
In all, 36 former players from the New York Collegiate Baseball League heard their names called this week. In the past three years, 112 former NYCBLers have earned MLB draft picks.