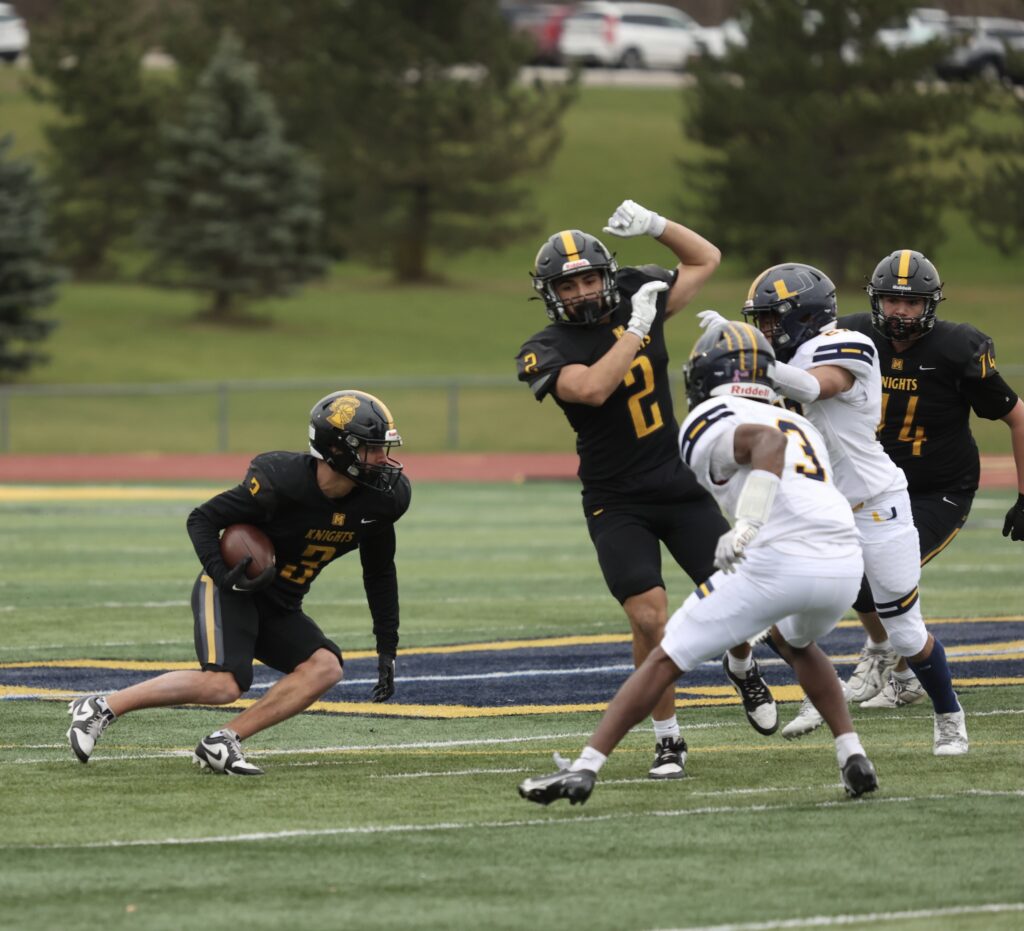 CLASS AA
No. 2 UPREP (9-2) 15
No. 1 McQUAID (11-0) 45
Despite falling behind 7-0 after McQuaid gave up a quick opening drive touchdown, its offense quickly took control of the game, scoring four times in its four first half possessions… READ MORE
CLASS B
No. 2 HONEOYE FALLS-LIMA (8-3) 0
No. 1 MONROE (10-0) 24
Khaya Moses threw for 283 yards and four touchdowns as Monroe claimed its first sectional title since 1979. Amari Colon was the leading receiver on the day, hauling in four passes for 159 yards and two scores. Landon McKnight also caught four balls from Moses, turning it into 46 yards as well as a touchdown. Sthyles McKenzie-Baker turned in a statline of three catches for 47 yards and one touchdown. Tahjmir Mullins received 13 carries and converted them into 53 yards. Mullins also spearheaded the Monroe defense with nine tackles and two interceptions. Amire Thompson made 10 tackles and broke up two passes. Robert Arnold tallied five tackles including a sack and forced a fumble. Jahcure Maxam and Dashon Constantine each added three sacks and five tackles. One of Jermaine Montgomery's 10 tackles was a sack.
CLASS C
No. 2 ATTICA/ALEXANDER (9-2) 14
No. 1 Le ROY (11-0) 27
Le Roy used two touchdowns in the fourth quarter to pull away and earn its first sectional title since 2014, and 16th in program history. Leading 13-6 with under six minutes to play, Tony Piazza ran it in from one yard out to make it 20-6, and with less than two minutes left Tommy Condidorio found the endzone from two yards out to extend their lead for three scores. Piazza finished with 20 carries for 88 yards and two touchdowns, while Condidorio added nine rushes for 32 yards and a score. Drew Strollo received 23 carries for 134 yards and a touchdown. DJ O'Geen had two of his five tackles come for a loss, including a sack. Connor Hegeman made four solo tackles, while Holden Sullivan made a pair of tackles and recovered a fumble. Jack Egeling and Jackson Fix contributed three solo tackles each. Cal Koukides broke up two passes and added two tackles. Jackson Parkhurst made two field goals for A-A, and Trent Woods connected with Sam Strezelec for a 30-yard touchdown.
INDEPENDENT
MARCUS WHITMAN/BLOOMFIELD (6-2)
PALMYRA-MACEDON (8-0)
COACHES: To report scores and game details, please email scores@pickinsplinters.com.