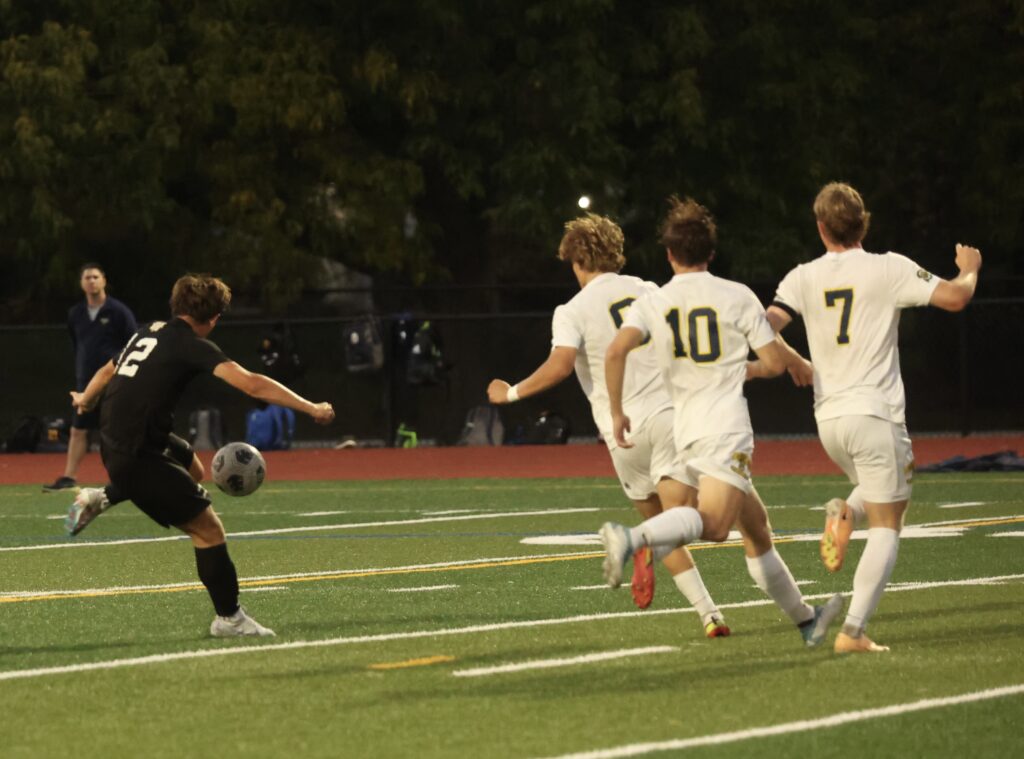 HILTON (8-4-0) 0
BRIGHTON (5-6-1) 2
Parker Weld and Isaac Wing each scored goals in the first half for Brighton, while Sam Robertson had nine saves in goal.
IRONDEQUOIT (4-5-1) 2
GREECE ATHENA (5-5-1) 2
Mazi McCraw tied the game twice, scoring both goals for Athena, with assists from Nico Avilla and Mehmet Canbaz. Ryan Schumacher made six saves. Tommy Gillett and Carson Keller each had a goal and an assist for Irondequoit, while Joe Maloney made seven saves.
WEBSTER THOMAS (5-3-3) 1
CHURCHVILLE-CHILI (8-2-1) 4
Elijah Bailey, Andrew Berardicurti, Christopher Keller and Deric Olson all scored for Churchville as the Saints won their fourth straight. Aidan Ozkaynak had two assists, while Camden Bean and Bryce Wolf had an assist each. Joshua Smith had four saves.
HONEOYE FALLS-LIMA (8-2-1) 4
BROCKPORT (6-5-1) 3
Sophomore Ezra Gathercole took a pass from Brandon Pritchard and scored the go-ahead goal with a minute remaining in regulation. Brockport is 3-4 in one-goal games this season.
SPENCERPORT (10-2-0) 3
MCQUAID JESUIT (6-3-1) 1
What started with a man in motion out of a football-like (the American version) alignment later included a career-first varsity goal. A back flip as part of a celebration capped off the night, and Spencerport boys' soccer won a battle of reigning regional champions. Three different players found the back of the net in Spencerport's win. READ MORE.
RUSH-HENRIETTA (3-8-1) 0
CANANDAIGUA (4-5-1) 4
Jonah Lawrence had a hat trick for Canandaigua, while Evan Graves added another goal. Liam Furmansky had two assists, while Owen Schuessler and George Spinelli also notched an assist each. Luken Tessena had four saves in the shutout.
EASTRIDGE (4-7-0) 4
WOIS/EDISON/FRANKLIN/SOTA (2-10-0) 0
WEBSTER SCHROEDER (3-8-1) 0
WAYNE (10-2-0) 1
Nevin Crane had the game's lone goal, assisted by Blade Surowiec. Matt Chelini wrote his ninth clean sheet of the season, making 11 saves.
PITTSFORD MENDON (6-6-1) 1
AQUINAS (11-0-1) 4
Aquinas overcame a 1-0 halftime deficit with four goals in the second half to remain unbeaten. Ali Shabani had two goals, while Alfonso Vito and Charlie Sorensen had a goal each. Nicola Costa, Jimmy Marotta, and Tin-Tin Pasia each notched an assist.
EAST/MONROE/SWW (2-5-0) 0
GATES CHILI (4-8-0) 9
NORTHSTAR CHRISTIAN (10-3-0) 3
CHARLES G. FINNEY (3-9-1) 1
Lorenzo Danesi had a goal and an assist for Northstar, while Harold Acuna and Johnny Daby also found the back of the net. Christian Mazur and Miles Tomlinson had assists.
LIMA CHRISTIAN (1-9-1) 0
HOUGHTON ACADEMY (4-7-1) 4
Lima Christian's Nathan Herring made 11 saves in goal.
GENEVA (4-6-0) 3
MIDLAKES/RED JACKET (0-12-0) 1
Ryland Dunham, Max Heieck, and Cooper Trickler all scored for Geneva. Drew Fishback had two assists, while Samuel Schading had one.
BLOOMFIELD (3-8-1) 1
NAPLES (13-0-0) 10
Jacob Betrus picked up a hat trick for Naples and added an assist as well. Oscar Austin and Matthew Lincoln had two goals each, with Austin notching an assist as well. Sean Morehead had a goal and two assists. Lukas Hall and Evan Rischpater both scored a goal, with Rischpater also earning an assist. Rowan Biggs, Finn Hanwell, and Wiliam Uhlen each had an assist. Caleb Fuller had three saves for Naples.
SOUTH SENECA/ROMULUS (4-7-1) 3
HONEOYE (1-11-0) 1
WATERLOO (2-10-0) 1
PALMYRA-MACEDON (7-5-0) 2
EAST ROCHESTER (11-1-1) 6
NORTH ROSE-WOLCOTT (1-11-0) 1
Perry Francis had a hat trick as East Rochester won their fourth game of the last five. Francis also had two assists. Jalen McCoy had a goal and assist, while Sean Lewis and Besart Hajdari had a goal each. Clark LaFontaine, Elijah Tanner, and Domenic Romach had assists.
SODUS (6-5-1) 2
WILLIAMSON (8-3-1) 4
RED CREEK (5-6-1) 3
GANANDA (2-11-0) 1
Red Creek has won three straight.
MARION (5-6-1) 0
FILLMORE (12-0-0) 4
Layton Sanasith, Henry Sardina, Isaiah Sisson, and Zach Sisson all scored goals for Fillmore as they remained unbeaten and untied. Nolan Krzeminski had two assists. Jackson Cool and Eben Schilke had an assist each.
WELLSVILLE (2-10-0) 3
KESHEQUA (7-5-0) 4
Ian Hinrich scored all four goals for Keshequa, while Seth Ebersole had two assists. Owen Pike also had an assist. Gregory Loper had four saves.
GENESEO (8-2-1) 6
PERRY (6-7-0) 1
ATTICA/ALEXANDER (4-6-0)
PEMBROKE (0-11-0)
WHEATLAND-CHILI (4-5-1) 1
BYRON-BERGEN/ELBA (10-2-1) 5
Colin Martin had a hat trick as Byron-Bergen returned to the win column with its seventh win in the past eight games. Braedyn Chambry and Jack Farner had a goal and an assist each, while Jesus Aragon, Cody Carlson, and Brendan Pimm had assists. James Nolan scored Wheatland's lone goal, assisted by Ethan Hallock.
HOLLEY (4-4-1) 2
KENDALL (5-7-1) 1
Avenging an early season 1-0 loss, Holley edged past rival Kendall 2-1 in a Genesee Region League boys soccer game this evening at Kendall… MORE.
AVOCA-PRATTSBURGH (2-11-0) 4
CAMPBELL-SAVONA (8-3-1) 5 (OT)
Colin Klemann scored the game-winning goal in overtime for Campbell-Savona, his second score of the night. Cody Mansfield, Ethan Cardinale, and Ethan Akins had the other goals for Campbell.
HAMMONDSPORT (2-9-0) 0
CANISTEO-GREENWOOD (6-7-0) 3
GENESEE VALLEY-BELFAST (4-1-1) 1
BOLIVAR RICHBURG (6-4-1) 1
ANDOVER-WHITESVILLE/JASPER-TROUPSBURG (5-7-0) 8
FRIENDSHIP-SCIO (1-12-0) 1
Andover's Robert Bradley scored four times and chalked up an assist as well. Brody Vance scored twice and assisted on two of Bradley's goals. Colton Calladine and Oliver Smith also scored, while Trey Kent had an assist.
COACHES: To report scores and game details, please email scores@pickinsplinters.com.