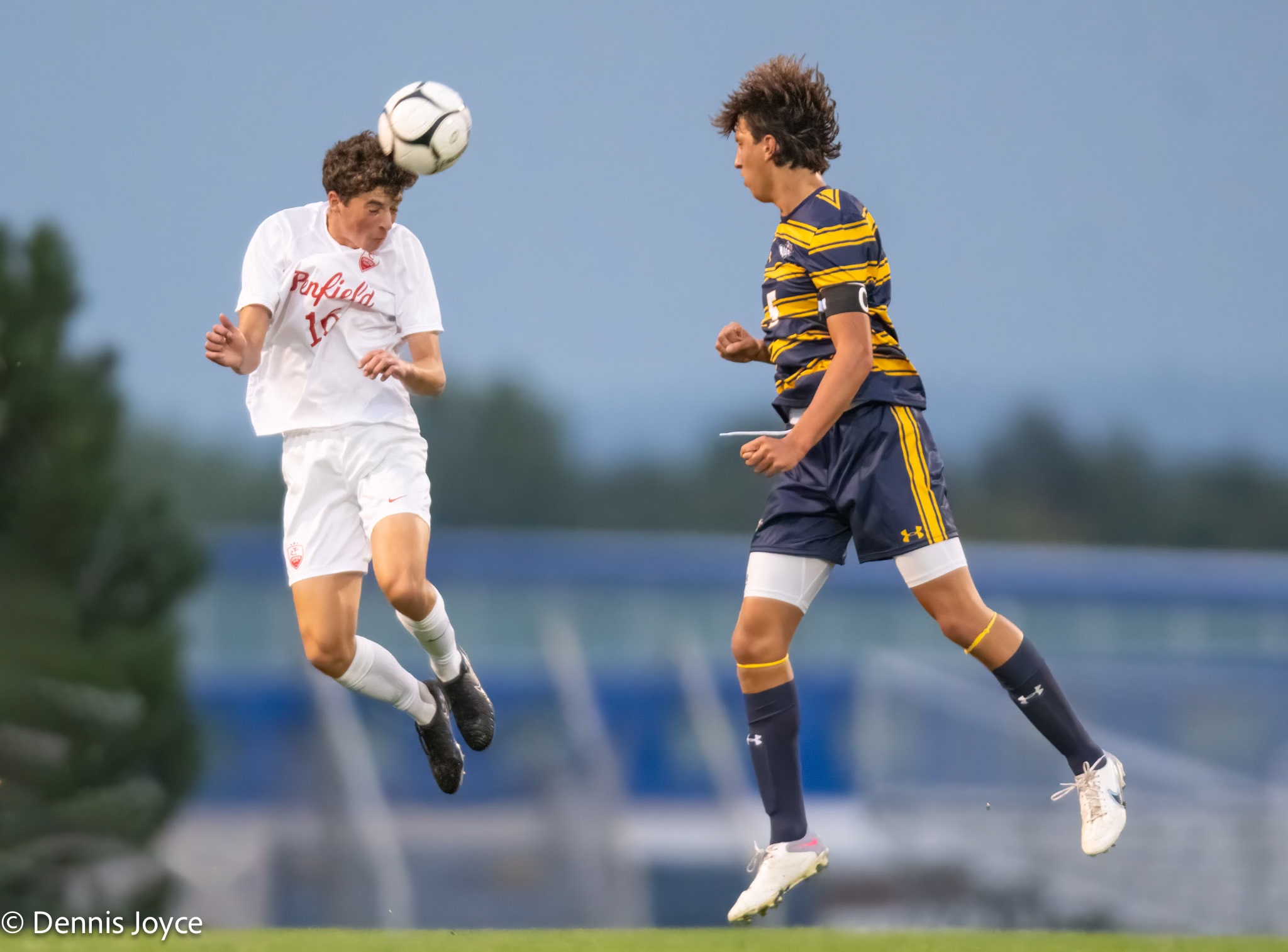 SPENCERPORT (4-0-0) 2
BRIGHTON (1-4-0) 0
Spencerport Boys' Soccer hasn't skipped a beat. One year after ending a decade-old sectional championship drought and advancing to the state semifinals for the first time in more than 40 years, the Rangers look ready to make a run at another title. This despite graduating a handful of key players and losing a returning starter to injury. Kyle Milburn and Ryan Peacock collected a goal apiece as Spencerport defeated host Brighton…READ MORE. 

CANANDAIGUA (2-0-1) 0
BROCKPORT (2-1-1) 0
Robert Crissman had eight saves for Brockport.
WEBSTER SCHROEDER (0-5-0)
CHURCHVILLE-CHILI (4-0-1)
Andrew Brardicurti led the way for Churchville-Chili, tallying two goals and an assist. Aidan Ozkaynak had two assists. Trevor Caldwell and Elijah Bailey each scored. Colin Guilfoyle had an assist.
FAIRPORT (3-1-1) 0
HILTON (4-0-0) 1
Johnny Bianchi connected late in the first half, and Hilton made the goal stand. Ian Smith had an assist on the goal. Bianchi has six tallies this season. 
HONEOYE FALLS-LIMA (3-1-0) 2
EASTRIDGE (1-3-0) 0
Elias Cleveland scored the first goal of the game off of a throw-in from Aidan Neenan for HFL. Zachary Zollo scored off an assist from Erza Gathercole.
IRONDEQUOIT (2-1-0) 2
GATES CHILI (1-3-0) 1
PENFIELD (1-3-0) 2
VICTOR (1-3-0) 3 (2OT)
Illa Amani had the game-winning free kick goal for Victor with 10 seconds remaining to win the game in double overtime. Reid Strassner scored off an assist from William McPhee with 10 minutes to play to tie the game at two. Sam Tripp had the first goal off an assist from Amani. Carson Hamann had 10 saves for the Blue Devils.
BATAVIA (2-0-0) 6
GREECE ODYSSEY (0-3-0) 3
Rylan Bohn found the back of the net four times for Batavia in the win. Owen Halpin wrapped up his night with two goals and an assist. Finn Halpin assisted on goals twice. Will Fulton, Devin Hughes, and Patrick Suozzi assisted on the other three goals.
PITTSFORD SUTHERLAND (1-2-1) 2
GREECE ARCADIA (1-2-0) 1
Will Hanford scored the game-winning goal in overtime to give Sutherland a late win. Zach Bennett scored in the first half off an assist from Hanford.
GREECE ATHENA (3-1-0) 2
PITTSFORD MENDON (2-4-0) 1
Landon Ambeau scored off a cross from Adam Piendel in the 60th minute to break a 1-1 tie and ended up being the winning goal for Athena. Ryan Schumacher had 12 saves in goal. Kyle Decker received an assist from Mazi McCraw in the 15th minute that led to a left-footed shot that found the upper part of the net for Athena's first goal.
HOUGHTON (1-3-1) 1
NORTHSTAR CHRISTIAN (5-1) 3
Lorenzo Danesi's two goals spearheaded the offense for Northstar Christian in the win. Johnny Daby also found the back of the net in the win, and also assisted on one of Danesi's goals. Sam Bugota and Max Klemmer also had assists. 
EAST (1-1-0) 2
VERTUS (0-4-0) 0
NEWARK (2-3-0) 1
MYNDERSE (4-0-0) 2 (2OT)
Carson Montoney scored both goals for Mynderse including the winner in double overtime. Both goals were assisted by Elijah Doell.
PENN YAN (1-3-0) 0
DUNDEE/BRADFORD (4-0-0) 1
Aiden Monell was assisted by Jakeb Ledermen to score the only goal for Dundee/Bradford in the 33rd minute. Jeremy Stiles had three saves in a shoutout effort.
HOLLEY (0-1-0) 0
ATTICA/ALEXANDER (1-0-0) 1
NORTH ROSE-WOLCOTT (0-4-0) 1
EAST ROCHESTER (5-0-0) 4
Liam Kinney scored and had an assist for the East Rochester in the win. Kinney converted a free kick in the 29th minute, and then assisted on a goal from Elijah Tanner later in the 58th minute. Besi Hajdari put one in off an assist from Sean Hogan in the 37th minute, and Jalen McCoy scored on his own in the 56th minute.
WILLIAMSON (3-1-0) 4
SODUS (3-1-1) 1
GANANDA (1-3-0) 0
RED CREEK (1-3-1) 6
Tyler Cooper, Joseph Frausto, Brendan Myou, Daniel Sanzotta, Cole Sharkey, and Eion Wynne all found the net in the first win of the year for Red Creek. Hayden Hicks had two assists on those goals. Ethan Hanford, Jaxon Bliss, and Connor Hopp each had an assist.  
BYRON-BERGEN/ELBA (3-1-1) 1
KENDALL (0-2-1) 1
HONEOYE (1-2-0) 4
SOUTH SENCA/ROMULUS (0-2-1) 0
Owen Barber had two goals to lead Honeoye to the win. Brandon Moore and Braiden Schneider also found the net for goals. Ethan DiBlase had an assist.
WHEATLAND-CHILI (0-1-1) 7
PEMBROKE (0-3-0) 1
James Nolan had two goals for Wheatland-Chili, coming in the first minute assisted by Talen Carey and again unassisted in the 45th minute. James also assisted on three goals, being a Carey goal in the 6th minute, a Camdyn Cremaldi goal in the ninth minute, and an Ethan Hallock goal in the 60th minute. Kai Chitaphong had an unassisted goal in the 54th minute, and Louden Thrush assisted Griffin Hitchings in the 55th minute. Austin Allen saved 10 shots on goal. 
BOLIVAR-RICHBURG (3-2-0) 1
GENESEE VALLY-BELFAST (3-1-0) 2
FINNEY (1-4-1) 1
MARION (2-3-0) 4
WEBSTER THOMAS (2-1-1)
RUSH-HENRIETTA (1-2-0)
WOI/EDISON/FRANKLIN/SOTA (0-2-0)
BISHOP KEARNEY/CHESTERTON ACADEMY (2-2-0)
PALMYRA-MACEDON (1-0-0)
WATERLOO (1-3-0)
To report scores and game details, please email scores@pickinsplinters.com.