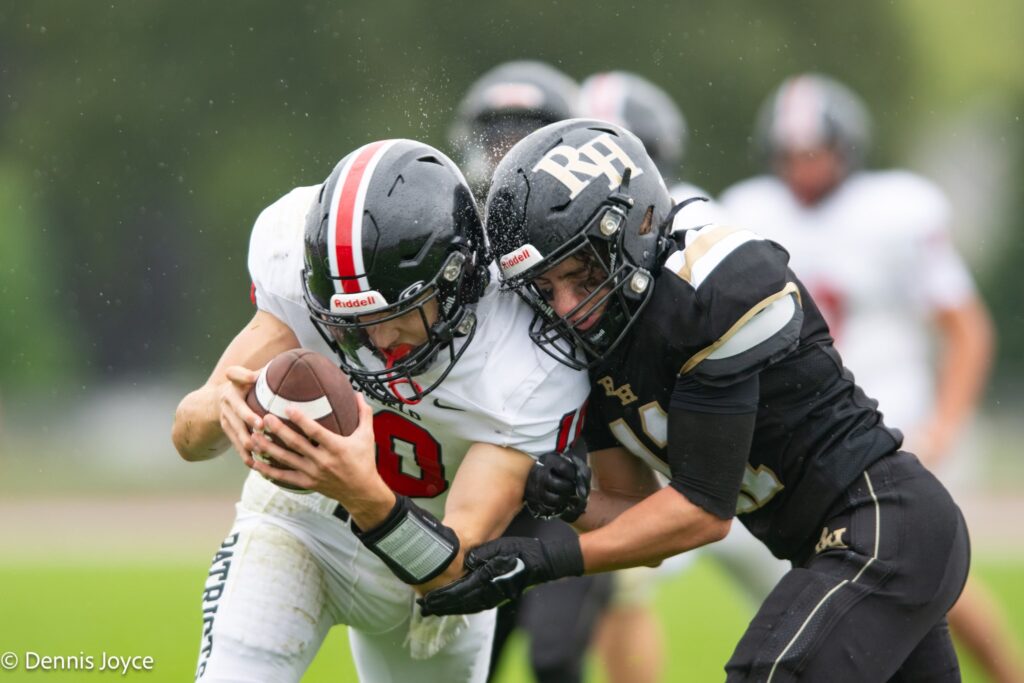 PENFIELD (1-1) 26
RUSH-HENRIETTA (0-2) 7
AJ Theodorakakos tallied 136 yards on the ground for Penfield, running a total of 13 times and finding the endzone twice. Adam Schembri ran the ball 11 times for 78 yards and scored twice. Nick Masters ran it 17 times for 71 yards, and also hauled in two passes for 36 yards. Aaron Hardaway intercepted a pass on defense. Anthony Fallon had two pass break-ups and five tackles. Gavin Earl had four tackles and brought down the opposing quarterback twice for sacks.
AQUINAS (1-1) 63
EDISON/SOTA/EC/FRANKLIN/NE/SWW (0-2) 0
DANSVILLE/WAYLAND-COHOCTON 3
VERTUS (1-1) 0
Reid Martin connected on a game-winning 38-yard field goal to win it for Dansville/Way-Co. Brady Henchen carried the rock 16 times and picked up 101 rushing yards. Elijah Bender racked up nine tackles with three of them going for a loss. Caleb Knapp had eight tackles and a tackle for loss.
EAST ROCHESTER/GANANDA (2-0) 54
BISHOP KEARNEY/RACS (0-2) 0
Ben Newman completed five of his six pass attempts for 126 yards and three touchdowns in the win for ER/G. Ray Allen scored on both ends for the Bombers, running for a touchdown as well as returning an interception for one. Miles Caviness hauled in two passes including a touchdown and had 71 receiving yards. Noah Mather caught a touchdown pass as well. Caleb Carpenter, Ny'Jher Gano, and Robbie Dettman all ran for touchdowns. Jordan Nunn had an interception on defense. Gano, Brayden Dohse, and Cadearrell Sneed finished with five tackles apiece.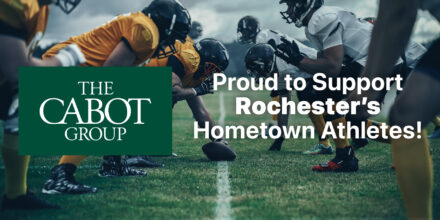 PENN YAN/DUNDEE (0-1) 16
HORNELL (2-0) 29
Le ROY (2-0) 12
LETCHWORTH/WARSAW/PERRY (0-2) 7
Drew Strollo scored from five yards out as Le Roy erased a fourth-quarter deficit to beat Letchworth/Warsaw/Perry. Strollo finished the day with 58 yards on 10 carries. Tommy Condidorio completed 6-of-14 passes for 114 yards including a 36-yard strike to Cal Koukides to give Le Roy a first-quarter lead. Jackson Fix rushed for 85 yards on 12 carries and caught two passes for 23 yards in the win. Tony Piazza rushed the ball 11 times for 49 yards. Connor Hegeman made one catch for 34 yards. Piazza led the defense with nine tackles. Strollo had seven tackles and two sacks. DJ O'Geen had eight tackles and a sack. Holden Sullivan finished with six tackles and a sack while Jack Egeling had three tackles and a sack. Adrian Stephens made a fumble recovery. Le Roy had a drive in early fourth quarter where the Oatkan Knights scored three different times only to be nullified by penalties. The drive ended with an interception. After the defense forced a punt, Xavien Walker's 23-yard punt return gave Le Roy the ball at the L/W/P 37 to set up the go-ahead score. Bryce Tallman completed 11-of-14 passes for 126 yards including a 60-yard strike to Jordan Brown with 6:18 remaining in the third quarter. A successful point after gave L/W/P a 7-6 lead. Brown caught two passes for 61 yards. Bailey Schell finished with eight carries for 28 yards and two catches for 20 yards. Noah Leitten rushed the ball four times for 16 yards and had there catches for 23 yards. Schell made six tackles including two for losses and had an interception. Andrew Kelly made seven tackles. Sherman Johnson-Myers had six tackles and an interception. 
ATTICA/ALEXANDER (2-0) 28
LYONS/SODUS (0-2) 6
YORK/PAVILION (1-1) 6
OAKFIELD-ALABAMA/ELBA (2-0) 41
Bodie Hyde racked up over 200 yards on the ground for Oakfield-Alabama/Elba, scoring three times on 17 carries. Hyde also added eight tackles on defense with two of them resulting in a loss. Shaun Alexander ran five times for 42 yards and scored. Avery Watterson ran the rock 10 times for 102 yards and a touchdown, and also had an interception on defense. Gavin Armbrewster connected with Carson Warner for a 15-yard touchdown pass. Armbrewester additionally had an interception on defense. Jack Cianfrini ran the ball five times and picked up 65 yards. Ashton Bezon had nine tackles on defense and had four tackles for a loss. Angelo Penna had seven tackles with two of them being for a loss. Austin Pangrazio also had 2 TFLs, and finished with six tackles.
"Total team effort on all three sides of the ball from our squad today," said Oakfield-Alabama/Elba HC Tyler Winter.  We were thankful Y/P presented moments of adversity throughout the game, as we are still looking to see what we are going to do as a team when those moments happen."
Oakfield-Alabama/Elba brought a 35-6 lead into halftime.Carl Szcech carried the ball 19 times for York/Pavilion, resulting in 75 yards. Parker Bonefede completed nine of his 18 passes for 118 yards and had a rushing touchdown. Joe Bauer caught three passes for 57 yards. Szczech had seven tackles on defense. Ryan Brady had eight tackles. Tyler Brady added six tackles. Kyle Northup had five tackles. 
"Hats off to OAE, they earned the win today, thats another quality team they got over there," said Y/P Head coach Kurt Schneider. "I am proud of the effort from our guys they battled for four quarters but we definitely made some mistakes out there that we need to address and to clean up. We will watch the tape and learn from those mistakes and be better for it moving forward. "
AVON (1-1) 41
NOTRE DAME-BATAVIA (0-2) 12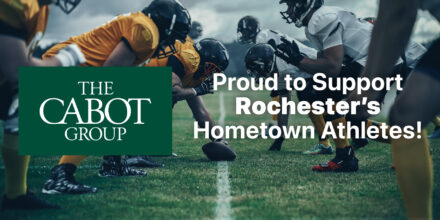 8-MAN
HOLLEY (1-0) 40
FINNEY (0-2) 28
RED JACKET 36
ALLEGANY-LIMESTONE (VI) 42
To report scores and game details, please email scores@pickinsplinters.com.