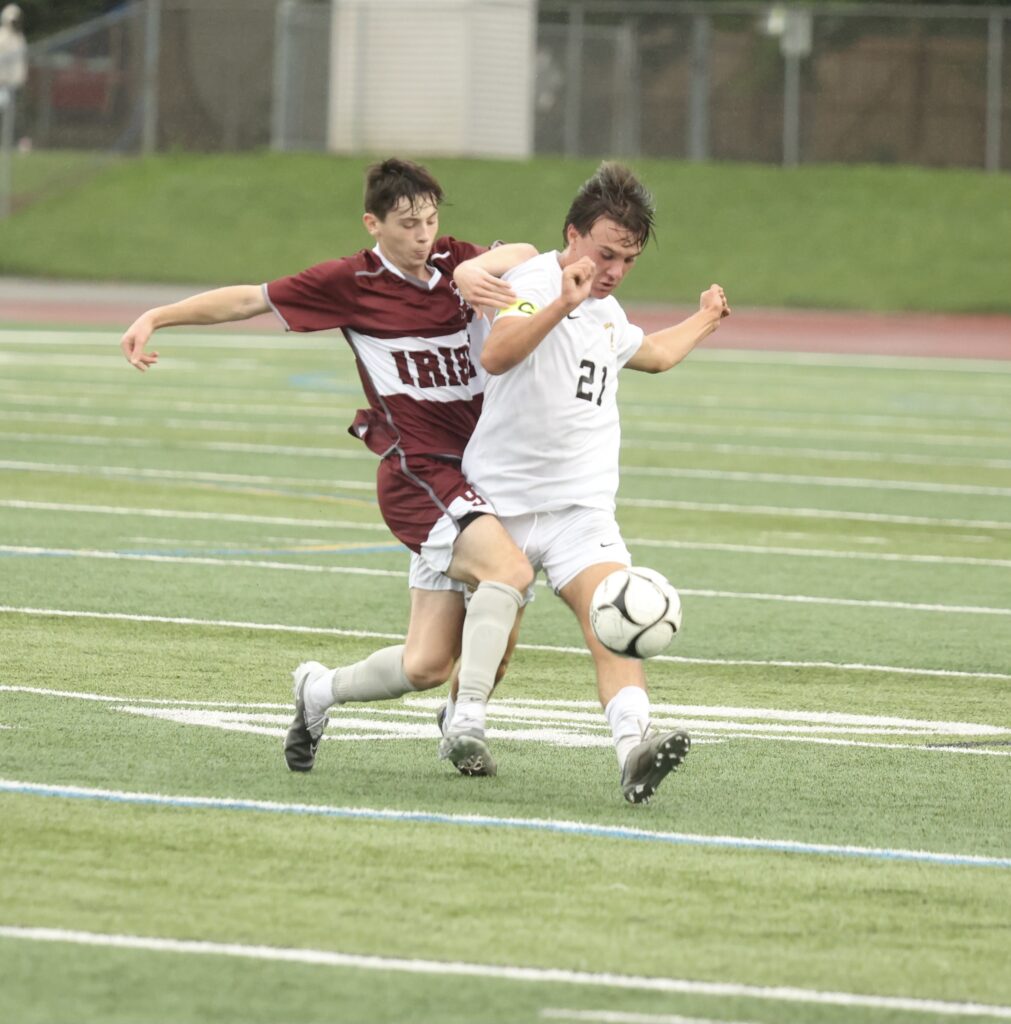 PENFIELD (1-2-0) 1
FAIRPORT (3-0-1) 2
Fairport's Ryan Mathis and Zach Buys took advantage of two corner kicks to seal a game-winning deal for the Red Raiders. Buys got Fairport on the board first and Mathis added the assist. In overtime, the duo flopped roles.

ROCHESTER PREP/VERTUS/RACS (0-2-0) 1
BATAVIA (1-0-0) 8
Gavynn Trippany and Quintin Cummings led the charge with two goals apiece in Batavia's season-opening victory. Matthew Wittmeyer, Hunter Mileham and Finn Halpin all chipped in a goal of their own. Owen Halpin found the back of the net once and dished out two helpers. Rylan Bohn, Andrew Childs, Noah Whitcombe and Cummings all finished with an assist as well.

BRIGHTON (1-3-0) 0
CHURCHVILLE-CHILI (3-0-1) 1
Andrew Berardicurti played the hero with a lone goal for Churchville's third one-point victory of the season. The play cultivated in the 20th minute on a feed from Colin Guilfoyle. Joshua Smith made five saves for the shutout.

GREECE ARCADIA (1-1-0) 2
BROCKPORT CENTRAL (2-1-0) 1
Ben Mitzler and Cameron Ogles netted one apiece to top Brockport and lead Greece Arcadia to its first win of the season. Ethan Cesario and Beckam Silva earned assists on the plays. Kasey Conrow picked up the win between the pipes and showcased a late-game penalty kick rejection to keep the Blue Devils at bay.


WEBSTER THOMAS (2-1-0) 2
VICTOR (0-3-0) 0
Caleb Jones and Vlad Lavrynenko linked up twice in the second half to pull Thomas out of the match victorious. Jones provided the golden foot while Lavrynenko supplied the helpers. Seniors Kyle Saia and Will Resch commanded the backfield in the shutout effort. Carson Hamann made seven saves in net for Victor.

LEWISTON-PORTER (VI) 2
PITTSFORD SUTHERLAND (0-2-0) 1

ORCHARD PARK (VI) 3
SPENCERPORT (3-0-0) 4
Kyle Milburn powered the Ranger offense with three goals and an assist to keep Spencerport unbeaten to start the season. Milburn opened scoring and assisted with the second on a dish to Cameron Khuns with a second left in the first half. Khuns also generated two assists. The second half offered Orchard Park and Milburn trading tallies until the final buzzer.

WOIS/EDISON/FRANKLIN/SOTA (0-2-0) 1
HONEOYE FALLS-LIMA CENTRAL (2-1-0) 7
HFL's Zach Zollo and Lucas Gould split four tallies in a dominating home-field victory. Ezra Gathercole garnered four assists in the first half, enabling Brandon Pritchard, Elias Cleveland and Zollo to build the early lead. Sean McQuillan picked up his second tally of the year with HFL's final seventh of the night. Braden Bellizzi, Aidan Neenan and Pritchard all finished with an assist. With the victory, the squad increased its goal differential to 15-3 to start the season.

MCQUAID JESUIT (0-1-1) 1
AQUINAS INSTITUTE (3-0-1) 1
Following a scoreless first half, McQuaid tied the match with 10:12 left in regulation.


WELLSVILLE (1-3-0) 0
NAPLES (3-0-0) 2

HORNELL (3-1-0) 6
PORTVILLE (VI) 2
Jack Emo notched a five-piece to bolster Hornell's offense in a 6-2 victory. Wyatt Evingham, team-leader in assists, picked up another five in the match. Gennaro Picco accounted for Hornell's sixth tally, Pasquale Picco added an assist and Alfie Whiteley made two saves for the Red Raiders.

MOUNT MORRIS (0-3-0)
WAYLAND-COHOCTON (3-1-0)
Chase Young scored Mount Morris' only goal on an assist from Bryson Constantino.

AVOCA-PRATTSBURGH (0-3-0) 1
CANISTEO-GREENWOOD (1-2-0) 4
Declan McAneney's four assists and pair of goals from Kevin and Thomas Sirianni guided Canisteo-Greenwood to its first win of the season. Jaxon O'Brien picked up his second goal of the year and senior Andrew McCarthy netted his first of the season.
Korbyn Osterwald made three saves between the pipes.

BOLIVAR-RICHBURG (3-1-0) 10
FRIENDSHIP/SCIO (0-4-0) 2
To report scores and game details, please email scores@pickinsplinters.com.