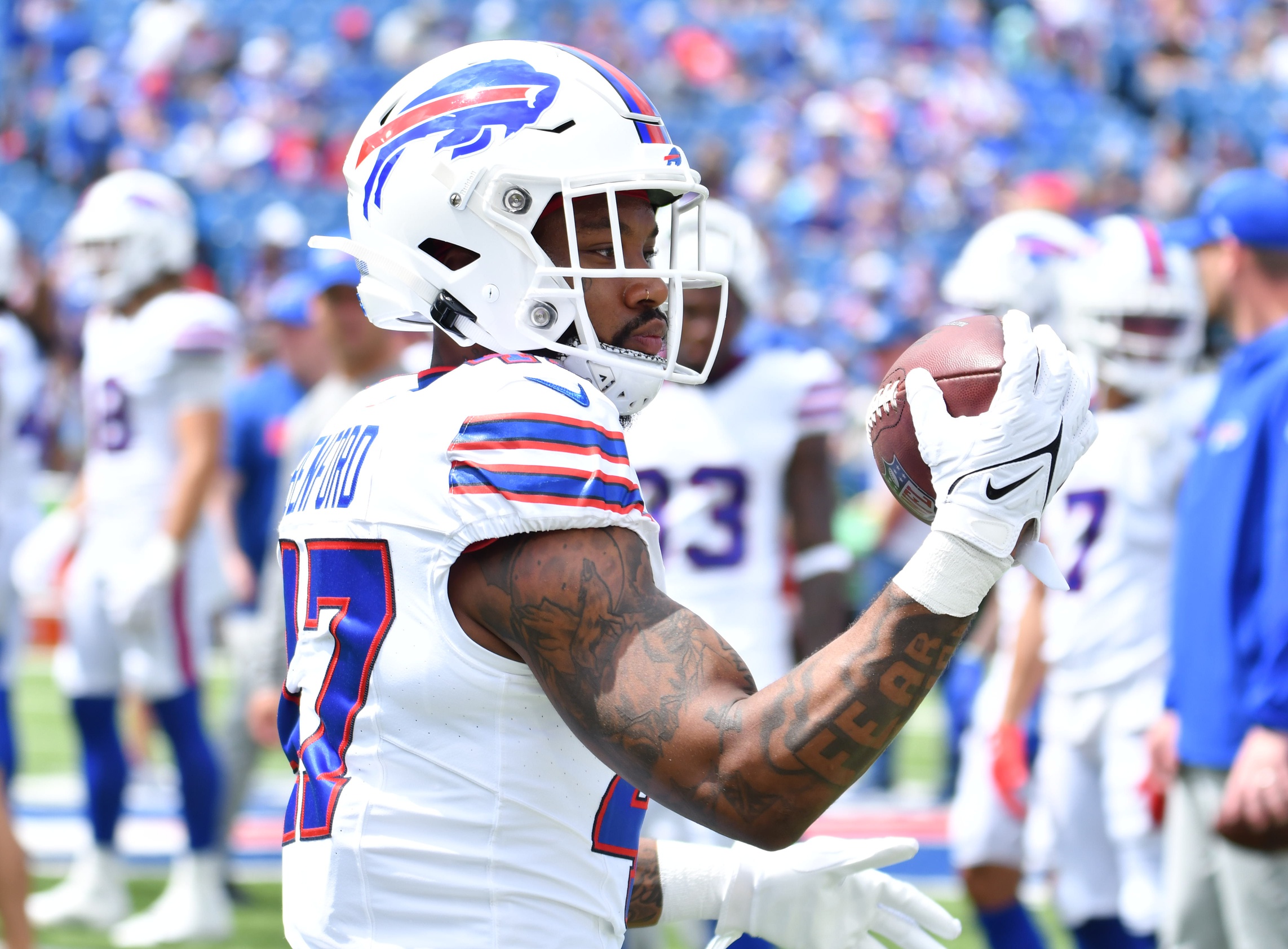 By TYLER HATHAWAY
Much of Buffalo's preseason was clouded by who would start at three key positions for the Bills: right guard, middle linebacker, and the cornerback playing opposite two-time All-Pro Tre'Davious White. And finally, answers have been provided to those questions after head coach Sean McDermott named his lineup on Wednesday.
Rookie right guard O'Cyrus Torrence, second-year cornerback Christian Benford, and second-year linebacker Terrel Bernard have won the starting jobs at those positions, according to McDermott.
Torrence dominated the playing time at the guard spot in the preseason, playing most if not all of the reps with the full starting offense over the course of the Bills three preseason games. Torrence, a 6-foot-5, 347-pound rookie offensive lineman from Florida, was selected by the Bills with the 59th pick in the 2023 NFL Draft.
"Cybo (Torrence) coming in as a young player and taking it one play at a time and having a workman-like approach to his game early on in spring and in training camp, I thought he handled himself well," said McDermott of Torrence.
The battle for the second cornerback spot was arguably the position with the tightest race. Benford, 2022's 1st round pick Kaiir Elam, and 2020's 7th round pick Dane Jackson were all fighting to earn the starting spot. In the end, it was ultimately Benford, the 185th pick in the 2022 NFL Draft from Villanova, who won the job. Benford saw limited action in his rookie year for the Bills, finishing with 24 tackles and an interception across nine games, starting five of them.
"He was on his assignments, think he contested balls and made some interceptions, made some plays on the ball as well," McDermott said about Benford.
Bernard, who was dealing with a hamstring injury for parts of the preseason, won the job over the likes of fellow linebackers Tyrel Dodson and AJ Klein. Bernard was drafted 89th in the 2022 NFL Draft, and played in mostly a special teams role in his rookie year, finishing the season with 22 tackles.
"We thought he did some good things when he was healthy and available," McDermott told reporters about Bernard. "He's gotta take it one play at a time."
The Bills take on their AFC East-rival New York Jets to open the season on Monday, September 11th, at 8:15 pm.