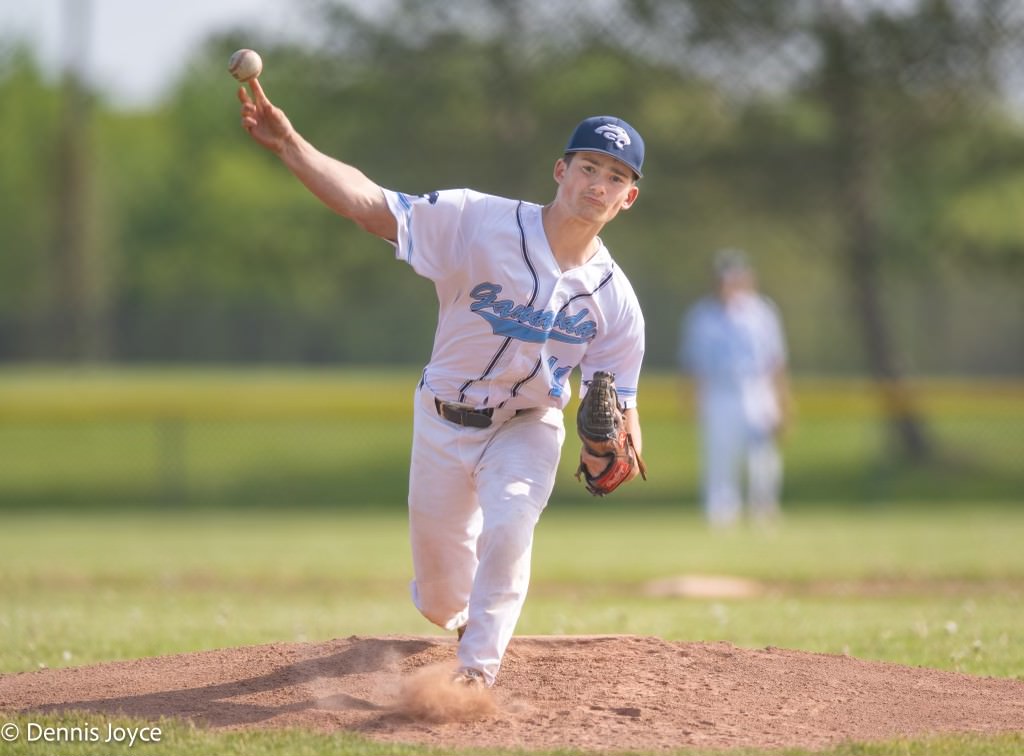 BY PATRICK WALSH
WALWORTH, N.Y. — Henry Shutts has a bright future.
As an eighth grader last season, Shutts posted a 4-2 record with a 0.84 ERA and struck out 65 over 33.1 innings pitched.
On Monday, Shutts hurled a complete game, allowing two runs on five hits while striking out 14, leading Gananda to a 5-2 victory over Naples in non-league Section V baseball action.
Shutts started by retiring 15 of the first 17 batters he faced. In that span, he did not allow a ball to leave the infield. Twelve of the 14 whiffs came during the 5.1 inning stretch including eight straight outs being recorded via strikeout.
"Just throw strikes," said Shutts. "I wanted to blow it by them with the fastball and see if they could adjust."
Shutts has struck out 14 in back-to-back starts. His last three starts have been double-digit punchout games.
"He's our bulldog," said head coach Bill McClare. "He's our go-to guy and has pitched well for the majority of the season, there are some hiccups because he is young, but we go where Henry (Shutts) goes in sectionals."
Shutts faced trouble in the sixth when the Big Green Machine were able to put together a two-run inning, he came back and retired the side in order in the seventh to finish the complete game.
"I just wanted to come back and throw strikes, I have a defense behind me and I trust in them to make plays," said Shutts.
In the third inning, eighth grader Maddox Stoughton drove in the game's opening tally with a base hit to right. Stoughton later had a base knock to left in the sixth inning. Stoughton has a hit in eight of the last nine games he has started.
Coach McClare noted the progress Stoughton has made during the season.
"It took him a little while to get his feet wet, but he ripped one down the line and you can just see him game-by-game gaining confidence. He's been a big part of our offense and our middle infield."
McClare noted how he felt about the Blue Panthers' performance.
"What I'm proud of is the way we played," said McClare. "Whether we win or lose, if we are playing a solid game, I think more times than not it's going to work out in our favor and I thought we played a really solid game."
Brady Wadsworth tallied the other hit for Gananda and scored twice. Stoughton went 2-for-4 with an RBI and a run scored. Shutts and Owen Switzer tallied the other two runs for the Blue Panthers.
Cade Rathbun went 2-for-2 with a run scored to lead the Naples offense. Drew Reigelsperger drove in the first run for Naples and was brought home by Adam Bay.
With the win, Gananda heads into sectionals on its longest win streak of the season. The Blue Panthers have won five of their last eight and allowed fewer than two runs in each of the wins.