CLASS AA
WEBSTER SCHROEDER (25-1) 49
WHITE PLAINS (I/23-4) 41
Mariah Watkins recorded a double-double with 18 points and 12 rebounds to help Webster Schroeder capture the 2023 NYSPHSAA Class AA Championship. The junior went 10-for-11 from the foul line, while the 6-foot guard dished out five assists, swatted two shots and hit two treys. Addison Morgan scored 14 and netted three triples. The sophomore finished with three rebounds and one assist. Bria Watkins posted nine points, seven boards, three assists and one block, and the sophomore shot 3-for-5 from the line. Sarah Ferruzza (3) had five rebounds and one steal, and Mya Perales (3) made a trey and grabbed a board. Ava Gallup (2) pulled down four defensive rebounds. For White Plains, Sequoia Layne registered a double-double with 11 points and a game-high 14 rebounds. Aliya McIver chipped in seven points, 11 boards, seven assists and one steal, and Ineiva Plata added seven points and seven boards. Anneliese Reggio finished with seven points, five rebounds, two assists and one steal, and the senior went 3-for-6 from the line. Capri Demara contributed five and a board, and India Newman (2) grabbed five rebounds. Isabella McGuire had two.
CLASS A
CANANDAIGUA (21-6) 51
WALTER PANAS (I/23-5) 61
Mya Herman unloaded all 22 of her points in the second half, but her eruption wasn't enough as Canandaigua's late rally fell short in a 61-51 setback to Walter Panas (I) in the New York State Public High Schools Athletic Association (NYSPHSAA) class A final. READ MORE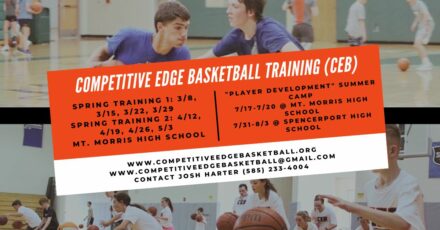 CLASS B

WATERLOO (26-1) 58
PUTNAM VALLEY (I/25-2) 48
Seniors Morgan Caraballo, Natalie DiSanto and Jazzmyn Lewis combined for 24 points as Waterloo erased a 12-point deficit heading into the fourth quarter to defeat Section I champion Putnam Valley, 58-48 in the NYSPHSAA Class B championship game. READ MORE