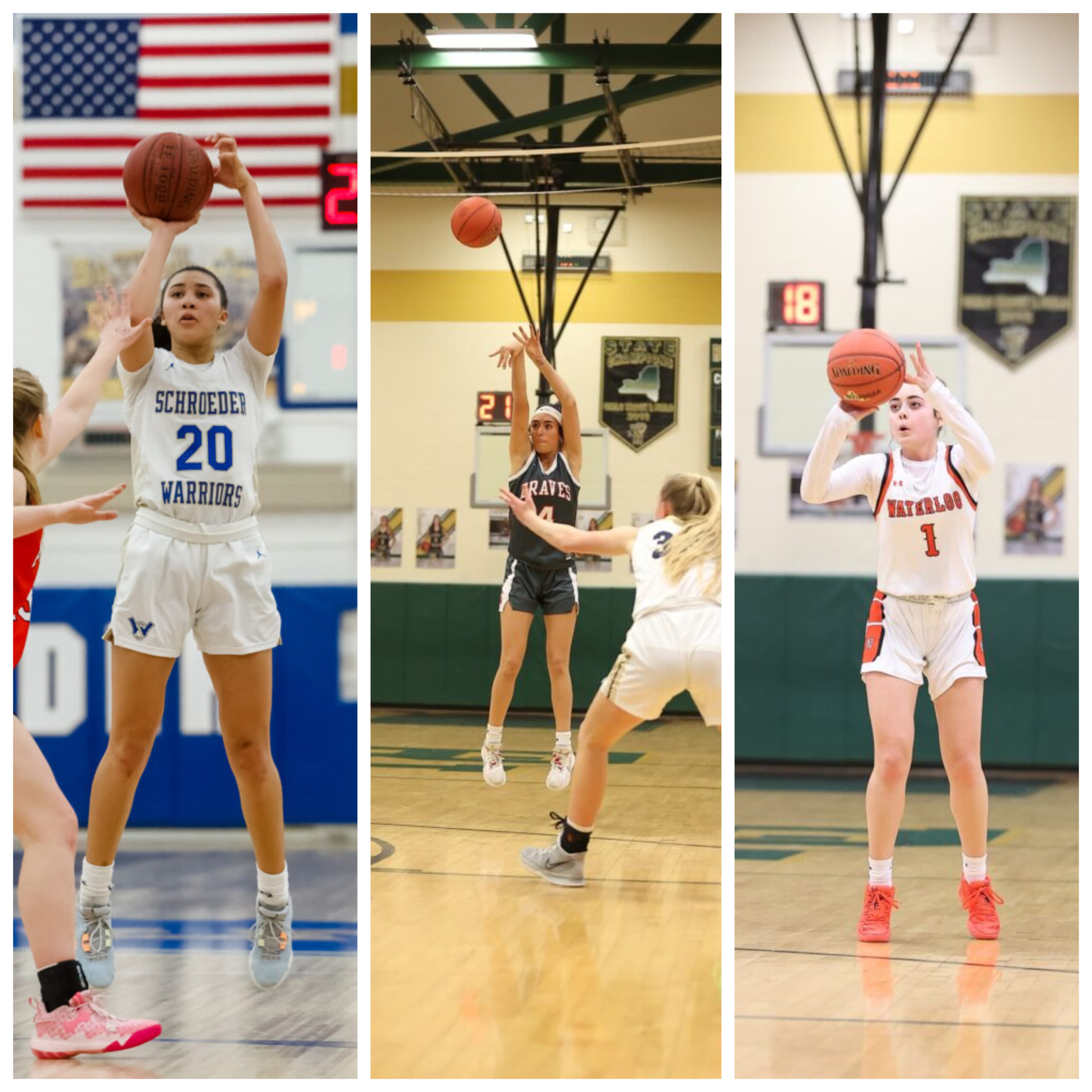 by TYLER HATHAWAY
Since 2010, Section V Girls' Basketball has sent three or more teams to the NYS semifinals on 10 of 12 occasions with 12 state titles clinched during that time including a three-year stretch from 2012 to 2014 when Section V teams combined to win two championships in each of those years. The 2023 NYSPHSAA semifinals tip off on Friday with Webster Schroeder, Canandaigua, and Waterloo each looking to bring home a program-first title. Here's the breakdown:
CLASS AA
WEBSTER SCHROEDER WARRIORS (23-1/Monroe County I)
vs.
BALDWIN BRUINS (VIII) (22-2/Nassau)
6:15 pm
How they arrived here: Webster Schroeder opened the postseason with a 56-39 win over Victor before beating Fairport (73-69) and Penfield (58-46) for the program's first sectional championship since 1976. Their run continued with a 64-57 win over Lancaster (VI) in the Far West Regional. Baldwin posted wins over Oceanside, Freeport and Massapequa on its way to a Section VIII title, before taking down Section XI winner Walt Whitman 39-32 in the regional round.
Tempo and Trends: Webster Schroeder, winners of nine in a row, averages 63.5 points per game and allows 45.6 points. Baldwin has won 10 straight games and scores 62.1 points while giving up 36.4 points per game.
What's at Stake: A spot in the NYSPHSAA Class AA Championship against the winner of Liverpool (III) and White Plains (I).
History 101: Webster Schroeder is making its first appearance in the NYS semi-finals. Baldwin won the Class AA state title in 2017, and again in 2018.
Players to watch for Webster Schroeder: Ava Gallup Jr. C 6.5 PPG; Addison Morgan So. G 8.3 PPG; Bria Watkins So. G 11.7 PPG; Mariah Watkins Jr. G 24.4 PPG
Players to watch for Baldwin: Payton Dulin So. G 17 PPG
Coaches: Codi Mrozek (Webster Schroeder), Tom Catapano (Baldwin)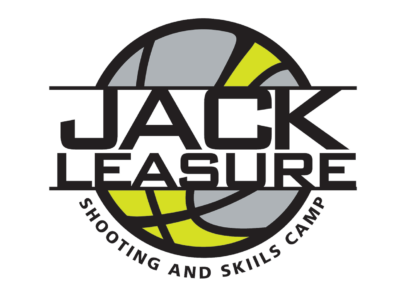 CLASS A
CANANDAIGUA BRAVES (20-5/Monroe County III)
vs.
MANHASSET INDIANS (VIII) (24-1/Nassau)
1:30 pm
How they arrived here: Canandaigua beat Wilson Magnet to open the postseason and then Brockport (53-38), Irondequoit (63-40) and Pittsford Sutherland (55-46) for the Braves fourth sectional title and first since 2009. Canandaigua defeated Hamburg (VI) in the Far West Regional, 53-47. Manhasset started its playoff run with wins against Carey, MacArthur, and Bethpage to secure a spot in the Section VIII Class A championship, where the Indians took down Lynbrook to secure the title. Manhasset beat Shoreham-Wading River (XI) 58-51 in the regionals to secure a spot in the NYS semi-finals.
Tempo and Trends: Canandaigua has won nine straight, scores on average 53.8 points, and allows 39.6 points per game. Manhasset scores 55.0 points on offense and allows 35.7 points.
What's at Stake: A spot in the NYSPHSAA Class A Championship against the winner of Averill Park (II) and Walter Panas (I)
History 101: Canandaigua and Manhasset have yet to win a state championship. This is Canandaigua's first time in the state semi-finals since 2009, where they lost to Copiague (XI).
Players to watch for Canandaigua: Kyleigh Chapman Jr. F 13.0 PPG; Mya Herman Sr. G 17.1 PPG; Eily Hubler So. G 7.3 PPG; Liv Schorr Sr. F/G 5.0 PPG; Julia Geitner So. F 3.8 PPG.
Players to watch for Manhasset: Caitlyn Barrett Sr. G 15.4 PPG
Coaches: Michael Brennan (Canandaigua), Lauren Sadeh (Manhasset)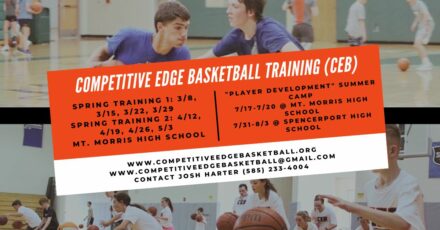 CLASS B
WATERLOO TIGERS (24-1/Finger Lakes East)
vs.
CORTLAND PURPLE TIGERS (III) (21-4/SCAC-Empire)
10:00 am

How they arrived here: Waterloo defeated North Rose-Wolcott/Sodus in the quarterfinals before knocking off Midlakes (85-43) and Palmyra-Macedon (65-47) to win a third straight sectional title. The Tigers defeated Hornell, 48-38 to reach the state quarterfinals, and then Depew (VI) 73-62 to advance to the state semi-finals. Cortland defeated Cazenovia, Utica-Notre Dame, Marcellus, and Westhill to claim the Section III Class B championship. The Purple Tigers beat Newark Valley (IV) 46-41 to clinch a spot in the state semi-inals.
Tempo and Trends: Waterloo scores 70 points per game, while allowing 36.1. The Tigers have won 12 straight games. Cortland on average scores 55.1 points and allows 39.5 points per game.
What's at Stake: A spot in the NYSPHSAA Class B Championship against the winner of the Albany Academy for Girls (II) and Putnam Valley (I).
History 101: Waterloo is looking to reach the state for a second straight year and third time since 2013. Cortland has never won a state title.
Players to watch for Waterloo: Addison Bree 5-for-6 Fr. G 11.6 PPG, 3.1 APG, 2.8 SPG; Morgan Caraballo 5-foot-6 Sr. G 21.4 PPG, 2.5 APG, 4 RPG, 4.5 SPG; Natalie DiSanto 5-foot-2 Sr. G 11.5 PPG, 4.4 APG, 4.1 SPG; Jazzmyn Lewis 5-foot-5 Sr. F 13.4 PPG, 5 APG, 5.4 RPG, 5.9 SPG; Maci Mueller 5-foot-4 Fr. G 4.5 PPG, 1.6 SPG.
Players to watch for Cortland: Valerosa Gambitta 14.1 PPG, 5.9 RPG, 2.0 SPG; Claire Turner 8.4 PPG, 10.9 RPG, 1.3 BPG; Kendall Mack 11.6 PPG, 5.1 RPG, 3.7 APG
Coaches: Michael Bree (Waterloo), Janice Meyer (Cortland)