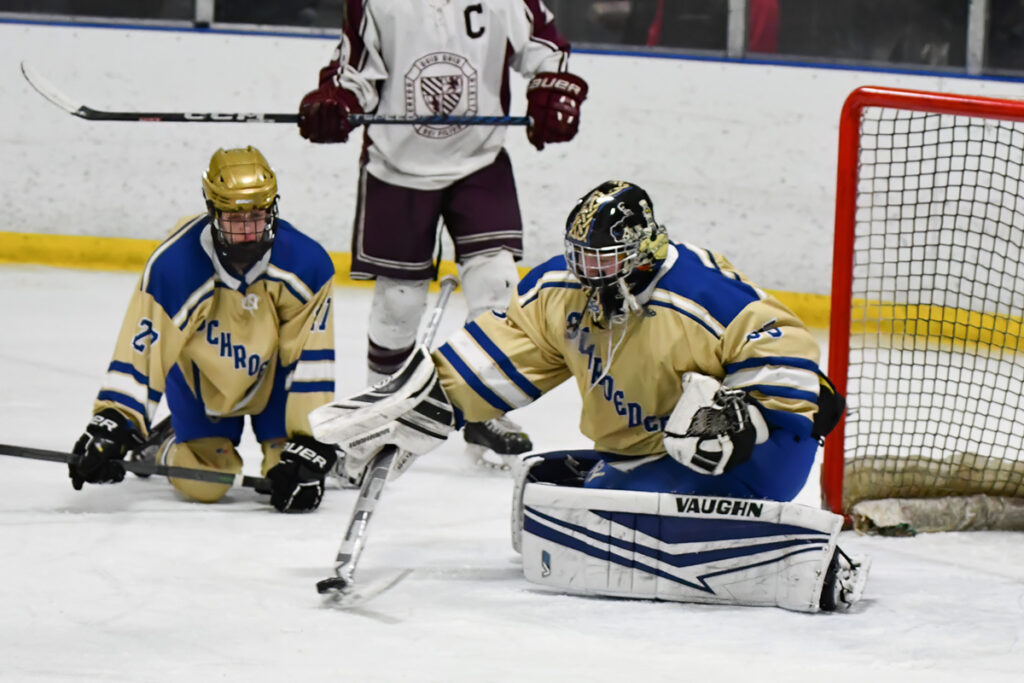 By JONATHAN SKUZA
The last time Webster Schroeder reached the NYSPHSAA Ice Hockey Division II championship tournament, the Warriors went on to win the state championship. Skaneateles is looking to claim its fourth Division II title and its first since 2019. Here's what you need to know:
 WEBSTER SCHROEDER WARRIORS (13-9-1/MCPSAC Division II/Section V)
vs.
SKANEATELES LAKERS (19-3-0/Division II/Section III)
How they arrived here: Webster Schroeder (No. 11 NYSSWA Division II) started its sectionals with an 8-0 victory over No. 6 seed Geneseo/Avon/Livonia and then shutout No. 2 seed Aquinas 1-0 in the semifinals to go to their first title game in nine years. The Warriors claimed their first Class B title in nearly a decade with a 2-1 victory over top-seeded Churchville-Chili. Skaneateles (No. 3 NYSSWA Division II) opened their sectionals with a 10-0 victory over Clinton and then won the Section III title for the fourth year in a row with a 4-0 win over CBA-JD.
Trends: Webster Schroeder has shutout two of its last three opponents and the Warriors have won five of its last seven games. Skaneateles is currently on an 11-game winning streak shutting out eight of their opponents during that stretch.
Players to watch for Webster Schroeder: Jason Simons So. F 12 goals, 11 assists, 23 points; TJ Swinson So. F 10 goals, 11 assists, 21 points; Nolan Gamble Jr. F eight goals, five assists, 13 points; Nicholas Sellitto Jr. F one goal, 13 assists, 14 points; Colin Smith Sr. G 6-5-0, three shutout, 1.86 goals against average, .931 save percentage.
Skaneateles: Henry Major So. F 27 goals, 35 assists, 62 points; Andrew Gaglione Jr. F 20 goals, 15 assists, 35 points; Jack Torrey Jr. F 15 goals, 17 assists, 32 points; Alex Whitlock Fr. F seven goals, 18 assists, 25 points; Chad Lowe Sr. G 18-3-0, nine shutouts, 0.83 goals against average, .962 save percentage.
Coaches:  David Broussard (Webster Schroeder), Mitch Major (Skaneateles)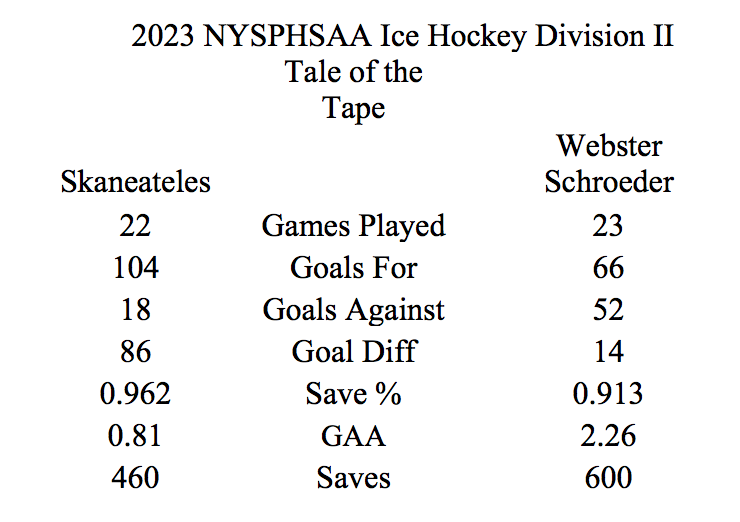 History 101: Webster Schroeder is making its first NYSPHSAA Ice Hockey Division II tournament appearance since 2014 where the Warriors went all the way and claimed its only State title. Skaneateles is seeking its fourth Division II title and first one since 2019. The Lakers have also won a Division I title back in 1983. The two teams never faced one another in a NYSPHSAA Ice Hockey Division II tournament.
What's next: The winner will advance to the 2023 NYSPHSAA Ice Hockey Division II semifinals to take on the winner between Starpoint (VI) and Salmon River (X).
Puck drop is scheduled for Saturday at 5 p.m. at Allyn Ice Arena in Skaneateles, N.Y.