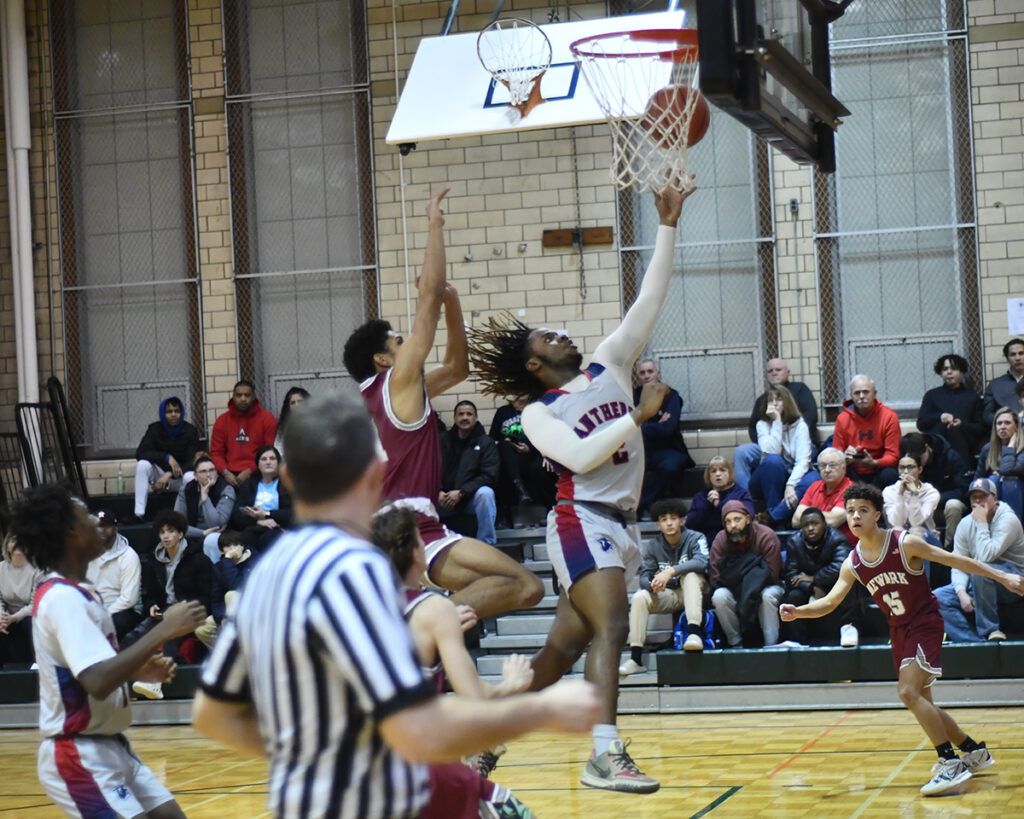 PENFIELD (6-7) 58
FRANKLIN (8-5) 75
Sha'mere Freeman posted 31 points, eight steals, six assists and four rebounds to help lead Franklin to its second consecutive double-digit win at home. Freeman connected on eight 3-pointers including three in the second quarter when he scored 11 points to pace a 27-17 team effort that saw Franklin erase a five-point deficit and take a five-point advantage into halftime. Clarence Thompson added 24 points, six steals and four rebounds while Shawn Goins finished with 12 points and six assists. Terence Thompson dropped eight points, 12 rebounds, seven blocks and five steals for the Quakers. Derek Torres and Aiden Cook led Penfield, each finishing with 15 points apiece. Caden Harrington and Trevor Hofer both scored seven points each while Patrick Emling (6), Scott Petre (6) and James Stinebriser (2) also scored for the Patriots.
MYNDERSE ACADEMY (2-11) 63
WORLD OF INQUIRY (6-9) 73
Jaedon Adams-Griffin scored 16 of his team-high 24 points in the third quarter when World of Inquiry built an eight-point lead and went on to win for the second time in the past three games. Adams-Griffin connected seven times from the floor including one 3-pointer to pace a 24-18 advantage in the third frame. The sophomore forward/guard also grabbed six rebounds in the win. Junayde Richardson finished with 15 points and 17 rebounds for the Griffins which have five wins in their past eight games. Diego Martinez and Ibrahim Bangura accounted for 13 points apiece. Yacoub Tarwally (6) and Jeremiah Lovett (2) rounded out the scoring for WOI. Mynderse's Anthony hit six 3-pointers and led all scorers with 30 points. Jaydan Ryrko added 10 points. Nico Franzone (7), Max Santana (6), Jake Prayne (5), Rocco Palladino (4) and Dylan Tandle (1) also scored for the Blue Devils.
NEWARK (10-3) 83
NORTHEAST (5-8) 58
Raeshawn Howard and Brayden Steve combined to score 45 points as the Newark boys' basketball team got a bounce-back effort. The duo supplied all the offense in a 12-0 run early in the second quarter. Deadlocked in a 16-all tie, Howard converted an and-one to give Newark a lead it did not surrender. Two possessions later, the senior forward drew contact again underneath and finished. READ MORE.
SCHOOL OF THE ARTS (5-8) 49
SPENCERPORT (6-9) 53
Bryon Streb scored 19 of his 23 points in the second half as Spencerport used a 13-4 fourth quarter run to overcome a 10-point halftime deficit. Marquis Tubbs scored a career-high 15 points and Hunter Streb added 11 points. Kyle Milburn (2) and Antonio Diaz (2) also contributed for the Rangers. Ishmael Gonzales led School of the Arts with 21 points and Sam Howland added 12 points. Both Aness Jeff and Tyree Moore finished with seven points and Latrell Ingram netted two points for the Silverhawks.
WEBSTER SCHROEDER (9-4) 77
CANANDAIGUA (4-9) 39
Jack Kelly came off the bench to score 20 points and lead Webster Schroeder to back-to back wins. Giovanni Schillaci netted 14 points and Jon McCaffrey finished just shy of a double-double with 13 points and nine rebounds. Jake Insley added five points and eight assists for the Warriors. Other scorers – Webster Schroeder; Jack Cannon (6), Drew Pagano (5), Nathan Schilling (3), Anthony DeRosa (3), Joseph DiMarco (2), Domenic Mancuso (2), Lance Becoats (2) and Brennan Hickey (2). Nate Barone led Canandaigua with 16 points and Drew Williamee added seven points. Connor McKenna (6), Matt Pawlicki (5), George Spinelli (3) and Mason Lloyd (2) also scored for the Braves.
BLOOMFIELD (5-8) 55
GREECE ODYSSEY (5-11) 40
Cameron Smith scored a game-high 26 points to help lead Bloomfield to its third consecutive double-digit win. Jonathon Nelson added six points and Shem Gossage finished with five points. Other scorers – Bloomfield; Garion Tolbert (4), Connor Moore (4), Parker McKean (3), Gabe Ward (2), Justin Spelman (2), John Dunay (2) and Tyler Rodgers (1). Maron McDonald led Greece Odyssey with 14 points and Gavin Williams netted 13 points. Josh Tantalo (7), Jazir Larkins (4) and Camden Metzler (2) also contributed for the Leopards.
NORTHSTAR CHRISTIAN (7-6) 62
LIVONIA (7-8) 60
Andrew Eschner scored a team-high 21 points to help lead Northstar. Lorenzo Danesi netted 11 points in the third quarter to overcome a three-point halftime deficit and give Northstar a one-point lead going into the fourth quarter. Danesi finished with 19 points and Justin Robinson hit all four of his fourth quarter free throws as Northstar pulled away. David Eschner rounded out the scoring for the Knights with a 10 point performance. Connor Feehan led Livonia with 18 points all coming from behind-the-arc and Chris Coyle added 15 points. Jackson Cook posted 10 points while Nicholas Coyle (7), Jack Kearney (6) and Tommy Stewart (4) also contributed for the Bulldogs.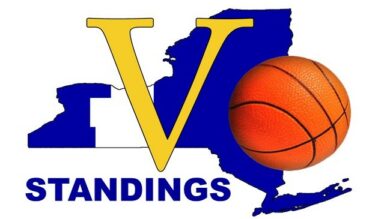 EUGENIO MARIA DE HOSTOS CHARTER SCHOOL (3-10) 75
ROCHESTER ACADEMY (12-0) 87
Cam Miller shot 11-for-13 and finished with a double-double to help keep Rochester Academy unbeaten. Miller scored 16 points in the first half and finished with 24 points and 14 rebounds as Rochester Academy pulled out to an early 28-7 lead. Evariste Omebe also dropped a double-double finishing with 19 points and 10 rebounds including 10 points in the first half. EMHSC was able to cut the lead to as little as nine points during the fourth quarter as Knekose Mack hit 11 out of 12 free throws and scored 21 fourth quarter points for the Hornets, but Kam McDonald netted seven of his 23 total points in the final frame to pull away for Rochester Academy. Christian Coleman posted nine points and 10 rebounds while Joe Aiken (9), Antonio Rodriguez (2) and Perry Washington (1) also contributed for the Racers. Lavante Brown and Sheltere Matos-Cox combined for 29 points scoring 15 and 14, respectively for EMHCS. Eddy Bermudez (6), Miguel Chivere (4), Jarvis Lewis (4) and Jayson Maldanado (3) also contributed for the Hornets.
NOTRE DAME-BATAVIA (11-4) 74
C.G. FINNEY (7-7) 68
ROCHESTER PREP (2-10)
OAKFIELD-ALABAMA (10-2)
GENEVA (7-5) 52
AVON (11-3) 47
Anthony Torres scored a game-high 20 points to help lead Geneva. Lee Hartke led Avon with 16 points while Hudson Volpe posted a double-double finishing with 10 points and 16 rebounds. Michael Rowland netted 10 points for the Braves.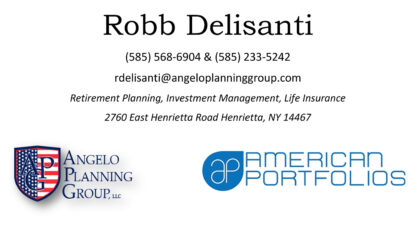 TRUMANSBURG (IV) 51
SOUTH SENECA (11-2) 72
Devon Siurano hit five 3-pointers and finished with 21 points to help lead South Seneca to its sixth straight victory, five out of six being by double-digits. Kenny Halsey netted 13 points and Mikey Kaufman added 10 points. Paul Clemenson (9), Zackary Sherry (8), Colton Dresser (7) and AJ Denmark (4) also contributed for the Falcons. Weston Peake led Trumanburg with 13 points and Mason Vangordon added 11 points. Other scorers – Trumansburg; Nik Nelson (7), Garret Potter (6), Chandler Wright (4), Austin Chaney (4), Connor Stevenson (3) and Lance Lawston (3).
LYONS (11-1) 60
RED CREEK (11-2) 47
JC Walker posted a double-double scoring a team-high 18 points and adding 11 rebounds to help lead Lyons to its second consecutive double-digit win. Lyons used a 19-9 third quarter to stretch a three-point halftime lead to 13 points going into the fourth quarter. Jamire Johnson finished with 14 points and Steven LeBrecht added 11 points including scoring seven in the decisive third frame. Michael Briggs (10), Devyn Williams (4) and Jacob Sides (3) also contributed for the Lions. Tyler Cooper scored 12 points in the fourth quarter and finished with 19 points for Red Creek while Hunter Hicks and Jace Brown both netted 11 points apiece. Brayden Chambers (4) and Connor Hopp (2) also scored for the Rams.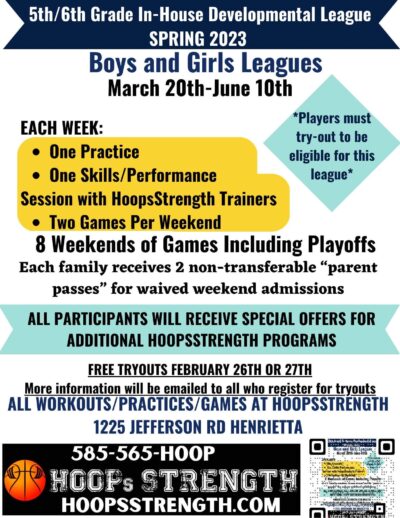 KENDALL (3-10) 67
WARSAW (12-3) 75
Quinton Librock scored a team-high 20 points to help lead Warsaw to its seventh straight home win. DeQuarius Johnson-Myers added 16 points and eight rebounds while Patrick Klump finished with 13 points and seven rebounds. Mason McClurg netted nine points all coming from distance for the Tigers. Jacek Kwiatkowski led Kendall with 19 points and Devin Edick posted 16 points. Hunter Richards (14) and Zach Barrett (12) also contributed for the Eagles.
LETCHWORTH (0-14) 45
HAVERLING (7-8) 57
Jake Hagadone scored 24 points to help lead Haverling. Hagadone used a 12 point third quarter including two 3-pointers to help the Rams pull away. Austin Durand netted 16 points and Justin Yehl added seven points. Connor Seager (5), Evan Pendle (3) and Kobe Moore (2) also contributed for Haverling. Letchworth held Haverling to only four points in the fourth quarter but the late rally wasn't enough. Devin Tisdale and Garret Kemp both led Letchworth with 10 points each. Jacob Stowell netted eight points and Lucas Stowell finished with six points. Isaac Hansen (4), Logan Diver (3), Brayden Brown (2) and Quinn Baker (2) also scored for Letchworth.
CHEEKTOWAGA (VI) 75
PEMBROKE (13-1) 76
Chase Guzdek hit two free throws while Pembroke was down one-point with under a minute remaining to help the Dragons extend their home winning streak to seven games. Guzdek finished with 14 points and nine rebounds and Cayden Pfalzer led Pembroke with 25 points. Tyson Totten netted 18 points while Jon Suro (9) and Avery Ferreira (8) also scored for Pembroke. Darryl Montgomery led Cheektowaga with 26 points while Romel Speaks added 17 points and Justin Blue finished with 14 points.
WHEATLAND-CHILI (9-4) 60
ALEXANDER (5-10) 48
LYNDONVILLE (0-14) 50
PAVILION (5-9) 67
ADDISON (5-10) 36
AVOCA/PRATTSBURGH (12-2) 80
Sawyer Devoe scored 19 first half points as Avoca/Prattsburgh jumped out to a 40-12 lead. Devoe finished with 27 points and nine rebounds while Evan Campbell added 14 points. Macoy Putnam posted nine points and nine assists and Haden Abbott added seven points, seven rebounds and four assists. Chris Abbott (7), Jamel Crowder (4), Dayton Putman (4), Jamie Reagan (4), Josiah Stison (2) and James Forte (2) also contributed for Avoca/Prattsburgh. Jacopo Vimini led Addison with 14 points while Brady Wheatcraft added eight points. Zane Harageones (6), Elijah Scriber (5) and Brayde Webster (3) also scored for the Knights.
WELLSVILLE (10-4)
ALLEGANY-LIMESTONE (VI)
To report scores, please email photos of that night's scorebook pages to scores.pickinsplinters@gmail.com.