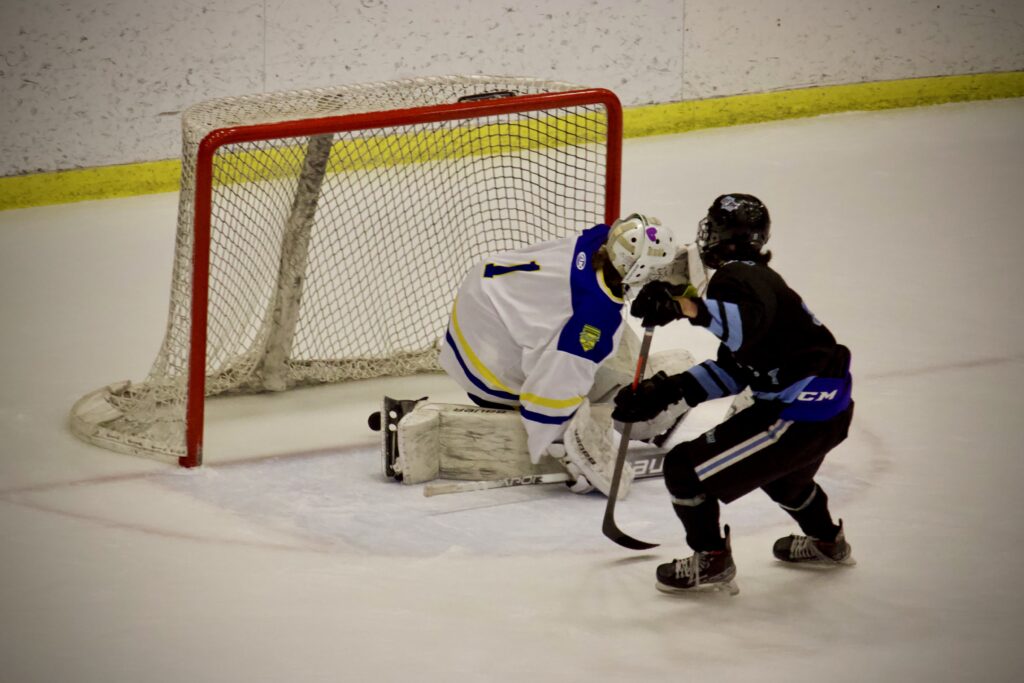 BY JONATHAN SKUZA
BROCKPORT, N.Y.– It's not every night that you see not one, but two hat tricks from the same team.
Aidan Candalari and Spencer Griffin each recorded a hat trick apiece for the Greece as the Storm swept the season series against the Portside Royals with a 6-1 victory on Thursday evening.
"They're great kids, they're great leaders," Greece Storm's head coach Rob Howell said of Griffin and Candalari's performances."The rest of the team looks up to them. I just hope a little bit rubs on the other two lines. As we push closer to sectionals, one line is not going to be able to carry us through a run into sectionals. So, I'm trying to get a little more productivity out of the second and third line."
"We start off clicking," Candalari talking about his performance. "Coaches got us going and we followed our game plan and it turned out well for us."
Griffin added three assists for a game total of six points. Griffin has 32 points on the season now and that puts him in the top five in Section V.
"I think I did pretty well tonight," Griffin said about his six-point effort. "I couldn't have done it without my teammates and our goalie standing on his head."
The Royals and Storm last met nine days ago where the Storm came out with a 5-2 victory at home. Candalari and Griffin both performed well then with each tallying three points. The linemates set the tone from the moment the puck dropped in the second meeting.
Griffin opened the scoring with an unassisted goal that started when he forced a turnover and drove down to put home his first marker of the game at the 8:44 mark.
Frank Grad tied the game 30 seconds later for the Royals with a shot from the slot that beat Greece's goaltender Joe Willis.
Candalari regained the lead for the Storm with just over six minutes to go when he helped cause a turnover and got himself on the scoresheet.
Griffin added his third point of the night with a short-handed goal with 31.5 seconds to go in the first. Candalari had a short-handed marker of his own with a buzzer-beater goal with 0.4 seconds left.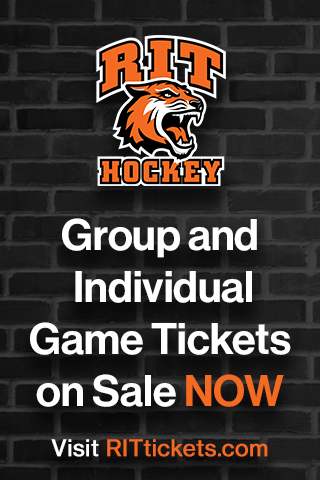 Greece was able to maintain its lead and even build on it. Candalari tallied his hat trick after Griffin and Josh Kimble beautifully set him up late in the second period.
"He's a great player," Candalari stated about playing with Griffin. Sees the ice well. He'll pass it, shoot it. He can do whatever you need and he really helps the team."
Candalari finished the night with his hat trick and an assist giving him 21 points on the season.
Griffin found the back of the net for the third time to cap off his great performance with a weird angle shot from the wing. Candalari set up the final Griffin goal.
"We've been playing well together," Griffin said about playing with Candalari. "Been working it out and figuring it out and finding ways to score.
Willis made 36 saves in the victory for the Storm. He stood tall in net and had a rebound performance from his last start where he suffered a loss to Penfield.
"Last game was a tough loss," Willis stated about his performance between the pipes. "I just really wanted to rebound for the team and the team came up big scoring four in the first period, so that was a big momentum shift. My defense was very good tonight helping me out."
"He did a great job," Howell said. "He's done a great job for us all year. Unfortunately, statistically, it doesn't show. I think today even though we gave up 37 shots, which is a little too much for my liking, but most of the shots were kept to the outside and we kept people away."
Griffin and Candalari's success this season has been due in part to feeding off one another and playing an aggressive style of hockey. Their line likes to have a floating skater in the neutral zone that stretched out opposing teams' defensemen and leads to odd-man rushes and scoring chances.
"All three of those guys are talented," Howell stated about his top line. "We give them kind of free rein a little bit. If they see an opportunity to push it to the neutral zone, all of our defensemen know if that line is out there and if they're in trouble, go high off the glass, we got someone in the neutral zone."
"Just always looking for the next scoring opportunity," Candalari stated about his line's aggressive play style. "We get the D zone stop and then we want to go down and score a goal like we did tonight."
Greece (7-7-0) will return home to Lakeshore to take on a red-hot Victor team on January 24.
Portside (7-5-2) goes on the road to Genesse Valley to take on Brighton/HFL on January 24.