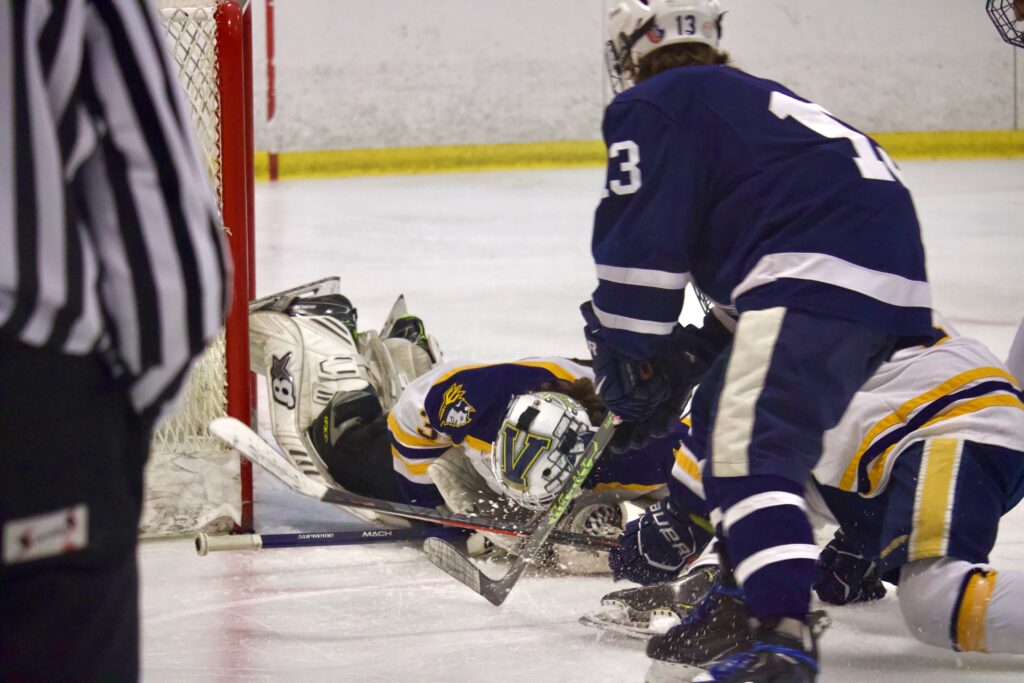 BY JONATHAN SKUZA
PERINTON, N.Y.– Jackson Guck led Victor hockey with a four-point performance to help the Blue Devils extend their winning streak to nine games as they defeated Spartan Hockey 5-2 Tuesday evening.
"He's one of our great leaders, that's for sure," Victor's head coach Mike Ferreri stated about Guck's performance and impact. "He brings a ton of speed when he's on the ice. When you look at him, he's very shifty as well. He's a phenomenal hockey player. He does a lot of little things. He stepped up today and played very well for us."
"I just want to keep grinding," Guck stated about his performance. "Our defensemen went down early, so we got to play for him and I think the whole team did."
Guck came into Tuesday with only five points on the season. He nearly doubled his total points by the end of the night.

Guck opened the scoring for Victor at the 12:30 mark of the opening period. Simon Kowal would double the Blue Devil's lead by ripping home a shot on the powerplay with over a minute to go in the first. Guck tallied his first assist of the night on the Kowal goal.
Victor continued the scoring in the second period. Guck helped set up Tanner Radogna's first of two short-handed goals to give him his second assist of the night. Radogna drove down the ice to put home the goal. He would get his second short-handed marker after Kowal found him in front of the net, and he buried it to give the Blue Devils a 4-0 with over nine minutes remaining in the second period.
Spartan Hockey started to rally late in the period. Ryan LaRose took advantage of some 4-on-4 hockey and used the extra space to score the first goal for the Spartans. Ayden Zugnoni pulled Spartan Hockey within two with a powerplay goal with 9.5 seconds remaining in the middle period.
Guck put Victor back up by three after he put home a powerplay goal of his own early in the third period. Kowal assisted on the man-advantage goal for his third point on the evening. Max Pitts shut the Spartans down for the rest of the night in net to secure the victory.
"We knew it was going to be a battle, that's for sure," Ferreri stated about the win. "Really proud of the guys. Not just today but really the entire season and today. Asher Erwin, one of our defensemen, went down early with an injury, and we had some guys that had to step up and play some different roles and they did a phenomenal job."
Victor (10-1-0) will travel to Buffalo to take on Orchard Park on January 20.
"We just want to keep getting pucks to the net and keep driving hard," Guck stated about building off the momentum of his performance. "If we keep doing that, we should put up a couple more. We got a tough game against Orchard Park coming up. As long as we do that, we should take them down."
Spartan Hockey (6-5-2) will return home to start a three-game home stand against Irondequoit on January 20.