BISHOP KEARNEY (8-2) 81
MARCELLUS (III) 32
Asia Wilson exploded for a career-high 30 points as Bishop Kearney dominated both ends of the floor en route to winning the Bishop Grimes Martin Luther King Tournament. The sophomore guard output 11 points in both the first and fourth quarters, two in the second and six in the third. Amaia Jackson recorded a triple-double of 20 points, 11 assists and 11 steals to garner tournament MVP honors. The sophomore guard poured in nine field goals, including seven from inside the arc. Klarissa Goode and Allie Hall both contributed 12 points. Hall accumulated 14 rebounds for a double-double along with five blocks. Goode compiled seven steals and six assists. Senior forward Caydence Hadley posted seven points, 12 boards and seven rejections.

AQUINAS (8-4) 72
HORNELL (6-5) 56
Freshman guard Ajayah Orr drilled seven three-pointers and dropped 32 points as Aquinas snapped a two-game skid. Sophomore guard Molly O'Toole provided 10 of her 21 points in the third quarter as the L'il Irish outscored Hornell, 23-15. For Hornell, Raegan Evingham and Selena Maldonado both recorded a double-double. Maldonado posted 12 points and 12 rebounds. Evingham procured 11 points and 14 boards. Freshman guard Jordyn Dyring led with 16 points, six rebounds and five assists. Senior center Madelyn Moore finished just shy of a double-double with 15 points and eight boards.
Quote from Hornell head coach Brian Dyring: "Our kids as always played as hard as they could, but ran out of gas late in the game against a very skilled and athletic opponent in Aquinas. I thought we rebounded the ball very well, but did a really bad job in locating and recognizing who the shooters are and where they were located. We need to do a better job with our court awareness and the other team's player personnel that's on the floor. We have to do a better job communicating as well. Several times when we weren't in the press, we would find a player that thought we were in the press and when we were pressing at times, we would have a player that wasn't pressing. All fixable things, but they need to be cleaned up sooner than later as we have two big league games left this week at Wayland-Cohocton and Dansville. If we can clean those things up, it will go a long way in helping us be more successful against the elite teams."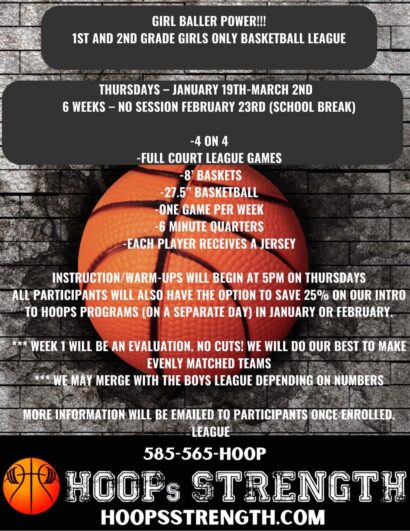 WHEATLAND-CHILI (4-8) 31
RED CREEK (1-9) 21
For Red Creek, eighth-grade guard Taylor Bailey led with 10 points, two rebounds and a pair of steals. Freshman forward McKenzie Allen corralled 10 rebounds to go along with two points, one block and a swipe. Ryleigh Holliday (4), Madalyn Mayville (3) and Halle Brown (2) rounded out the scoring for the Rams.
PEMBROKE (4-8) 41
EAST ROCHESTER (8-3) 57
Lily Funk and Emma Romach both scored 15 points as East Rochester rolled to back-to-back wins. For Pembroke, sophomore guard Olivia Breeden led with 12 points, one assist, a rebound and a steal. Carly Cerasani and Elle Peterson both added 10 points. Peterson added six rebounds and a pair of assists. Cerasani collected two boards, two blocks, an assist and a swipe. Other scorers – East Rochester: Aaliyah Carmichael (6), Zarriah Eldridge (6), Aniyah Eldridge (5), Lebria Hickman (5), Gianna Romach (5); Pembroke: Karli Houseknecht (3), Onolee Easterbrook (2), Jada Everett (2), Rylee Seelau (2)
ADDISON (10-2) 38
HAVERLING (8-5) 29
Anna Carlineo and Chiara Lai combined for 25 points as Addison produced just enough offense and held Haverling to single-digit scoring in every quarter. Carlineo led with 13 points on six free throws and three field goals made. Lai drilled two of the Knights' four made three-pointers as part of her 12-point output. For Haverling, senior guard Meredith Czajkowski connected on a trio of three-pointers and led with 13 points. Junior center Emma Luckenbach added 10 points. Other scorers – Addison: Kerrigan Driskell (5), Erin Terwilliger (4), Jillian Ames (2), Kendra McLean (2); Haverling: Madison Coots (3), Leah Krelie (3)
Quote from Haverling head coach Randy Abrams: "Tonight was just not our night. I'm sure our shooting percentage was in the low 20s and Addison made big shots when needed. Carlineo went 6-of-7 from the foul line at the end of fourth quarter when we were forced to start fouling. We're still searching for a consistent third and fourth scorer on the offensive end. The road gets tough going to Livonia later this week. We get back to work tomorrow and keep trying to improve."
GANANDA (8-3) 49
MYNDERSE (7-4) 39
Nicole Cruz ignited Gananda to its fourth straight victory with all nine of her points in the fourth quarter as the Panthers outscored Mynderse, 22-8. The junior guard converted a trio of field goals and three free throws. Eva Jenny contributed with nine of her team-high 11 points in the second half. For Mynderse, senior forward Haley Mosch led with nine points in three quarters. Other scorers – Gananda: Ella Lathrop (6), Kaylee Marvin (6), Katie Rothwell (6), Nyah Cruz (2); Mynderse: Bella Ferrara (6), Maddie Verkey (6), Ella Wirth (6), Kelly Kohberger (5), Lauren McDermott (5)
FROM SUNDAY:
LANCASTER (VI) 46
FAIRPORT (10-4) 65
The junior duo of Ne'vaeh Buntley and Jada Crocker both posted 12-point double-doubles as Fairport used a 22-9 second-quarter run to take a 38-14 halftime lead and secure the win. Crocker grabbed 11 rebounds while Buntley collected 10. Senior guard Ella Meabon led with 16 points and eight boards.
To report scores, please email photos of that night's scorebook pages to scores.pickinsplinters@gmail.com.