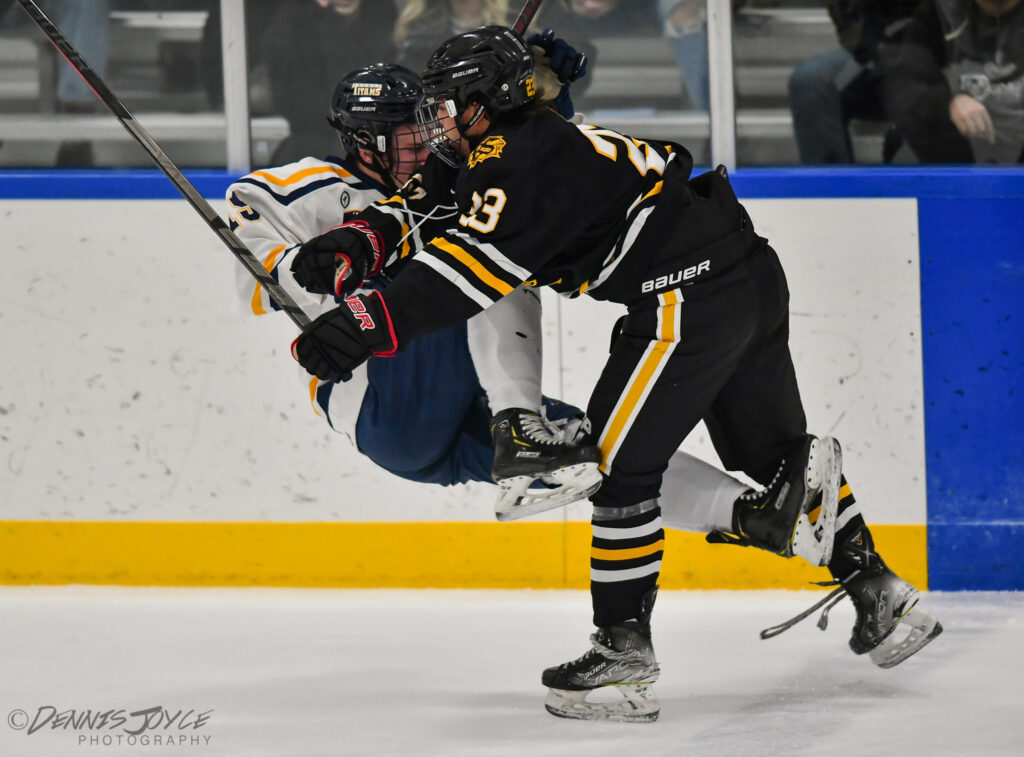 FRIDAY
GREECE STORM (1-1-0) 3
HILTON (0-1-0) 0
Joe Willis recorded a 20-save shutout to lead the Greece Storm. Jayden Gargana scored the opening goal at the 4:36 mark of the second period. Josh Kimble scored three minutes later to extend the Storm's lead. Spencer Griffin scored the final goal of the contest 57 seconds into the third period. Griffin and Kimble both recorded assists. Addie Alvarez tallied an assist as well.
AQUINAS (2-0-0) 5
IRONDEQUOIT (0-1-0) 0
Cam Stewart's four-point performance led the Aquinas Li'l Irish to a season-opening victory against the Irondequoit Eagles. Stewart found the back of the net twice and had two assists. Isea Mohammed tallied a three-point performance with a goal and two assists. Connor Carey and Mike Dossier scored on the power play in the third period for Aquinas. Andrew Gatti got his first shutout of the season with a 22-save performance.
CANANDAIGUA (1-1-0) 4
ALBANY ACADEMY 1
Griffin Harvieux, Jed Smith, and Dean Spychalski recorded two points for Canandaigua to pen up its season with a victory over Albany Academy. All three players recorded a goal and an assist. Henry VanLaeken scored the other goal for the Braves. Joshua Barnes tallied two assists. Charles Fuller made 30 saves in goal.
SATURDAY'S GAMES
PITTSFORD (2-0-0) 8
SYRACUSE CITY 1
Five second-period goals propelled Pittsford to a season-opening victory. Will Masaschi led the Pittsford offense with a four-point performance. Masaschi scored once and assisted on three goals. Lucas Procious led Panthers with two goals. Edward Wu, Cole Mann, and Keegan Garver all tallied a goal and an assist. David Pollard and Brady McMahon scored a goal. Bradley Pollard had two assists while Colin Norton had a helper.
AQUINAS (2-0-0) 5
GREECE STORM (1-1-0) 4
Three unanswered goals in the third period secured the victory for Aquinas. Mike Dossier led the way for the Li'l Irish with two goals with both coming in the third period. Connor Carey and Iesa Mohammed recorded a goal and an assist. Cam Stewart found the back of the net for Aquinas in the second period. Jack Davila registered two assists. Caleb Wood, Ares Miller, and Connor Mangone tallied assists. Josh Kimble led the Storm with two goals and an assist for a three-point performance. Spencer Griffin tallied three points as well with a goal and two assists for Greece. Camden Monks scored a goal late in the first period. Carter Griffin and Devin Palma had helpers.
HILTON (1-1-0) 4
IRONDEQUOIT (0-2-0) 0
Aidan Hill led the Hilton Cadets to their first win of the young season with a shutout in net. Luke Manley scored his first goal of the season early in the first period. Tanner Smith and Hunter Hutterman added two more goals before the first period was over. Casey Hanrahan scored the final Cadet goal and his first career varsity goal.
MCQUAID (1-0-0) 4
WEBSTER THOMAS (0-1-0) 2
Jack Callery scored two goals to help the McQuaid Jesuit Knights open their season with a win against the Webster Thomas Titans. Jack Bovenzi and Matt Kozara scored the other two goals for the Jesuits.
CANANDAIGUA (1-1-0) 0
BETHLEHEM 4
WFL PANTHERS (0-1-0) 2
IROQUOIS CENTRAL 6
SUNDAY'S GAMES
PITTSFORD (2-0-0) 4
WILLIAMSVILLE NORTH 2
Will Masaschi recorded four points with two goals and two assists for Pittsford as they won its second straight against Williamsville North. Lucas Procious tallied three points with another two-goal performance and an assist. Colin Norton and Henok Hankinson registered two assists for the Panthers. Brady McMahon had the primary assist on Masaschi's first goal.