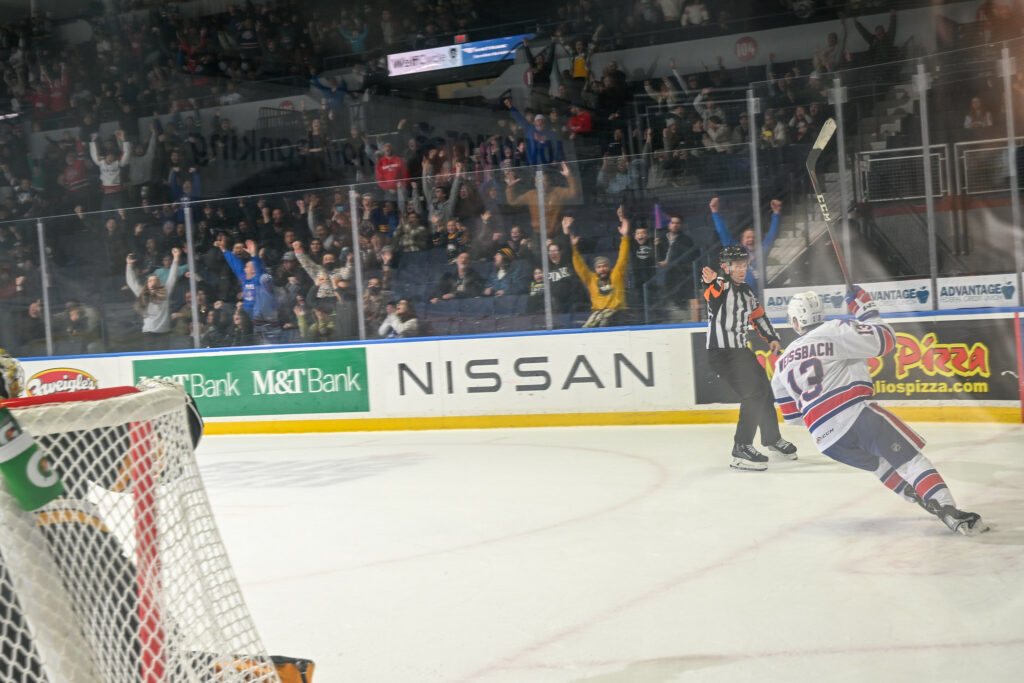 By KEVIN OKLOBZIJA
Linus Weissbach, the Rochester Americans' second-year, Swedish-born winger, says he's never had any dreams of being a football player.
"We don't have football in Sweden," he said.
Nonetheless, Weissbach showed in overtime on Wednesday night that he's got a little mix of Stefon Diggs and Justin Jefferson in his hockey skillset.
With just his right (top) hand on his stick, Weissbach batted down Ethan Prow's 120-foot Hail Mary outlet pass just inside the Providence zone, then gained control, darted down the slot and used a quick backhand-to-forehand move to score the buzzer-beating game-winner as the Amerks defeated the Bruins 4-3.
Weissbach's seventh goal of the season – and first in seven games – came with just 5.1 seconds remaining.
"I just saw him passing it there and it was good to get a touchdown," Weissbach joked after the Amerks (9-5-1-1, 20 points) rallied from 2-0 and 3-1 deficits to upend the American Hockey League's best team (record-wise at 10-2-3-2, 25 points). "I just tried to skate as fast as I could because I saw no time left."
The play was worthy of the #SCtop10 hashtag, and provided the perfect ending to an entertaining Thanksgiving eve showdown of the second place team in the North Division and the top team in the East Division.
5.1 SECONDS LEFT
LINUS WEISSBACH
OT HERO pic.twitter.com/rxdhldHldw

— Rochester Americans (@AmerksHockey) November 24, 2022
"What a catch," Amerks coach Seth Appert said of Weissbach's ability to rein in Prow's high, arcing pass. "The pass was great but he caught that with one hand, skating full speed, out of mid-air. That was a pretty special play."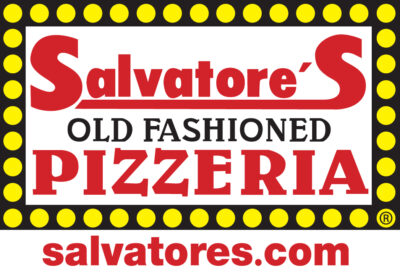 The comeback had a special feel as well. Down 2-0 after two periods, the Amerks cut into the deficit on Brett Murray's goal at 5:00.
The Bruins retaliated quickly, when Samuel Asselin scored at 6:17, but Murray's rebound goal on the next shift cut the deficit to 3-2, and the score didn't change until Andres Bjork's goal with 3:15 remaining.
"They're No. 1 in the league right now and playing guys of that caliber and that skill, it's always good to size yourself up against something like that," said Murray, who also has seven goals. "To come away with a win gives us a little more confidence heading into the weekend (a home game Friday against Bridgeport, on the road Saturday against Lehigh Valley)."
Weissbach's play was just OK through two periods or so, but he assisted on Bjork's goal – a pass intended for Lukas Rousek that instead deflected past goalie Brandon Bussi off the stick of defenseman Kai Wissman – before becoming the OT hero.
"Weissbach probably didn't have his best game and had a defensive miscue or two, but he's earned more trust with his play, so he's earned the right to go back out there and make up for that," Appert said. "Obviously he made up for it in spades."
The comeback didn't begin because of flash-and-dash, however. The Amerks needed a little grind-it-out, win-board-battles play to produce goals to start the third period, since the Bruins are the AHL's second-best defensive team, allowing an average of just 2.53 goals against per game (Hershey gives up just 2.25).
That's why Appert said he switched up the lines, putting Murray with Michael Mersch and Sean Malone.
"My gut was telling me we were probably going to need to score a dirty one to get back into the game and those guys are our best guys at doing that," Appert said. "Like they usually do, those guys delivered."
Bjork's goal was scored off the rush, as he tried to pass from above the left circle to Rousek in the slot. Good fortune took over and the puck hit Wissman's stick and carom high into the net on the short side.
"We had to change our compete and be a little more intense and I think that's what we did and we got a couple bounces," Murray said. "The tying goal is an example of that."