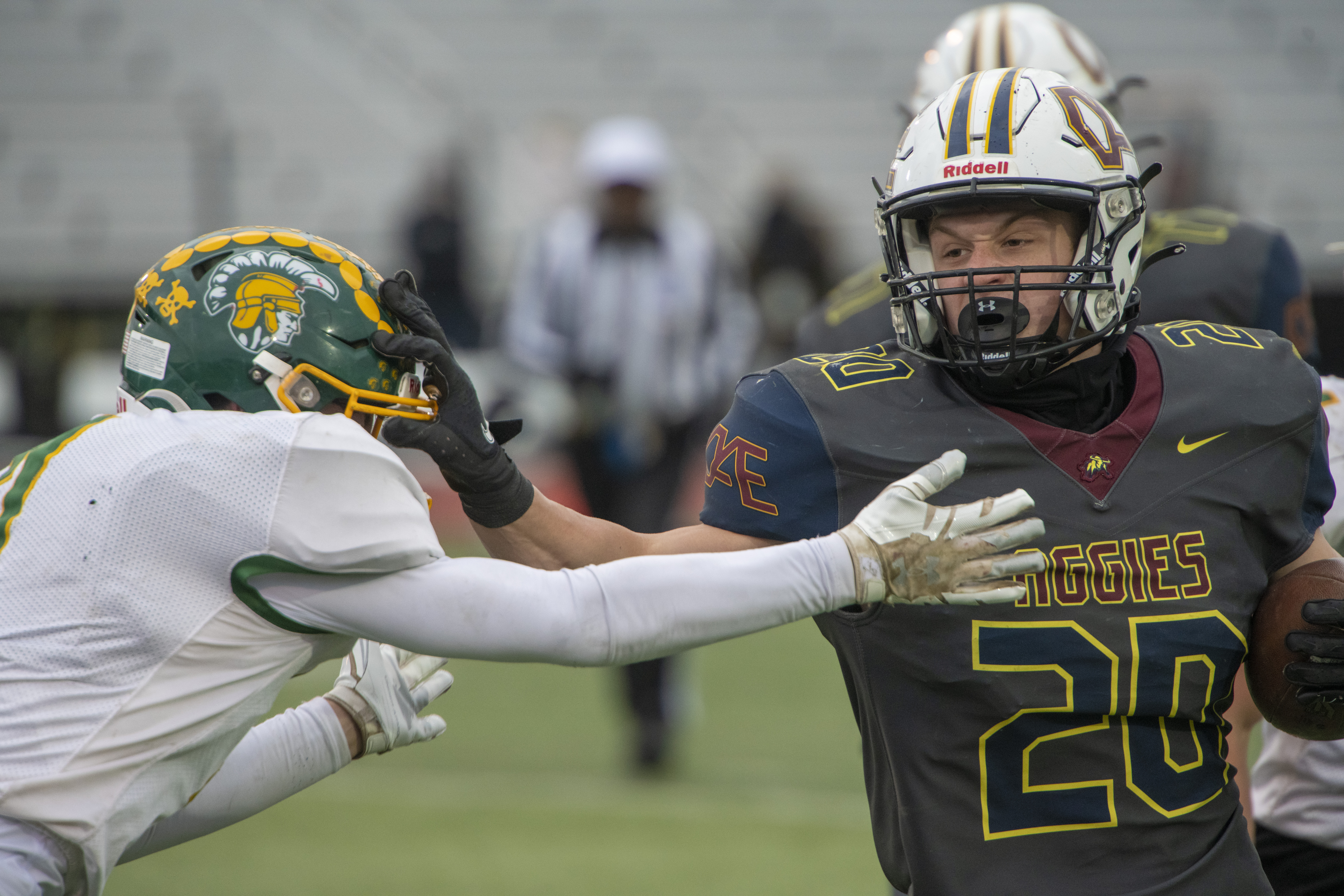 By PETER MANCUSO
Round Two With Randolph (VI) in Far West Regional Awaits the Aggies
The statistics coming into the 2022 Section Five Class D Sectional Championship were video game like as one team was averaging nearly 55 points per game and the other almost 40. Total yards per game on offense were also staggering with one averaging 441 yards and the other over 300. Both had not lost a game all season and the two teams combined for seven shutouts in 19 games. Oakfield-Alabama/Elba and Alexander had put together fantastic seasons and they were set to meet for a sectional title.
The two teams last played in the semifinals of the 2020-21 Class D Sectional tournament and the Trojans prevailed with a 9-7 win. Last year O-A/E won three sectional games en route to the 2021 Class D title, while Alexander was defeated in the semifinals.
On a crisp autumn day on the campus of SUNY Brockport, the two unbeatens took to field at Eunice Kennedy Shriver Stadium to decide the Class D Champion and Oakfield-Alabama/Elba got out to a 14-0 first quarter lead and never looked back, running their season long win streak to eleven with a 35-7 win over Alexander.
Both defenses were on point at the start as the Trojans only allowed one first down and a total of nine positive yards before forcing an O-A/E punt and the Aggies responded by forcing a three and out their first time on defense.
That didn't last long as O-A/E star Noah Currier showed why he is one of the best running backs in the state. He took a hand off to the left side of his line and raced 45 yards into the end zone for the games first score. It was his 31st touchdown of the season and it gave O-A/E a 7-0 lead with 5:07 left in the first quarter after a successful PAT by Avery Watterson.
"Lining up across from Alexander today, we knew we had to put a little pep to our step," Currier noted. "All week in practice we were very locked in."
The Aggies D continued their tough play as two-way star Bodie Hyde punched the ball loose from Alexander RB Richard Townley on the first play of the next possession and OAE teammate Kyle Porter scooped it up, returning it twelve yards to the Trojans 35.
O-A/E took over on offense with great field position, looking to go up two scores, but that opportunity nearly slipped away as an errant snap setup a third and long. Alexander's defense almost forced the second fourth down play of the game for O-A/E, but Currier slipped by a few Trojans' defenders and broke at least one tackle on the near sideline to gain 15 yards and the first down. Two play later he would run 13 more, untouched, into the end zone and the Aggies would push their lead to 14 with the PAT.
This was not the first quarter start Alexander drew up and it would get worse. Starting on their own 23 after a 18 yard kickoff return, the Trojans would put together a number of positive plays that saw them gain three first downs and move the ball well into O-A/E territory. They stood at the Aggies 36 with momentum and a first and ten before a bad snap of their own pushed them back eight yards as Aiden Warner chased Alexander quarterback Trenton Woods out of bounds. Faced with second and 18, Woods took to the air and his deep pass into double coverage was intercepted by Porter at the 12 yard line, giving him two first half takeaways.
Despite losing a scoring opportunity, the turnover did give O-A/E their worst starting field position of the game and the Trojans were still one big play for being right back in the contest. And that play almost came to be as Alexander's defense tightened up and forced an Aggies punt from their 20, but a running into the kicker penalty gave O-A/E a first down and a chance to grind out the clock during the second quarter. O-A/E ran into a few penalties of their own and Alexander's defense stiffened up, forcing an Aggies punt and the Trojans would get the ball back with 2:45 left in the first half.
Starting the drive at their own 42 and knowing they would get the ball in the second half, things weren't looking too bad for Alexander until the first snap of the drive sailed over Woods' head and he recovered for a loss of 13 yards. Two passes later the Trojans had to punt. Alexander was able to hold OAE to just one first down conversion, albeit one that went for 28 yards into Trojans territory on a pass from Hyde to Porter, before forcing an incompletion on fourth down giving Alexander the ball back to who kneeled it out to halftime.
O-A/E came out in the second half and continued to play very good defense, allowing only one first down during Alexander's first two drives of the second half. In between, the Aggies added to their lead.
"The kids spent all summer putting in the necessary work to be physically prepared for games in November like this one and it pays off in the second half," a very elated O-A/E head coach Tyler Winter pointed out after the game. "Today I think you saw us physically wear down our opponent in the second half. We thought if we came out after half time and played with tempo we could finish the job against them."
Getting the ball back at their own 26, Currier and Hyde would combine for 48 yards on the ground and coupled with a face mask penalty, they took the ball down to the Alexander eleven. Aggies RB Connor Scott took the next hand off and dashed toward the far sideline pylon and into the end zone for the third O-A/E touchdown of the game. Watersonn came on to kick the PAT and the Aggies upped their lead to 21-0.
Hyde and Currier didn't stop running on the next O-A/E possession, this one stretching into the fourth quarter, as they amassed another 50 rushing yards capped off by Currier's ten yard dash, untouched again, into the end zone giving O-A/E a commanding 28-0 lead with the successful PAT. Currier finished the game with 22 carries for 156 yards on the ground and three touchdowns.
After a tremendous play by Hyde on defense that stopped a fourth and one Trojans run play, Hyde help drive the Aggies down field with a big 30 yard run to Alexanders two yard line. Hyde would take the next snap and run up the middle for his first touchdown run of the game. This drive pushed Hyde over the 100 yard rushing mark as well, totaling 104 in the game via 23 carries to go along with his TD.
"Today and all this week in practice was all about not making it bigger than it needs to be," Hyde said during a post-game interview. "We knew coming in we are a physical team with great athletes and if we just play our game we would come out successful. We just have to keep that mentality and focus in the next few weeks to get go to the places where we want to go later in the season."
Alexander never gave up grinding away on offense, even after losing top running back Richard Townley early in the second half with an apparent lower body injury. They were able to sustain a long drive late in the fourth quarter and broke the shutout with a nine yard touchdown run by Tyler Marino.
The final score ended 35-7 O-A/E as the Aggies kneeled out the clock with their last possession.
"It didn't go the way we thought it would go today," remarked Alexander head coach Tim Sawyer. "We had a great week of practice, but we did not play well today and OAE did. The way we played today certainly didn't reflect the sharp week of practice we had. We got behind early and never could dig out of it … too many mistakes.
"I am glad we get to play again – I don't want it to end like this for our team." Sawyer is referring to the opportunity his team has next week with their at-large berth into the Class D state tournament. Alexander will play Cambridge/Salem (II) at Broadalbin-Perth High School on November 18 at 7 pm. The chance for a rematch with O-A/E in the Class D state championship is a real one.
O-A/E will play Randolph (VI) on November 19 at Van Detta Stadium in Batavia, NY. The Aggies beat Randolph last year in the Far West Regional 28-22 before falling to eventual 2021 Class D state champion Tioga 49-6 in the semifinals.
"We are so incredibly proud and excited for these boys!," exclaimed Winter. "The level of both physical and mental execution they demonstrated today was a championship level for four quarters. We will have a fun weekend, but we are thankful to be back in the Far West Regionals next weekend for a rematch with a very good Randolph team and represent Section V Football."
O-A/E's hard work will continue in practice next week as they strive to take the next step to the state championship game, a testament to their nickname and the communities they come from. When asked how the nickname Aggies came about, Oakfield-Alabama athletic director Jeff Schlagenhauf explained, "The coaching staff recognized the kids are from two rural school districts in hard working communities that are based in agriculture and it seemed to fit together well."
The grit and determination the team showed today in front of what seemed to be the entire towns of Oakfield, Alabama and Elba couldn't have made the fans any prouder.
NOTES:
-Post game awards went to Alexander's Connor Thompson (Lineman of the Game), O-A/E's Aiden Warner (Defensive Player of the Game), O-A/E's Bodie Hyde (Offensive Player of the Game) and O-A/E's Noah Currier (MVP of the Game)
-The Aggies defense was outstanding all game long … Hyde had eight tackles, three for losses, one sack and one forced fumble; Connor Scott made seven tackles; Brayden Smith had nine with two for losses and one sack; TJ Andrews added nine tackles, three of them for losses; Kyle Porter made four tackles and recorded an interception and fumble recovery, while Aiden Warner recorded eight tackles, two for losses and Gage Chamberlain added eight tackles with two for losses
-O-A/E has scored at least 35 points in all eleven games they have played this year
-The Aggies 35 points scored today were the most Alexander has given up all season