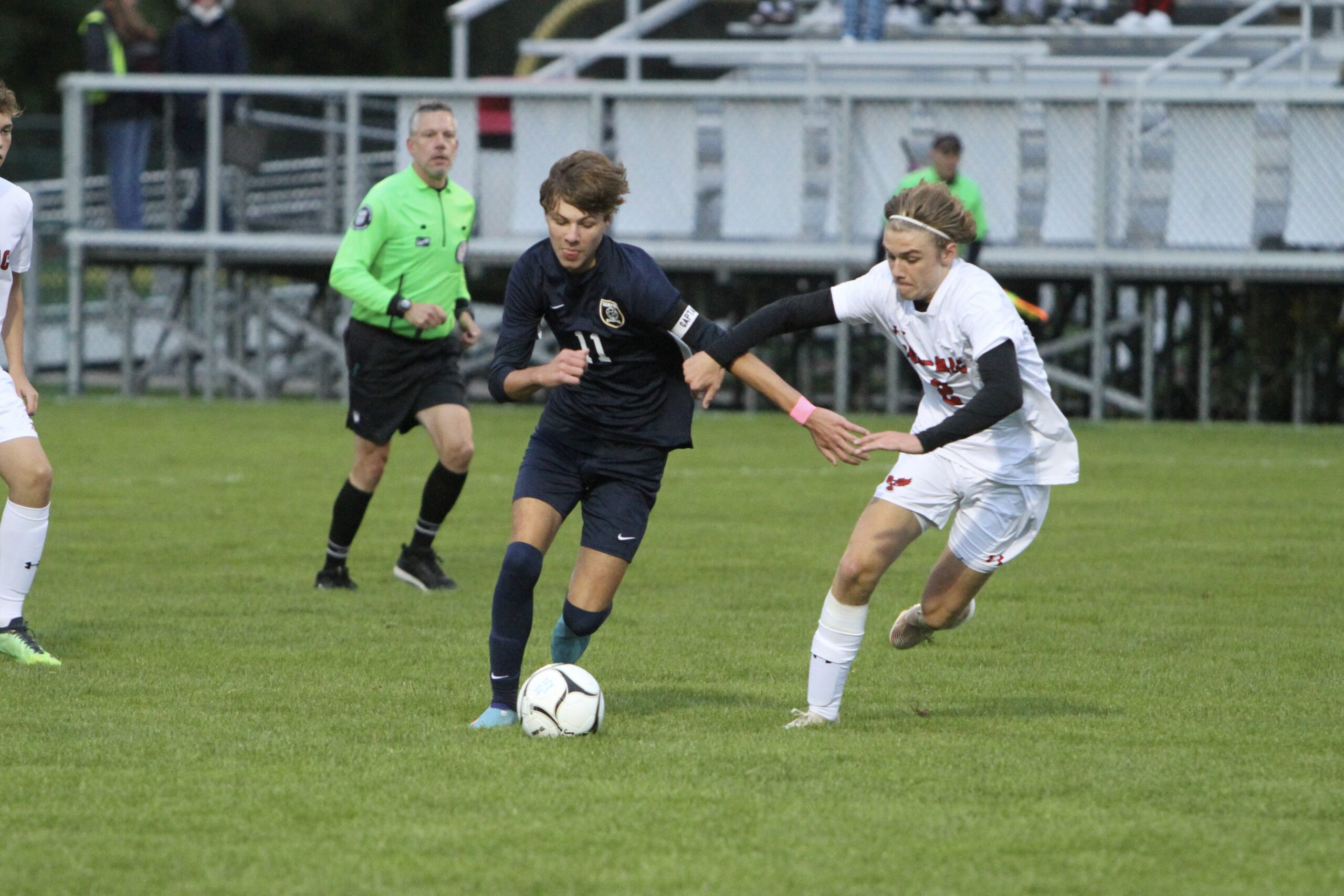 ROCHESTER PREP/VERTUS/ROCHESTER ACADEMY (0-5-0) 2
CHARLES G. FINNEY (4-2-1) 4
Octavio Gefell scored two goals for Charles G. Finney. Mike Crandall also scored a goal of his own while also assisting one of Gefell's goals. Nick Pasquentonio found the back of the net for the Falcons.

EAST/ LEADERSHIP ACADEMY/NE DOUGLAS (0-7-0) 0
PENN YAN (6-2-0) 6
For Penn Yan, Landon Berry assisted three of the six goals. David Reid also had a great game for the Mustangs by assisting two goals and scoring one of his own. Zackary Townley found the back of the net and assisted Owen Bishop for a goal. Collin Bacher and Riley Griffiths both scored for the Mustangs.

BISHOP KEARNEY/CHESTERTON (6-0-0) 5
NORTHSTAR CHRISTIAN (2-5-1) 0
Luke Tytler scored two goals for Bishop Kearney/Chesterton. Ezra McMullen netted a goal and assisted Tytler on his first tally. Joey Triassi and Aidan Kharroubi scored a goal apiece for the Kings.
PALMYRA-MACEDON (2-4-0) 0
WAYNE (8-0-0) 6
Alex Cook accounted for a goal and an assist in the first half as Wayne jumped to a 4-nil lead. Stephen Habecker opened the scoring in the 11th minute with an assist from PJ Treasure. Cook converted a penalty kick six minutes later. Trevor Catalano and Skyler Ferry added tallies from there. Tanner Matz contributed a goal and an assist in the second half. Nevin Crane also found the back of the net. Cael Crane had an assist in the win.

RED CREEK (7-2-0) 1
MARION (5-3-1) 0
Gonzalo Dorado accounted for Red Creek's lone goal.

WILLIAMSON (4-2-0) 2
GANANDA (0-8-0) 0
Williamson had a total of 22 shots and converted on two goals. John Niles scored both goals for the Marauders off assists from Caiden Hilegeer and Keenan Murray.

DUNDEE/BRADFORD (5-2-0) 2
MARCUS WHITMAN (2-3-1) 1
Dundee/Bradford pulled out a win in a close game against Marcus Whitman. Miguel Candela scored one goal and assisted Ryan McTamney on his goal.

HONEOYE (2-4-1) 1
NAPLES (6-1-0) 3
Donivan Todd scored two goals for Naples that led them to victory. His first goal came off an assist from Traugott Uhlen. Evan Waldies found the back of the net as well for the Big Green.

LYNDONVILLE (1-5-0) 0
KENDALL (3-2-1) 8
For Kendall, goals were in abundance this game. Louis Conte, Jonathan Reyes, Zach Barret, Colby Hughes and Josh Esposito each had a goal and assist. Devin Edick netted a pair of goals. Mike Colluci found the back of the net as well.
NEWARK (6-3-0) 3
GENEVA (3-5-0) 0
HARLEY-ALLENDALE-COLUMBIA (5-1-0) 4
BLOOMFIELD (0-8-1) 0
ATTICA/ALEXANDER (7-0-0) 6
HOLLEY (2-6-0) 1
WHEATLAND-CHILI (4-3-1) 1
BYRON-BERGEN/ELBA (8-2-0) 3

WAYLAND-COHOCTON (5-3-0) 4
GENESEO (3-4-0) 3