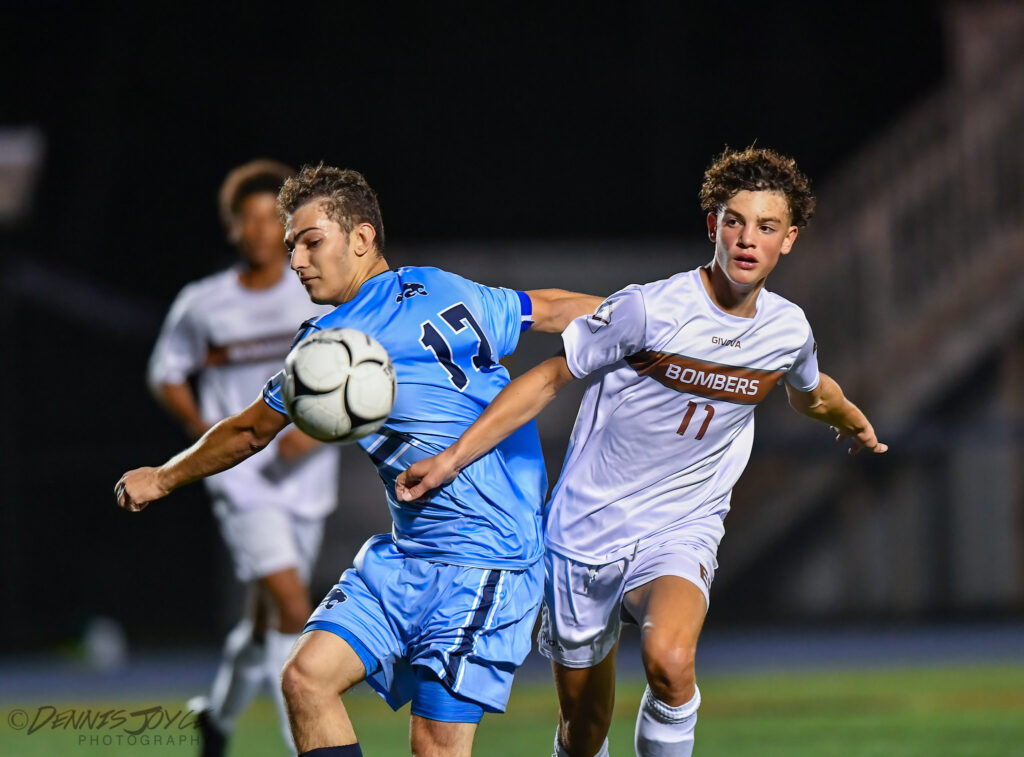 C.G. FINNEY (3-2-1) 1
EAST/LAFYM/SWN/NE N DOUGLASS (0-6-0) 0
Octavio Gefell scored an unassisted tally in the second half to lead Finney to a second straight shutout win.
NICHOLS (VI) 0
AQUINAS (5-2-1) 1
Ali Shabani broke the scoreless tie in the second half off an assist by Allfonso Vito to lead Aquinas to its fourth straight win. LJ Gleason made 11 saves to secure the shutout.
DANSVILLE (4-5-0) 3
CALEDONIA-MUMFORD (4-3-0) 2
Tyler Harris netted an unassisted strike in the 48th minute and assisted on Dansville's second tally to snap a four-game skid for the Mustangs. The senior assisted on Dylan Lamonte's marker to open the second half, before scoring his eight marker of the year. Abram Barron started the scoring in the 29th minute off a helper by Lamonte. Cameron Delaney made nine saves.
MARCUS WHITMAN (2-2-1) 3
BLOOMFIELD (0-7-1) 1
Ian Telly scored in the 10th minute for Bloomfield despite the loss. The senior now leads the team with two goals.
AVOCA-PRATTSBURG (1-6-0) 0
NAPLES (5-1-0) 4
Donivan Todd scored the opening two goals to lead Naples to its fifth straight win since dropping their opener. The striker converted on a penalty kick in the 13th minute, and netted a helper by Evan Waldies in the 34th minute. Matthew Lincoln added two assists in the second half on goals by Evan Rischpater and Waldies. CJ Fuller made four saves to secure the Big Green's third shutout of the year.
WAYNE (7-0-0) 6
WATERLOO (1-6-0) 0
HAC (4-1-0) 4
HONEOYE (2-3-1) 1
Virgil Wainberg broke a 1-all tie when the junior scored an unassisted marker in the 25th minute to hand HAC its third consecutive victory. Finn Costello got the Bulldogs on the board with a strike in the 13th minute courtesy of Alessandro Bosa's helper. Carlin Kennedy collected a helper on Oliver Simmons second-half tally, before netting a strike off Bosa's second assist. For Honeoye, freshman Henry Sherman scored his fifth goal of the season in the 13th minute to open the scoring.
GENEVA (3-4-0) 1
MYNDERSE (2-5-0) 0
Colin Matthews scored within the final 15 minutes off an assist by Max Heieck to snap a four-game skid for Geneva.
PALMYRA-MACEDON (2-3-0) 0
PENN YAN (5-2-0) 2
David Reid and Owen Bishop each tallied to lead Penn Yan to its fourth consecutive shutout victory. Zachary Townley and Landon Berry both had a helper. The Mustangs have not allowed a goal since allowing overtime winner off a penalty-kick back on September 8th.
RED CREEK (6-2-0) 1
NORTH ROSE-WOLCOTT (4-3-0) 5
Connor Hopp scores an unassisted tally in the second half for Red Creek's lone goal.
EAST ROCHESTER (4-3-0) 5
GANANDA (0-7-0) 0
Jalen McCoy opened the scoring in the 15th minute, and added a tally in a four-goal second half to lead East Rochester to its second straight 5-nil win. The junior netted a helper by Perry Fancis in the 68th minute, and is now the team's leader in goals with four. Matt Michalski started off the second half with a strike in the 47th minute. Louis Morreale and Dom Romach had the final two tallies of the game, and Elijah Tanner and Jimmy Antonicelli each had an assist in the match.
WILLIAMSON (2-2-0)
SODUS (2-3-0)
HOLLEY (2-5-0) 0
WHEATLAND-CHILI (4-2-1) 1
Camdyn Cremaldi netted his second goal of the season off a helper by Jaden Schwenebraten in the seventh minute to give Wheatland-Chili back-to-back wins for the first time this season.
PEMBROKE (0-7-0) 0
ATTICA/ALEXANDER (6-0-0) 7
Simon Lamperelli recorded his third hat trick of the season to help extend Attica/Alexander's unbeaten streak to six games. The senior started the scoring in the third minute thanks to a helper by Joe Parkhurst, before netting two of three Ryan Meides helpers in the 30th and 43rd minutes. The striker leads the team with 16 goals, and has scored multiple goals in ever game this season. Jonah Clark assisted on Brandon Beal's strike in the 13th minute, and collected an unassisted marker to complete the four-goal first half. Brayden King and Josh Kubik both added a tally in the second half, with Carter Gorski assisting on Kubik's marker. Attica/Alexander have outscored opponents 31-4 this season, with three shutout victories.
FRIENDSHIP/SCIO (1-4)
BOLIVAR-RICHBURG (7-0-0)