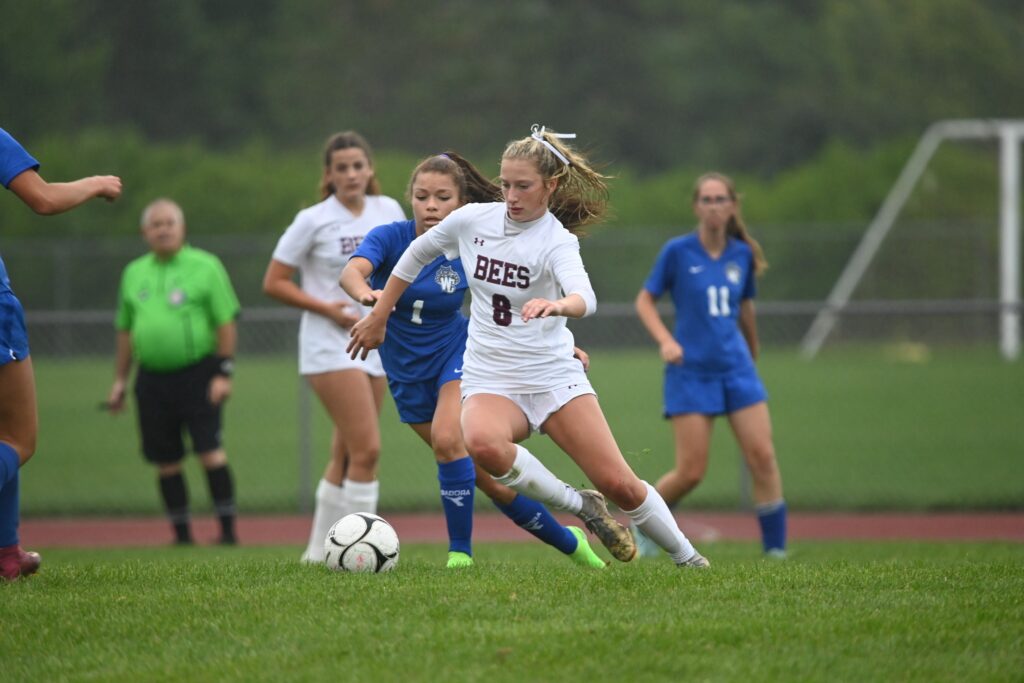 EAST ROCHESTER (0-3-1) 0
NORTH ROSE-WOLCOTT (2-2-0) 3
Reilly Batzold recorded a hat trick to give North Rose-Wolcott its second straight victory. Mikenzie Shear delivered a shutout for the Cougars. Avery Boogard and Tori Cooper had assists on two of Batzold's goals. The shutout victory was the first one for North Rose-Wolcott this season.
BATAVIA NOTRE DAME (3-1-1) 3
KENDALL (3-2-0) 1
Cayleigh Havens led the Fighting Irish with three assists en route to their second straight victory. Autumn Mathisen opened the game's scoring in the 11th minute. Nina Bartz found the back of the net Notre Dame in 50th minute. Kate Ricupito scored the final goal for the Fighting Irish in the 69th minute of the contest.
PALMYRA-MACEDON (5-1-0) 7
GENEVA (0-3-2) 1
Maya Ikewood led Palmyra-Macedon with a five-goal and one assist performance. Four of Ikewood's goals came in the first half. Molly Seither and Jenna Santelli scored the other two goals for the Red Raiders. Ikewood's five-goal performance gives her 15 goals on the season so far.
WATERLOO (2-2-0) 2
PENN YAN (2-2-1) 0
Logan Amidon recorded seven saves to give Waterloo its first shutout victory this season. Madison Belawske opened the scoring for the Tigers in the sixth minute. Bailey Rossignol had the other marker in the 12th minute of the contest.
BYRON-BERGEN (5-0-0) 10
LYNDONVILLE (1-3-0) 0
Novalee Pocock gave Byron-Bergen its fifth straight shutout victory. Mia Gray led the Bees with a hat trick and three-assist performance. Gray has 10 goals on the season thanks to her performance. Emma Starowitz also recorded a hat trick. Kendall Phillips had two goals for the Bees. Elizabeth Starowitz and Mackenzie Hagen recorded the other two goals for Byron-Bergen. The Bees have scored 36 goals to the zero goals they have given this season.
OAKFIELD-ALABAMA/ELBA (3-2-1) 9
PEMBROKE (2-2-0) 1
Alahna Chatt led Oakfield-Alabama/Elba with a hat trick and two assists performance. Caitlynn Ryan also scored a hat trick for the Hornets. Macy Altamirano, Makena Reding, and Gianna Altamirano recorded the other three goals for Oakfield-Alabama/Elba.
MEDINA (VI) 0
ALEXANDER (2-3-0) 3
Three different goal scorers led Alexander to its second straight shutout victory. Madison Fuller opened the scoring in the second minute. Sally Laduke added to the lead in the 41st minute. Shannon Schmieder scored the final goal in the 53rd minute. The Trojans have now won back-to-back games 3-0.
ROMULUS (0-3-0) 0
BLOOMFIELD (4-0-0) 5
Sadie Kachmaryk's three-save shutout led Bloomfield to its fourth straight victory. Jessica Cody led the Bomber's offense with two goals in the 43rd and 47th minutes. Maddie Johnston, Brynn Westlake, and Celia Falsone scored the other three goals for Bloomfield. Mia Linderman assisted on two of the Bomber's goals. Ali Baughman, Ashley Bell, and Ava Hawkins also had assists in the contest. Half of Bloomfield's victories have come via the shutout.
WILLIAMSON (2-1-0) 2
GANANDA (3-0-0) 5
Anna Henner scored both goals for Williamson. Lauren Schmeelk and Elizabeth Brandt had the assists on Henner's goals.
MYNDERSE (2-2-1) 3
WAYNE CENTRAL (1-3-0) 1
Kelly Kohberger led Mynderse with two goals. Kohberger's goals came in the first and 22nd minutes. Ella Wirth had the other goal for the Blue Devils in the 38th minute. Wirth had an assist as well. Jackie Sinicropi also recorded an assists Mynderse.
ATTICA (0-5-0) 1
HOLLEY (4-1-0) 5
Emma Brady recorded a hat trick leading Holley to its third straight victory. Brady scored in the 17th, 50, and 67th minutes. Samantha Bates scored the other two goals for the Hawks. Bates found the back of the net in the eighth and 25th minutes. Jailyn Bishop recorded two assists. Alivia Wolf and Alexia Renner also had helpers for the Hawks.
MIDLAKES (2-1-1) 3
NEWARK (0-5-0) 1
Camryn Ford and Mary Givens led Midlakes with a goal and an assist performance. Ford's goal came in the 13th minute to open the scoring for the Screaming Eagles. Givens's goal came in the 49th minute. Kate Mahoney scored the other goal in the 28th minute. Amelia Maslyn had an assist on the Givens's goal.
ADDISON (4-1-0) 1
HAVERLING (4-0-0) 5
Meredith Czajkowski and Ella Yartym recorded two goals and two assists leading Haverling to its fourth straight victory. Czajkowski scored both of her goals in the first minute. Yartym score her two goals in the first and 24th minutes. Keegan Smith recorded a goal and an assist. Smith scored her goal in 52nd minute.
MARION (4-1-0) 12
SODUS (0-3-0) 0
Mia Hosbach and Lydia McKay recorded a two-save shutout leading Marion to their fourth straight victory. Abigail Marotta led the Knights offense with a hat trick and an assist. Hannah Roegiers also recorded a hat trick and an assist. Amaya Hayes recorded two goals and an assist for the Knights. Abby Conover recorded a goal and three assists. Emily Gushlaw recorded a goal and two assists. Lydia McKay and Mia Hosbach scored the other two goals for Marion.