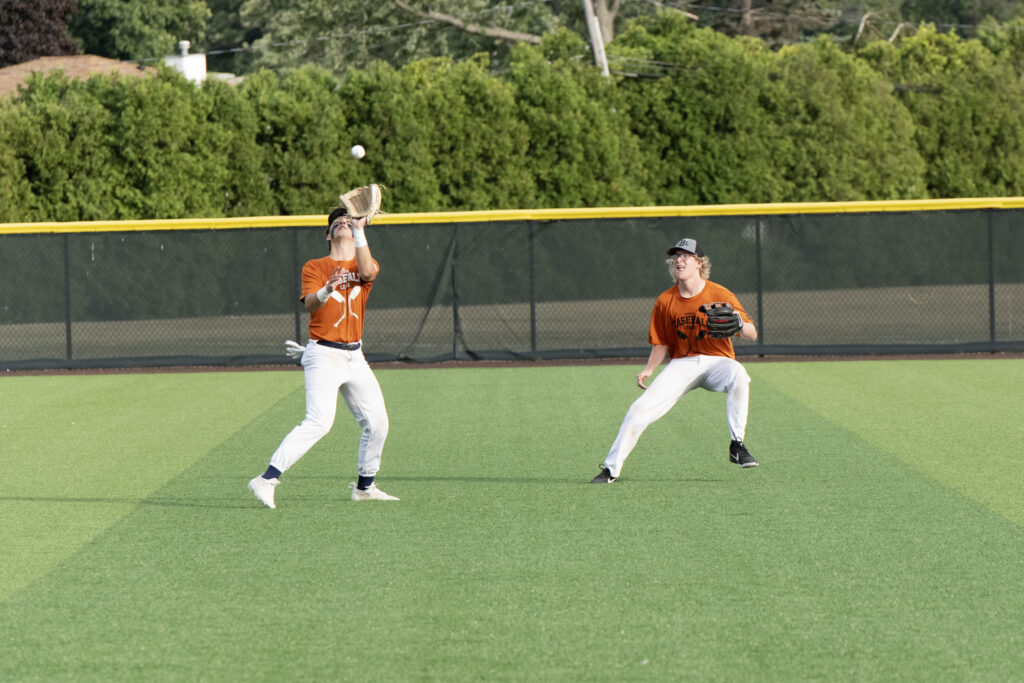 GINTS (2-3) 10
BUCS (2-3) 3
Conor Forkey led the Gints by going 3-for-3 with three RBI to help them score their first double-digit run game in Upstate Baseball League action Thursday at Greece Olympia High School. Forkey opened up the scoring for the Gints with an RBI base hit in the bottom of the first inning. The Gints continued with two more runs in the following inning.
Ground-rule double from Conor Forkey brings in a run, and the Gints lead 5-1 with two outs in the third. pic.twitter.com/mGYIKP9Bsy

— Paul Gotham (@PickinSplinters) August 18, 2022
Jaydan Ryrko came home on a walk drawn by Broderick Hatfield to score the first tally of the inning. Ian Schmeer drove in the second run of the inning with a line drive base hit. Forkey doubled in another run in the third inning. The Gints had their biggest inning in the fourth when they pushed across four runs. Ryan Merlo started with an RBI single that drove in Nikolas Davilla. Merlo scored later in the inning on an error. Ryrko scored the third run of the inning by snagging home on a wild pitch.

Hatfield came home with the final run of the inning on an Ashton Kwoka groundout. Forkey got his final RBI in the fifth inning with another extra-base hit that drove in Robert Meeks. Nate Hill went 2-for-3. Paul Graziano singled, walked twice and scored two runs. Jacob Natale started and got the win for the Gints. The right-hander struck out four and surrendered one run on one hit over three innings of work. Nicholas Freville fanned two without any walks and gave up an unearned run on two hits.
Nicholas Freville works back-to-back clean innings. Jaydan Ryrko gets the third out. Gints 9-1. pic.twitter.com/upHZXlym1W

— Paul Gotham (@PickinSplinters) August 18, 2022
Valencio Almborg-Perez led the way for the Bucs going 2-for-2 with two runs scored. Jacob Wolff and Zach Richards recorded hits as well for the Bucs. Wolff was credited with an RBI. The Bucs fell behind early and scored their first run in the third inning to make it a two-run ballgame. Wolff drove in Almborg-Perez on an RBI groundout. Almborg-Perez came around to score a second time in the sixth inning on an error with two outs that made it 10-2.
RBI groundout from Jacob Wolff gets the Bucs on the board. Vincenzo Almborg-Perez scores on the play. Gints 3-1 heading to the bottom of the third. pic.twitter.com/0BXIilPt3P

— Paul Gotham (@PickinSplinters) August 18, 2022
The two teams will meet again on Saturday at Greece Olympia High School at 11:00 am.