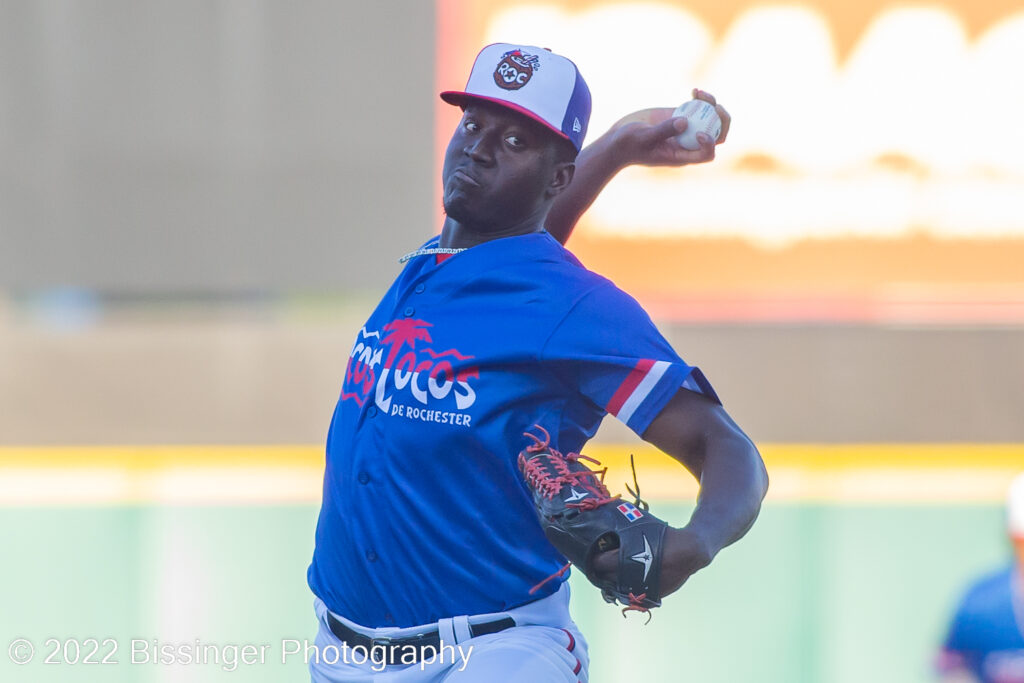 BY JONATHAN SKUZA
ROCHESTER, N.Y.– Behind a five-inning no-hit performance from Franklyn Kilome, Rochester won back-to-back games for the first time since July 14-15 against the Omaha Storm Chasers.
The Red Wings defeated the Norfolk Tides 12-5 Friday evening. The Wings had not scored 10 plus runs in a game since July 7 when they defeated the Lehigh Valley Iron Pigs 11-2.
Kilome struck out eight in the win with his only run allowed being the result of a walk.
"He landed his secondary pitches and they set up everything for him," Red Wings' manager Matt LeCroy said about Kilome's start. " This team here they got some really young talented hitters with a lot of bat speed and they do a nice job with the fastball. And like most young hitters, they tend to have a problem with some secondary pitches and Kilome threw some really good pitches that were down and that made them chase him and his fastball was good enough to make him expand."
Kilome left the mound in the top of the sixth inning to a standing ovation from the 8,556 in attendance at Frontier Field.
On the offensive side of the ball, three-hole hitter Alex Call led Rochester with three hits and three RBI in the 12-run effort on Friday. Ever since joining the Wings on August 7, Call has recorded hits in all four games he has played in for the Wings. He has a total of seven hits for them and has reached base safely 10 times in his short time with Rochester.
"He has an idea of who he is and what he wants to do every time," LeCroy said. "He just plays the game the right way. He runs hard. He's backing up bases and making plays."
"I'm just going to prepare adjust in my routines and have confidence as I walk to the plate expecting my pitch to be where it is," Call said about his mindset throughout his four games with Rochester. "That's all I can do at that point to put a good swing on the ball and over the course of time, I know that I'm going to be right where I need to be and that's my approach every day."
Rochester in the bottom of the first frame put up four runs on the Tides and knocked out starter Mike Bauman after two-thirds of an inning. The Wings sent all nine of their batters to the plate. They recorded four hits and two walks to push across the four runs. David Dahl drove in the first run of the game for the Red Wings.
John Nogowski drove in the next two runs to extend the lead to three. Jake Alu finished off with an RBI single of his own. Two more runs scored on an error . Call got his first two RBI of the night with a line drive single to center field in the fourth inning. Jake Noll scored Call later in the fourth inning to give them an eight-run lead. The fifth inning saw two more runs from Rochester as Call and Dahl recorded RBI to give Rochester a double-digit lead just over halfway through the ballgame.
Norfolk finally got some hits and runs in the sixth inning after Kilome was pulled. An RBI triple and single cut the Rochester lead to eight. In the top of the seventh, the Tides cut the lead to seven with an RBI single from Gunnar Henderson.
CJ Abrams in the bottom half of the seventh frame hit a sacrifice fly to score Nick Banks after he led off the inning with a triple. Alu the next inning made it a nine-run lead again with a double.
Norfolk made one final push in the top of the final inning scoring two runs with two outs, but the Wings were able to shut them down and seal the seven-run victory.
"I never can complain about how they go out and fight every night," LeCroy stated. "That's one of the things that I really like about our club is that they're gonna fight every night. we went through a really tough stretch of ball and to get that win yesterday. Hopefully, it turned us in the right direction. We're playing a hot team, to win the last two is good."
Rochester used its speed to its advantage in the game with four stolen bases. Andrew Stephenson stole two while Abrams and Call each stole one.
The Red Wings have recorded 41 hits in the last three games which is the most in a three-game stretch this season.
Rochester will look to make it three in a row on Saturday against Norfolk at 7:05. Right-hander Cade Cavalli will start for Rochester.