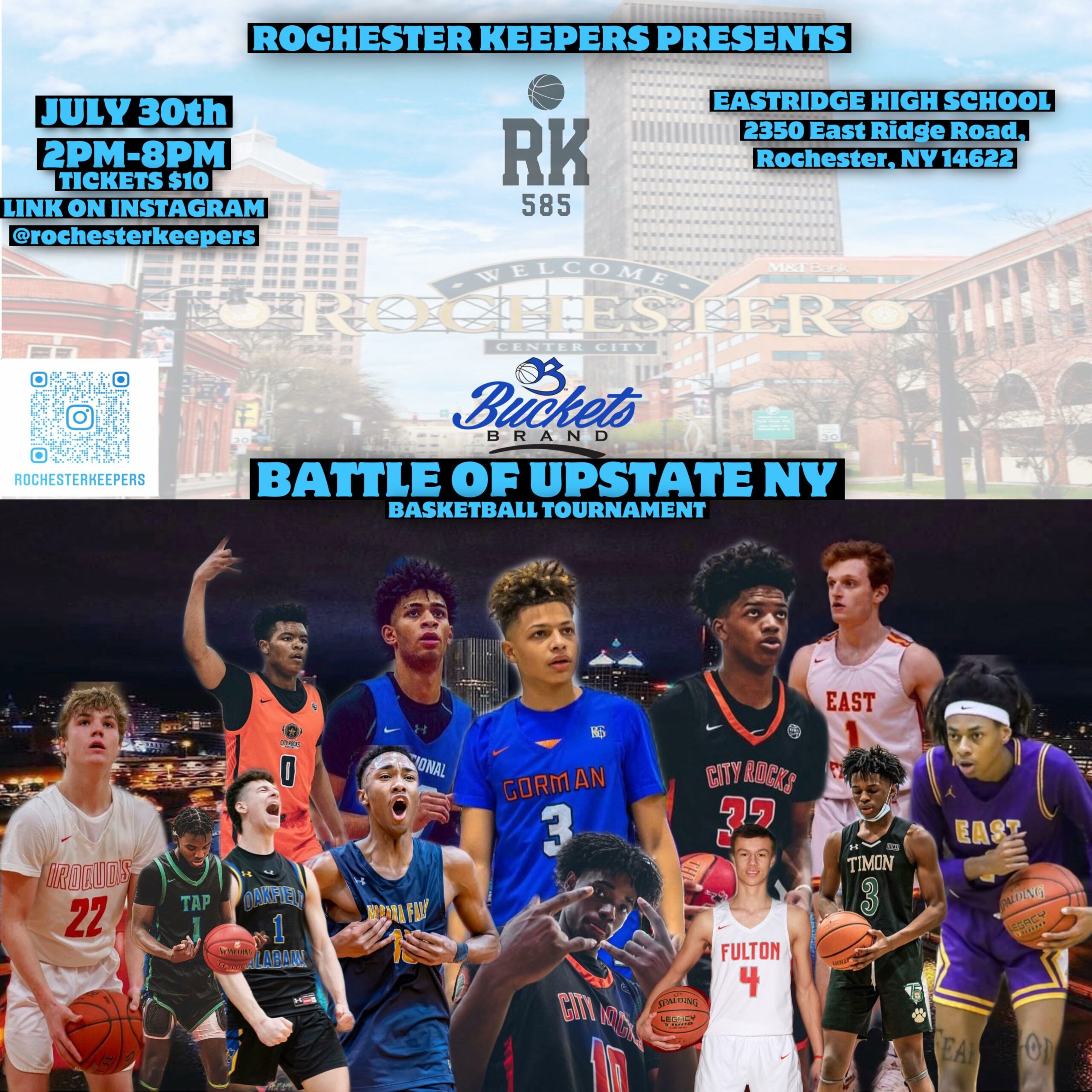 By JOHN LIKANJE
Rochester Keepers will host its first-ever Battle Of Upstate New York tournament on July 30th at Eastridge High School. The event will run from 1:00 p.m. until 8:00 p.m. with a slam dunk contest before the championship game.
The tournament consists of four teams: Buffalo, Finger Lakes, Rochester and Syracuse. Players participating in the event hold a combined 31 Division I offers from schools such as Arizona State University, Marquette University, Ohio State University, University of Nevada, University of Rhode Island, St. John's University, Syracuse University and Xavier University.
Rochester is led by local stars Damani Barley, Mason Blackwood, Myles Blackwood, Philip Nwugwo and Caquan Wester. Barley (East High) and the Blackwoods (Aquinas) ignited their respective schools to a sectional title. Barley guided the Eagles to their third consecutive block. Mason and Myles Blackwood led the Li'l Irish to their first championship in six years. Nwugwo (Victor) and Wester (Eastridge) both paced their respective squads to 19 victories and the top seed in their classifications as seniors and earned All-County Player of the Year honors. Damarius Owens (Western Reserve Academy) holds several scholarship offers including one from Syracuse University.
Finger Lakes features Section V talent as well. Eight of the 10 players hail from the Rochester area: Gaige Armbrewster, Jaylen Battle, Mason Blakenberg, Luke Ciprich, Alec Gilbert, Kyle Porter, Jacob Sides and JC Walker. Armbrewster, who starred at running back on the gridiron for sectional champion Oakfield-Alabama/Elba, and Porter contributed to the Hornets' class C2 sectional championship run. Battle, Sides and Walker led the way in Lyons accumulating 21 victories, the top seed in class C2 and being the sectional runner-ups. Blakenberg, an All-State selection and Gilbert spearheaded Wayne through a competitive classification to the sectional semifinals as the No. 3 seed in Class A2. Ciprich was a steady contributor for a Gananda squad which tallied 13 wins and finished in the top four in class C2. Walker was named Fourth Team All-State.
The Buffalo squad features First Team All-Centercourt selections Shane Cercone (Canisius High School), Seth Joba (Orchard Park/Bridgton Academy), Max Schneider (Williamsville East) and Kevin Thompson (Bishop Timon) as well as Second Team All-Centercourt members Jalen Duff (Nichols Academy) and Trey Kleitz (Iroquois), Third-Team choices Jaiden Harrison (Bishop Timon) and LaMar Matthews (Tapestry Charter School) and Fifth-Team selection Dominic McKenzie (Niagara Falls High School).
The Syracuse lineup includes Trey Autry, son of Syracuse University associate head coach, Adrian Autry along with First Team Class A All-State selection Zach Philipkoski (New Hartford High School) along with Class AA All-State choice Trevor Roe (Fayetteville-Manlius).
Spectators interested in attending this event in person can purchase tickets here. Community members interested in further supporting Rochester Keepers can donate to their GoFundMe.