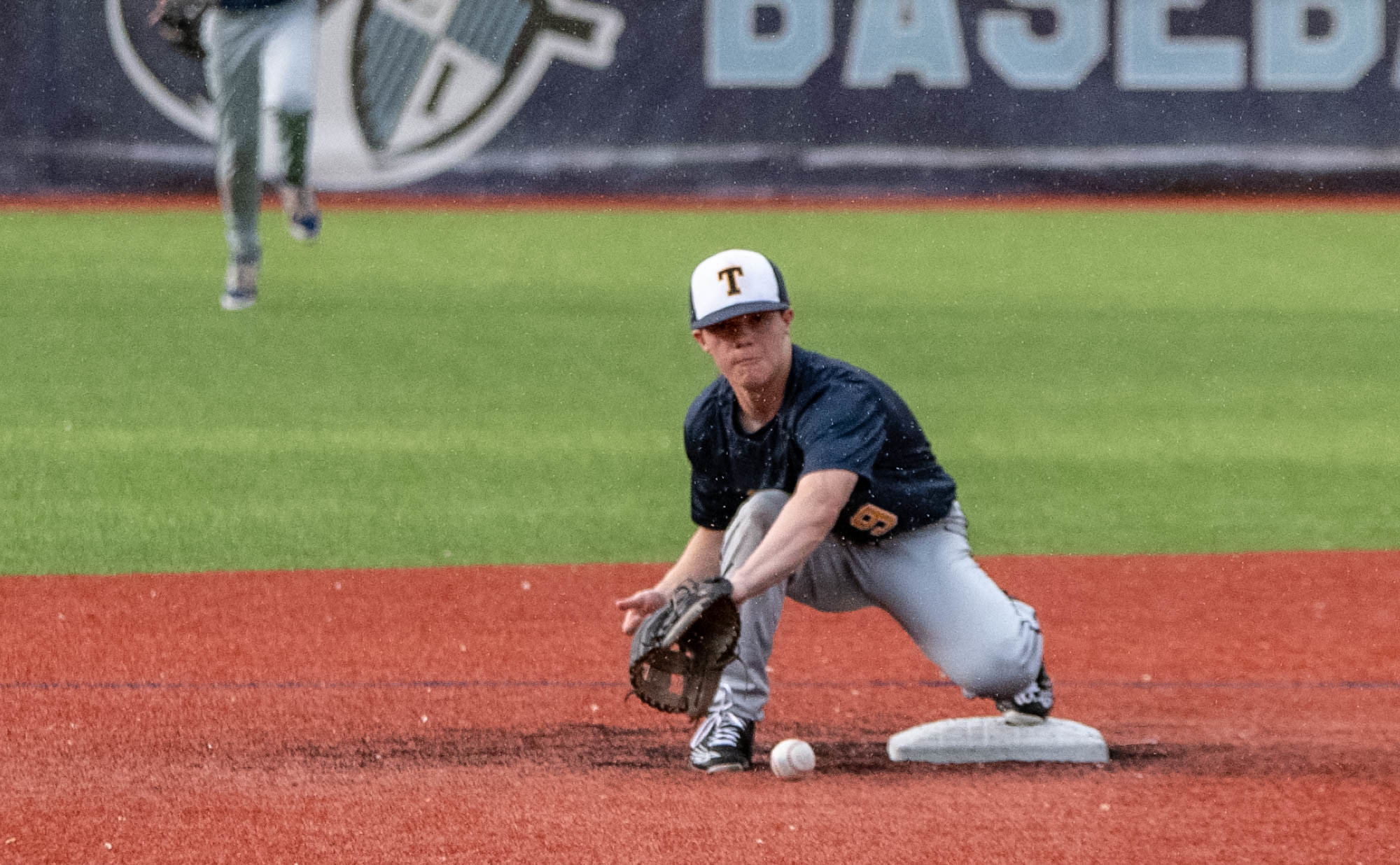 By DAVID DOBRASZ
NIAGARA FALLS, N.Y. — Webster Thomas entered the post season on a low-point, losing 8-5 to Pittsford Sutherland back on May 18, but since rallied with four straight postseason wins. Seeking their first regional title since 2005 when taking the field Saturday at Grand Island, the Titans met their match losing to a high-powered Hamburg Bulldogs (VI) squad in five innings, 13-1.
Despite the loss, head coach, Kevin Neenan could not be prouder of his team.
"It's been a great group of kids to coach all year." Neenan said after the loss. "It didn't go the way we wanted today, and that's kind of how baseball is somedays, but I'm very proud of what they accomplished this year."
Webster finished the regular season, with a 9-11 record, good for the fifth seed in Class A1. During that post-season stretch, they posted a +13-run differential and limited opponents to an average of four runs. Posting great senior leadership and power in the middle of the order, Hamburg head coach Derek Hill saw no easy task ahead.
Hill respected the performances that Thomas had put out in the postseason, particularly the 7-6 win over Webster Schroeder that secured back-to-back sectional titles, and Thursday's 14-4 victory over Pittsford Sutherland in the NYS Class A Regional Qualifier.
"It was very scary to study them these last couple of days, especially after a huge win on Tuesday against their local neighbor, and then the way they handled their game on Thursday.
"One of the things that stood out to me that's a sign of all great programs is it kind of felt like their revenge tour, where they took down a lot of great teams in the playoffs that had maybe gotten the better of them in the regular season. I think that's one of the greatest tell-tell signs of a great program, led by a great coach. Obviously, Coach Neenan has built a tremendous program with back-to-back Section V titles."
Hamburg's 13-1 victory was certainly nothing to be expected.
"Not in a million years. We were ready for a dog fight today. We were ready for a heavy-weight battle, and we know that one of the key ingredients to a heavy-weight battle, is that we were going to trade punches" Hill mentioned of the game. "It's just a weird game, I thought a couple of fortuitous things went our way … that's the weird game of baseball somedays."
Webster got on the board in the top-of-the third, when junior, second-baseman Nate Hill lined a single to the outfield, to bring home teammate, Mason Lawyer. With the lineup entering its second rotation, leadoff hitter, Josh Butka singled up the middle.
Despite being outhit, Neenan emphasized the positives.
"These kids don't quit, they don't give up… kids kept battling," Neenan stated proudly. "Playing the game the right way, is the best thing you can see, even when your down in a game."
Neenan wanted to keep that same attitude moving forward.
"Hopefully that's the thing we keep preaching: keep playing the game of baseball the right way, where you hustle everything out, no matter what it is, no matter what the score is," Neenan elaborated. "We're hoping that people don't realize what the score is, because of [their] effort out on the field; because [they] keep giving 100 percent every time [their] out there," Neenan added.
Hamburg put together a 10-hit effort, headlined by a 2-for-2, 3 RBI performance by University of Alabama commit, Evan Chaffee. Junior Nolan Smith completed the game on the mound. The southpaw, frequently utilized the curveball, striking out two batters, and allowing three hits.
Neenan wished Hamburg all the best going forward.
"Good luck to those guys. They're a good baseball team" … "I think they got the pitching that can compete with anybody" … "if they put the ball in play, I think there going to give anybody down there a good run for it."