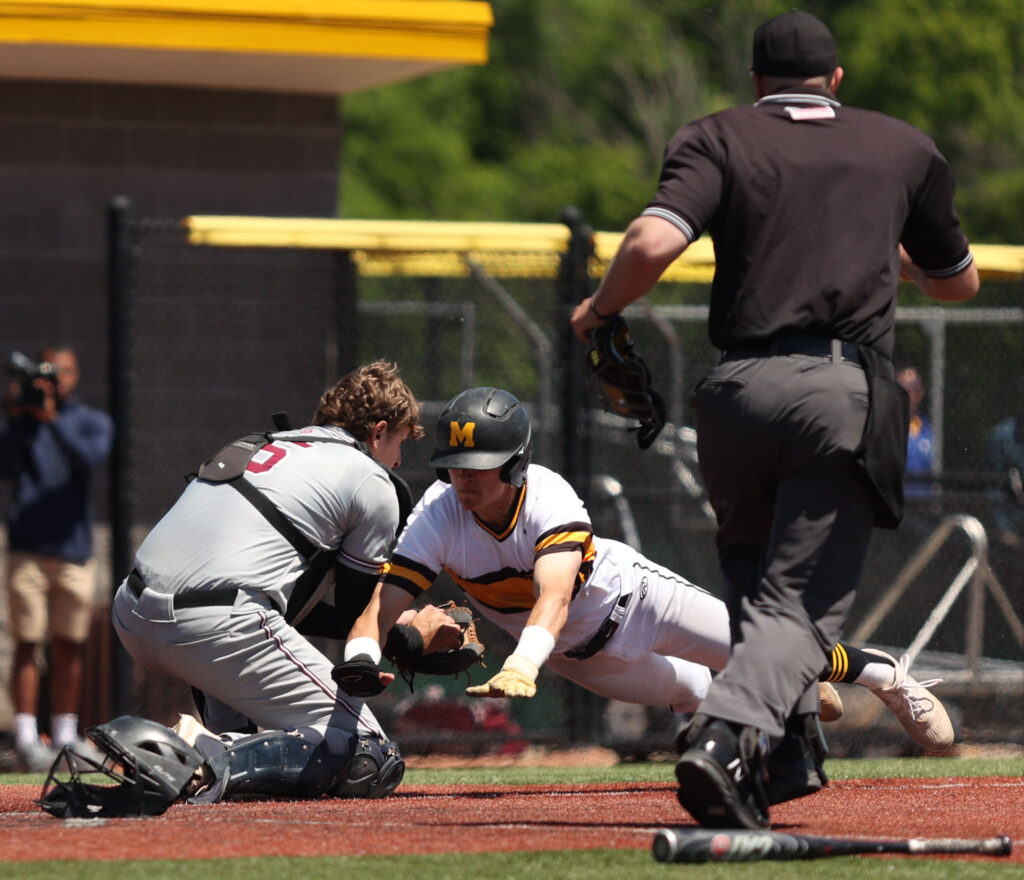 By KEVIN OKLOBZIJA
By the weekend of June 10 and 11, the school year for students at McQuaid Jesuit High School will be over.
Diplomas will have been given out and final exams will have been finished. Summer will officially be underway.
Except for members of the baseball team.
"We've got something on the schedule," junior third baseman Luca Ciaramitaro said.
That little something: A trip to Binghamton for the state baseball tournament.
Having created over the past seven years not just a foundation for success but an expectation, reaching the Class AA Final Four is now a goal for the Knights when each season begins. They won the state championship in Binghamton in 2019.
McQuaid once again checked off that Final Four box on Saturday by thumping Section VI champion Orchard Park 11-1 in the Far West Regional at Monroe Community College. The game officially ended in the bottom of the fifth when the Knights opened a 10-run lead.
"We feed off pitching normally," said senior second baseman Tanner Degrazia, referring to aces Will Taylor and Daniel McAliney. "But today we just swing it really well."
Indeed, McQuaid (17-5) piled up 14 hits and ended the game before there were two outs in the fifth. The Knights scored twice in the first, three times in the second and six times in the fifth against three Orchard Park (17-6) pitchers.
That's pretty much how the past month has gone for Knights. In 10 games over the past four weeks, they scored 81 runs. The one aberration: Tuesday's Section V title game, when Taylor outdueled Victor's Max Friedlander in a 2-1 McQuaid victory.
"The bats were really quiet in the sectional final, so we knew we had to swing it better today," Ciaramitaro said.
Mission accomplished. All nine spots in the order collected hits, including a double and two singles by Ciaramitaro, a single and double by Degrazia and two singles by Zach Allen.

Meanwhile, McAliney was efficient on the mound. He allowed three hits, one unearned run and struck out five.
"He had to battle through some mistakes, we definitely didn't play our best game defensively," McQuaid coach Tony Fuller said. "I'm proud of him for battling through that."
The offense gave McAliney an immediate cushion, using a walk to CJ Phelps, double by Ciaramitaro, RBI groundout by Taylor and an RBI single by Degrazia to open a 2-0 lead in the bottom of the first.
The Knights scored three more times in the second. They loaded the bases on singles by Allen, Ed Hall and Roger Friedlander, then used sacrifice flies by Aiden Stewart and Phelps and an RBI single by Ciaramitaro to bring them home.
"One through nine swung their bats at a high level," Fuller said.
Though trailing 5-0, the Quakers weren't sulking. They'd made comebacks a habit this season.
"When Tyler Kelley made that diving catch to end the fourth (on Taylor's line drive to center), he came in and said, 'It's our go-time now,' " Orchard Park coach Chuck Senn said.
McAliney, however, wouldn't let the Quakers mount a rally. Roman Gocella delivered a one-out single in the top of the fifth, but McAliney ended the inning on back-to-back strikeouts.
McQuaid will play either Section VIII champ Massapequa or Section XI winner Commack in the state semifinals at 4 p.m. Friday at Binghamton University, where McAliney will play next season. The title game is set for 10 a.m. Saturday at Mirabito Stadium.
"We're going back to where we set our goals," Fuller said. "We're really excited to get back and see if we can win another one."