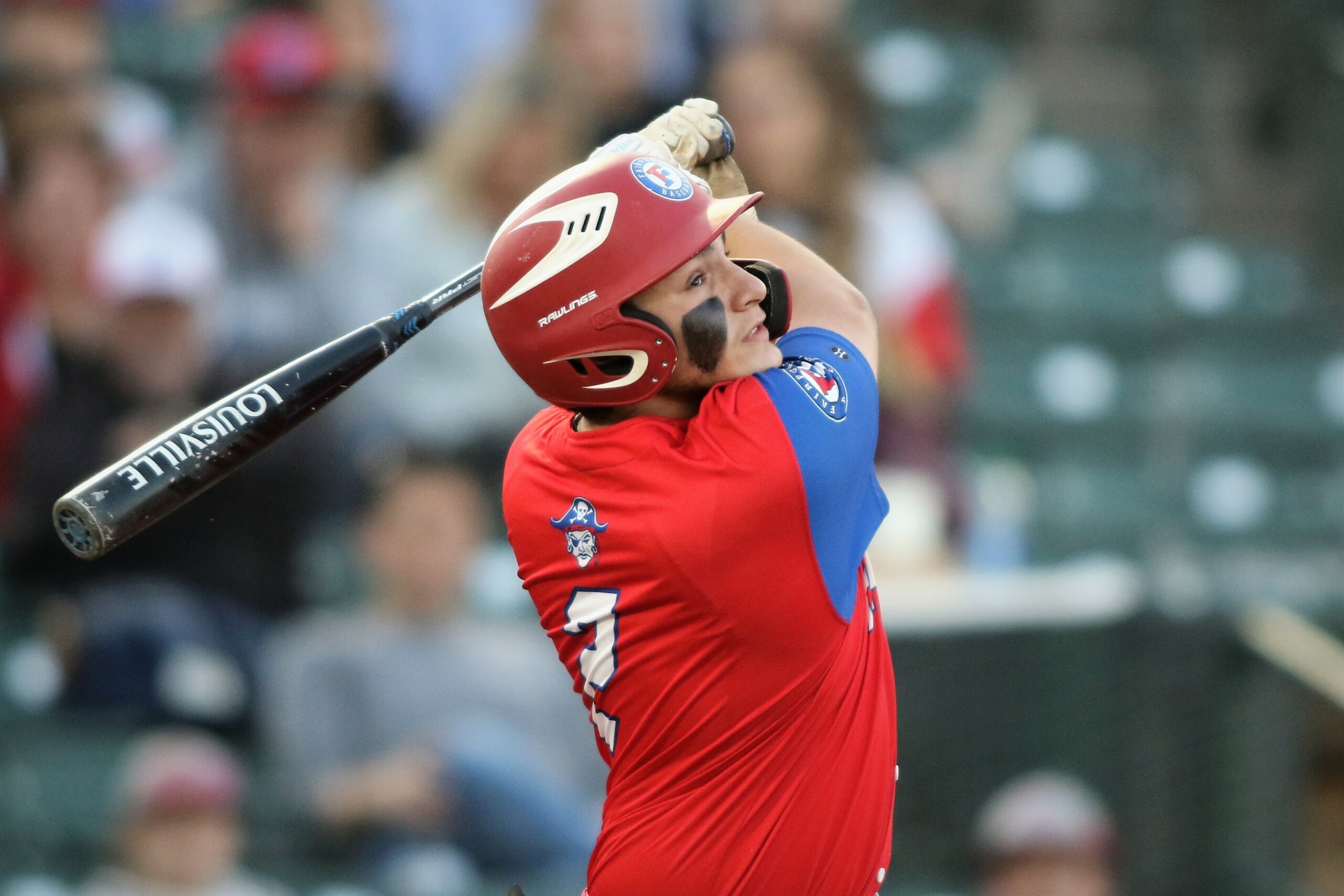 EASTRIDGE (6-14) 3
SPENCERPORT (3-14) 1
Evan Vinci hurled 6.2 innings as Eastridge closed its regular season with a win. PJ Cutaia struck out the only batter he faced for the save. Brennen Russo gave the Lancers an early lead with an RBI double in the first. Evan Brown followed with a run-scoring single for a 2-0 Eastridge lead heading into the second inning. Thomas Bareham and Ryan Greenhagen both singled and scored in the win.  Connor Welch singled and walked twice. Spencerport's Andrew Wiebeld finished 2-for-3 in the game and had one of two, two-out singles for the Rangers.
WEBSTER THOMAS (5-8) 0
HILTON (13-3) 8
Steven Kraus hurled six scoreless innings for Hilton and also produced a RBI double for the Cadets. Carter Clark pitched in relief, and struck out three hitters. Jeffrey Broadnax produced a double, single, and RBI. Luke Schofield singled twice and added an RBI. Kraus and Clark had a double and an RBI each. Brady Gerig singled and scored a runner from home. Michael Whelehan singled twice.
GREECE ATHENA (10-6) 4
BATAVIA (9-7) 3
Facing a 3-2 deficit with two outs in the bottom of the seventh inning, Jaden Madrid swung on the first pitch he saw, singling and scoring the tying and go-ahead runs, winning it for Greece Athena. Madrid also started on the rubber for Athena, hurling a complete game and earning the win. Connor Osier doubled in the win. Jayden Rapp, TJ Kurtz and Evan Smith had a single apiece. Jesse Reinhart tripled for Batavia, and also scored two runners from the plate. Sawyer Silvering doubled and singled. Dane Dombrowski singled, and threw six and two third innings, striking out six. Mekhi Fortes singled.
HONEOYE FALLS-LIMA (8-6) 5
PITTSFORD MENDON (11-6) 9
Erick Krowl amounted three singles and a double, along with an RBI, helping Pittsford Mendon become the winners of four straight games. Noah Lerner-Morelle got the start for Mendon, and put up an eight-strikeout performance. Brendan Kane hit a solo-shot home run. Tyler Shadders and Colden Forney each tripled, with Shadders finishing with two RBI, and Forney one RBI. Cameron Blauvelt doubled and singled. Carter Grinell singled twice, and Collin Clark singled once. Carson Joint finished with a pair of singles and pair of RBI for HFL. Robert Brown had a RBI single. Mike Pricipe and Ethan Ford each singled twice. Aiden Neenan singled.
PITTSFORD SUTHERLAND (11-7) 7
GREECE ARCADIA (6-13) 1
Cole Mann singled twice and provided an RBI for Sutherland to help the Knights get past Arcadia. Paul Bryne started on the mound and earned the win with six innings of work resulting in six strikeouts. Jackson Zawcki hit a solo-shot home run. Tyler Mullin singled twice. Jack Armani doubled. Maxwell Vorrasi singled and had an RBI. Noah Littlefield did the same. Jathniel Martinez singled twice for Arcadia. Parker Drees tripled and had a RBI. Robert Rappold and Jacob Tsymbal each singled.
CHURCHVILLE-CHILI (14-5) 1
FAIRPORT (7-12) 8
Blake Bucenec doubled twice and had three RBI, in a game that he finished 3-for-4 at the plate to help Fairport pull away late. Up 2-1 entering the bottom of the fifth, the Red Raiders rumbled off five runs in the frame to extend their lead. Julien Mendoza doubled and singled in the win.  Thomas Derleth singled and scored two runners. Dylan Norton and Cameron Kingsley each singled and had an RBI. James Stanek and Nick Provenzano singled. Derek Geib picked up the win on the mound, throwing a full seven innings and striking out seven. Zachary Miner had a single and RBI for Churchville-Chili. Robert Kennedy, Anthony Shortino, and Daniel Derleth each had a single for the Saints.
BRIGHTON (3-8) 3
WEBSTER SCHROEDER (13-5) 15
Matthew Salina tripled and and tallied a trio of RBI for Webster Schroeder. After falling behind 3-1, Schroeder rallied, scoring 14 runs over the next three innings to win for the fourth time in the past five games. Luke Kelly tripled, doubled and singled for Schroeder, driving in two runs in the process. Luke Pagano and Michael Salina each singled twice and scored a duo of runners. Jack Cannon finished with a triple and an RBI. Tyler Stack, Dan Dioguardi, Danny Dailey, and Jonathan McCaffrey each singled and produced an RBI apiece. Jonathon Maier singled. Jack Scott singled twice and scored a runner for Brighton. Ellis Einbinder and Benjamin Comeau each doubled. Heath Ashley, Andrew Cranston and Anthony Marcella all singled.
FRANKLIN/WORLD OF INQUIRY (7-6) 17
MONROE/SCHOOL WITHOUT WALLS (1-12) 8
Dylan Pike finished 2-for-4 for Franklin/WOI, including a home run and three RBI. Callan Reddington went 3-for-5 at the plate and scored three runs. Jalen Breedy was 4-for-6 with two runs.
EDISON TECH (10-6) 15 
LEADERSHIP (3-12) 0 
Edison Tech has won nine out of its last ten games.
SCHOOL OF THE ARTS (10-7) 0
BISHOP KEARNEY/ARCHANGEL (4-8) 10
Kearney/Archangel has won three straight games.
AQUINAS (11-6) 4
CANISIUS 8 (VI)
Sean Riley tallied a pair of singles and two RBI for Aquinas. Tré Walker singled twice and also scored a runner. Aiden Morris and Robert McCullough each had a base hit.

MARION (4-8) 0
GANANDA (9-6) 10
Henry Shutts threw five scoreless innings for Gananda, as the Blue Panthers won their fourth game in their past five outings. Shutts struck out a dozen batters. Andrew Gleason doubled for Gananda, while Luke Ciprich singled and tallied two RBI. Aidan Giancursio scored twice and finished with two RBI. Ethan Kuntz drove in a run. AJ Fioravanti scored twice. Logan Evans, Joey Savage, and Ash Vandergrift each singled for Marion.
HARLEY-ALLENDALE-COLUMBIA (7-5) 10
EAST ROCHESTER (6-12) 11
Parker Seeley scored Landon Wollschleger off a single in the bottom of the seventh inning, giving East Rochester the walkoff win. Seeley finished his day at the plate with four hits and three RBI including the walkoff. Wollschleger singled twice and produced four RBI. Ryan Flanagan went a perfect 4-for-4 at the plate and Derek Geronimo had two hits. Tyler Leisten picked up his first win of the season on the mound in a relief effort. Noah Wollschleger started for the Bombers, and threw a hitless five innings.
WILLIAMSON (8-6) 3
SODUS (12-4) 6
Jacob Laird produced two singles and an RBI to help Sodus to its third win in four games. Brody McCarthy earned the win thanks to two innings of relief work, and also singled and scored a runner. Brayden Orbaker, who started on the mound, also singled and had an RBI. Zach Merlow, Logan Bulman and Ethan Cramer all also produced a hit and a RBI.
PALMYRA-MACEDON (16-0) 5
WAYNE (7-8) 0
Paul Goodness went 3-for-4 with a double as Pal-Mac picked up its 11th shutout victory of the season. Alex Wootten doubled and had an RBI. Ian Goodness singled twice and brought two runners in from home. Pal-Mac, one of the only two undefeated teams left in Section V, produced a dozen strikeouts as a pitching unit. Christian Morrison and Isiah Stephens each singled. Michael Prentice went 2-3 with a double for Wayne. Brady Ruffell, Tyler Mudge, and Lucas Kielon had a single apiece. Brandon Benkovics threw for Wayne, tallying nine strikeouts in five innings of work.
PENN YAN (9-5) 5
NEWARK (6-10) 6
NAPLES (9-5) 9
DUNDEE/BRADFORD (4-7) 5
Drew Reigelsperger allowed three runs (one earned) over five innings and Naples avenged an earlier loss with its fourth win in the past five games. Charlie Grove, Owen Hulbert and Jackson Brahm each doubled, collected two hits apiece and drove in a run. Adam Bay went 3-for-4 with an RBI. Max Ryan had an RBI. Ryan Lester doubled.  Charlie and Grady Grove combined to pitch the sixth and seventh innings to close the game. Dundee/Bradford's Logan Snyder had two hits and an RBI. Dylan Monell added two RBI. Dundee/Bradford defeated Naples 16-5 when the two teams met in late April.
ELBA (1-12) 0
CALEDONIA-MUMFORD (13-4) 10
Camden Reed doubled three times for Cal-Mum as the Red Raiders won their sixth game in their last eight outings. Reed scored twice, and also produced three RBI. Jacob Cappotelli singled twice and scored two runners from the batter's box. Luke Donaghue threw all five innings, picking up his third win of the year.
KESHEQUA (6-9) 10 
GENESEO (7-11) 14
Geneseo won for the fifth time in six games.
LETCHWORTH (9-5) 7
Le ROY (12-4) 8
A Ryan Higgins two-run triple in the bottom of the fifth inning helped rally Le Roy to its fourth straight win. After trailing 5-1 after the first inning and a half, RBI hits by John Panepento, Luke Caccamise helped the Oatkan Knights knot the game. It was then that the Higgins triple gave Le Roy the lead they would not give up.
LIVONIA (9-8) 21
WAYLAND-COHOCTON (9-7) 1
Conner Benitez struck out 11 batters on the mound, and went 3-for-4 with three RBI at the plate for Livonia in the win. Connor Feehan tallied five RBI off his two hits. Alex Benitez went 3-for-3 with three RBI. Luke Stewart and Jake Watkins had two hits each.
PEMBROKE (0-12) 0
HOLLEY (4-6) 12
HAVERLING (14-2) 13
WELLSVILLE (9-8) 8
WARSAW (4-8) 13
PERRY (1-13) 2
Patrick Klump threw a complete five-inning game on the mound, and struck out five batters to help drive Warsaw. Mason McClung scored three runners at the plate and also amounted a trio of hits. Justin Baker drew three walks and tripled, scoring two runners. Ty Joy had four RBI, a double and a single. Connor Hare had a base hit and three RBI. Alex Wright finished with two singles for Perry.
CAMPBELL-SAVONA (9-1) 11
ALFRED ALMOND (1-10) 1
Campbell-Savona has won three straight.
CANISTEO-GREENWOOD/JASPER-TROUPSBURG (5-9) 7 
ADDISON 10 (8-6)
BOLIVAR-RICHBURG (16-1) 15
ANDOVER/WHITESVILLE (2-13) 1
Reiss Gaines earned the win on the rubber for Bolivar Richburg, racking up seven strikeouts in four innings of work. Gaines also doubled and had an RBI. Trey Buchholz tripled and singled and scored two runners from the plate. Caden Allen doubled and brought two runners off the bases. Matt Mitchell and Evan Pinney both finished with a double, single, and RBI. Landon Danaher and Wyatt Karnuth singled twice apiece. Sawyer Johnson, Ian Anfus, and Aydin Sisson all singled once. Larry Miller singled and had a RBI for Andover/Whitesville.
NORTHSTAR CHRISTIAN 4
FINNEY 6
EUGENIO MARIA DeHOSTOS 8
WILSON/EARLY COLLEGE 0
MYNDERSE 14
MIDLAKES 10
SCIO/FRIENDSHIP 6
CUBA-RUSHFORD 23