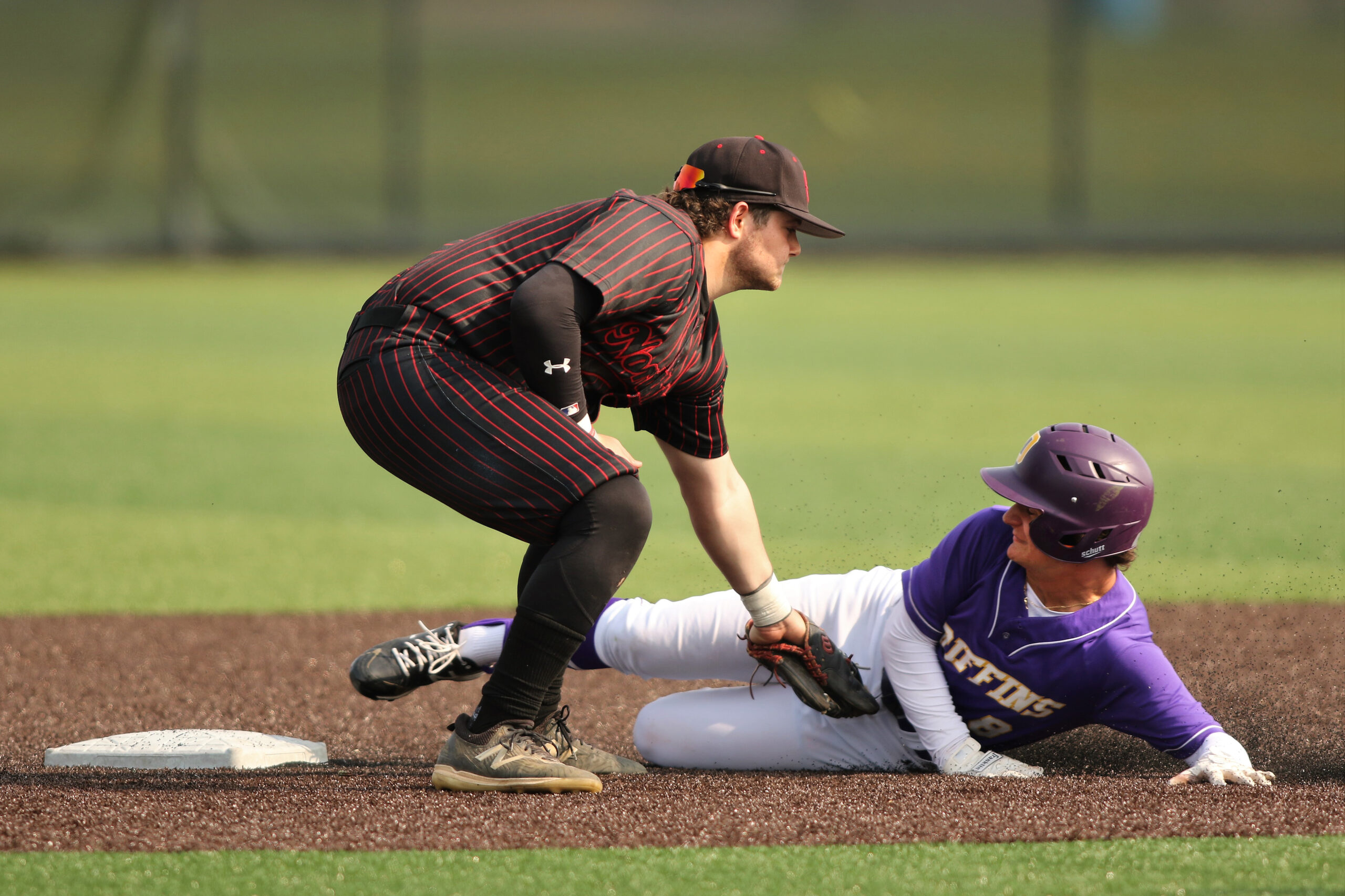 GREECE ARCADIA (5-13) 7
EAST (17-1) 8
East's Miguel Matos struck out six batters, though five innings, earning the win, and preserving a six-game winning streak. Pedro Garcia came on in the final two innings, striking out three of the final eight batters, for the save. Emille Diaz went 2-for-2, with a two-run double for the opening tallies in the first and came around to score. Michael Conrow had a hit, a stolen base, and two RBI. For Arcadia, Jacob Tsymbal had a two-run line drive double to center, to score Elijah Little and Jathniel Martinez, as part of a three-run rally in the sixth. Parker Drees started on the mound, allowing three hits and striking out two batters. He added a hit, RBI, and two runs scored.
IRONDEQUOIT (11-7) 3
VICTOR (10-8) 4
Max Friedlander highlighted a four-run third inning when the senior doubled home a pair of runs, and Victor went on to win its fourth straight game. Carter Fink brought home the first run of the inning with a sacrifice fly.  Zach Prior capped the inning connecting on one of his two singles scoring Friedlander with the eventual game winner. Connor Cronin earned the win on the mound, striking out two, through five innings. Timmy Buck struck out one and picked up the save. Irondequoit's Connor Gresens had three hits, and Kip Bertram went 2-for-3 with two singles. Brain Tisa and Carraig Jones had an RBI apiece, both coming with two outs in the top of the fifth.
FAIRPORT (5-11) 4
PENFIELD (11-7) 6
Aiden Cook came on early in relief, to strikeout seven batters, and allow five hits, over six innings. Penfield rallied for six runs in the bottom of the fourth, courtesy of back-to-back RBI-doubles by Samuel Guiffrida and Aidan Pacatte. With two outs, the Patriots strung together three hits: RBI-singles by Thomas DiFranco and Alexander Young, and a two-run double by Colin Crowley. DiFranco, Young, Giuffrida, and Jonathan Hickey each had two hits. Fairport's James Stanek and Connor Sackett each had two hits and an RBI.
FRANKLIN/WOIS (5-6) 2
SCHOOL OF THE ARTS 12 (6 innings)
Abel Austin put together a complete game on the mound, striking out eight batters, and allowing two runs, leading Arts to its sixth consecutive win. Austin continued at the plate, going 2-for-3, with two RBI. He stole five bases and scored three times. Senior, Justin Rodriguez hit a 2-run home run. Dale Janezic went 3-for-4, with 3 singles,  five stolen basses, and twice runs. For Franklin, Callan Reddington went 2-for-3 and scored a run.
BISHOP KEARNEY/ROCHESTER PREP/ARCHANGEL (3-8) 11
WILSON/EARLY COLLEGE (4-11) 4
C.G. FINNEY (7-7) 5
EAST ROCHESTER (5-13) 1
Mike Crandall hurled a complete game, no hitter. Crandall struck out four batters, and walked four. Eighth-grader, Ryan Lewis went 3-for-4 at the plate, with two triples, a double, and two runs scored.
NORTHSTAR CHRISTIAN (11-2) 7
GREECE ODYSSEY/OLYMPIA (4-15) 5
Steven Merkel hit a game-tying solo home run in the top of the seventh, to keep Northstar's 11-game win-streak alive. With two outs, and the bases loaded, Tyson Deaton and Da'Vonn Stevens drew walks, each earning an RBI. Merkel cam on in relief in the bottom of the fifth, striking out three of the thirteen batters face, allowing two earned run. Merkel went 2-for-4 at the plate, with two RBI. AJ Mitchell went 2-for-4. For Greece, Ty VanEpps struck out five batters, through six innings and two batters in the seventh. VanEpps went 2-for-4, with an RBI, and a stolen base. Nolan Krautwurst had a two-run single in the fifth inning, and added a stolen base and a run scored in the same frame.
DANSVILLE (4-10) 7
LIVONIA (7-8) 9
Jack Kearney allowed thee hits, over 6.1 innings pitched, bringing the Bulldogs to their fourth-straight win. Kearney contributed two hits, to the 16-hit onslaught. Leading the way with three hits apiece, were Conner Benitez and Alex Benitez. Wyatt Ramponi and Tom Stewart both added two hits. Dansville's Zaidon Blackman singled and drove in two runs. Reid Martin was 1-for-2, with three stolen bases and two runs scored.
GENESEO (6-10) 4
WARSAW (3-8) 2
Phillip Dotterweich hurled a complete and drove in three runs with three hits as Geneseo won for the fourth time in five games. Dotterweich struck out seven. He allowed two runs on four hits and two walks. The ninth-grader finished 3-for-4 at the plate. Kellen O'Brien went 2-for-3 with a run scored in the win. Ethan Bennett was 2-for-4 with a run scored while Nick Staley and Ryan Whitney both singled and scored. Joey DeBell had a hit in three at-bats for the Blue Devils.
BLOOMFIELD (7-7) 5
NAPLES (8-5) 0
Cal Rodgers pitched the complete game, allowing one hit. Gabe Ward finished with multiple hits, and Aaron Walsh, Grady Rodgers, and David Nowak each added a hit apiece. Junior, Adam Bay had the lone hit for Naples.
LE ROY (11-4) 8
WAYLAND-COHOCTON (9-6) 2
Jackson Spezzano earned the win Le Roy, striking out five batters, and allowing two hits, and one earned run, to get the Knight their third straight win. Alex Spezzano went 2-for-3 at the plate. Brock Flint added a two-hit, RBI performance.
CALEDONIA-MUMFORD (12-4) 12
YORK (5-7) 5
Cal-Mum claimed the LCAA Division 3 title, the Raiders first since 2013. Cam Reed struck out eight batters and allowed five runs, through six innings pitched. Jake Cappotelli went 2-for-4, with two RBI. Luke Donaghue finished with a double and two RBI. For York, Brodie Hartfield totaled 3 RBI, with a hit, and a run scored. Joe Bauer and Adam Swede each went 2-for-4, with a run scored.
NORTH ROSE-WOLCOTT/RED CREEK (11-3) 3
GANANDA (8-6) 4
Andrew Gleason figured he needed to lend his head coach a helping hand. One inning after the go-ahead run was thrown out at the plate, Gleason scampered home with the game winner. READ MORE.
HORNELL (10-4) 7
HAVERLING (13-2) 2
Cullen Haley struck out eight batters over 6.2 innings of work as Hornell clinched a share of the LCAA Division 1 title with its fifth straight win. The senior right-hander allowed two runs on eight hits. Leading 2-1, Hornell scored five runs in the seventh inning. Wyatt Argentieri finished with three hits, including a triple, two RBI, and a run scored. Jacob Ponticello added two hits, three RBI and a run scored. Haverling started, Zach Musso completed the game on the hill, striking out 10 of the 31 batters he faced, allowing seven hits.
ANDOVER/WHITESVILLE (2-12) 7
FILLMORE (12-2) 21
Graham Cahill finished 4-for-4 with a double and triple to pace an 18-hit attack as Fillmore won for the ninth time in 10 games. Zach Sisson tripled, went 3-for-5 with four RBI and two runs scored. Luke Colombo was 3-for-3 with three RBI and two runs scored.  The junior also started, struck out six and allowed an unearned run on two hits and two walks. Aiden Wagner collected three hits, four RBI and four runs scored while Alex Ellsworth had three hits in five at-bats with three RBI and a run scored. Spencer Mattison singled and drove in three runs for Andover/Whitesville. CJ Estep singled and scored twice. Dylan Ocor went 2-for-2 with an RBI and a run scored.
KENDALL (9-4) 6
ATTICA (8-6) 5
Zach Barrett led the way at the plate, going 4-for-5, with 3 RBI. Reuben Marquess struck out nine batters, allowing nine hits, through six innings pitched. Barrett contributed the save.
SOUTH SENECA/ROMULUS (3-10) 5
HONEOYE (7-6) 9
BOLIVAR RICHBURG (15-1) 19
HINSDALE (1-10) 2 (5 innings)
Camdyn MacDonell struck out 10 of the 18 batters he faced, combining with Sawyer Johnson for a no-hitter, as Bolivar-Richburg collected its seventh-straight win. A 17-hit showing by the Wolverines, was headlined by a three-run home run by MacDonell, and a two-run home run by Wyatt Karnuth, as part of a seven-run fourth inning. MacDonell finished 2-for-2, with five RBI. Trey Buchholz went 3-for-3, with a triple, and two RBI. Jake Elliot and Ethan Casimere each had RBI for Hinsdale.
 AVOCA/PRATTSBURG (11-5) 2
CAMPBELL-SAVONA (8-1) 7
DUNDEE/BRADFORD (4-6)
RED JACKET (5-5)
KESHEQUA (5-8)
PERRY (1-11)
SCIO/FRIENDSHIP (5-8)
GENESEE VALLEY/BELFAST (6-9)
To report scores, please email photos of that night's scorebook pages to scores.pickinsplinters@gmail.com.