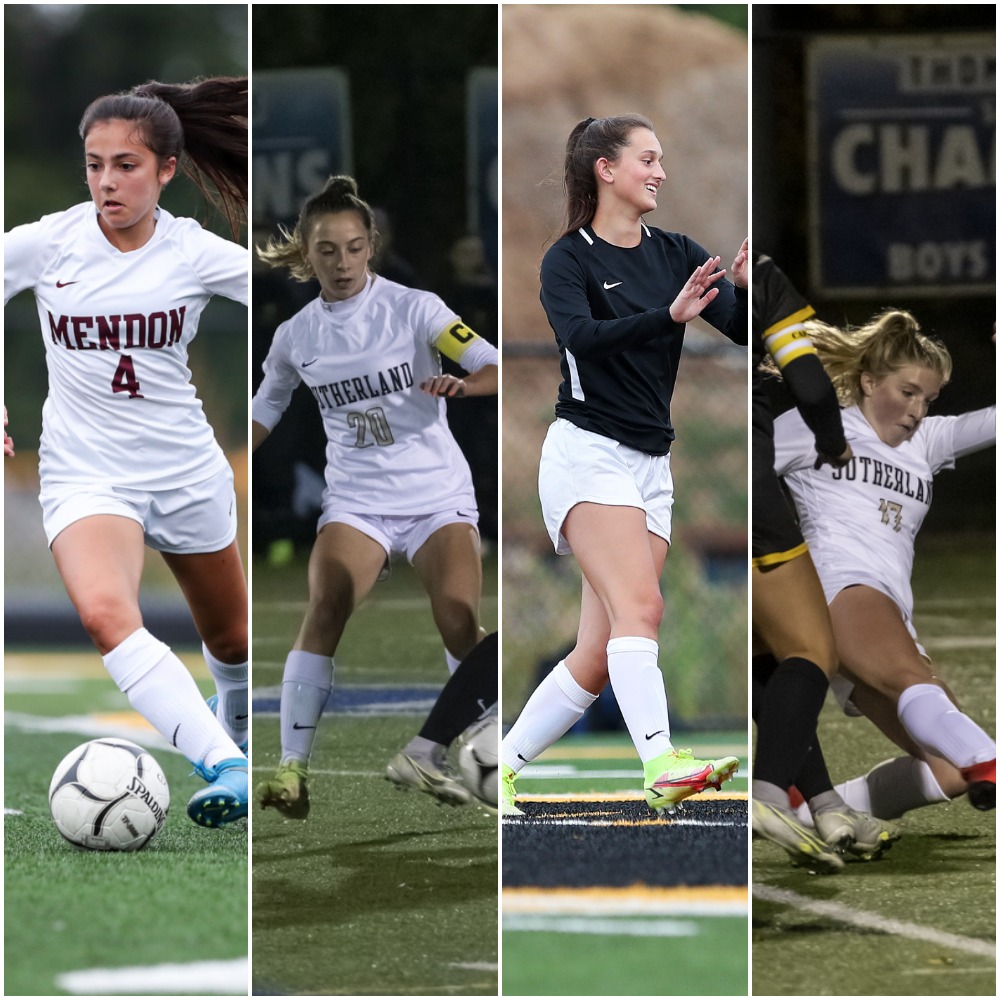 Pittsford Mendon and Pittsford Sutherland will meet Saturday to decide the 2021 Section V Class A2 Girls' Soccer Championship. Here's the breakdown:
No. 2 seed PITTSFORD MENDON VIKINGS (14-3-1/Monroe County Division III) vs. No. 4 seed PITTSFORD SUTHERLAND KNIGHTS (12-5-1/Monroe County Division III)
How they got here: Pittsford Mendon (No. 18 NYSSWA Class A) opened with a 3-1 win over No. 7 seed Aquinas in the quarterfinals and advanced past No. 3 seed Brockport, 2-0, in the semifinals. Pittsford Sutherland defeated No. 5 seed Wayne, 2-0, in the quarterfinals and tied with Greece Athena, 1-1, in the semifinals before advancing on penalty kicks.
Total goals scored: Pittsford Mendon (42), Pittsford Sutherland (43)
Total goals allowed: Pittsford Mendon (10), Pittsford Sutherland (13)
Trends: Pittsford Mendon has won five games in a row and outscored its opponents, 11-2, in that span. Pittsford Sutherland has won eight of its last nine matches, including seven via shutout.
Players to Watch for Pittsford Mendon: Elena Barr Jr. MF/F six goals, two assists; Rachel Lee Jr. MF/F 10 goals, six assists; Bridget Merkel Jr. MF/F 11 goals, six assists; Leah Shaffer Jr. GK/MF 68 saves, six goals allowed, 1,144 minutes in goal; Danielle Strauf Sr. MF five goals, six assists
Pittsford Sutherland: Ava Allen Sr. D five goals, four assists; Laura Bennett Sr. MF/F six goals, eight assists; Alexandra Bova So. MF/F five goals, four assists; Moran Pochtar Jr. GK 79 saves, 12 goals allowed, 1,230 minutes in goal
Coaches: Eric Pritchard (Pittsford Mendon), Adam Palumbo (Pittsford Sutherland)
History 101: Mendon is looking for its third title in 12 years and first since 2014. Sutherland last won a sectional championship in 1994 when the Knights beat Mendon, 1-0.
A 3 p.m. kickoff is scheduled at Webster Schroeder High School.