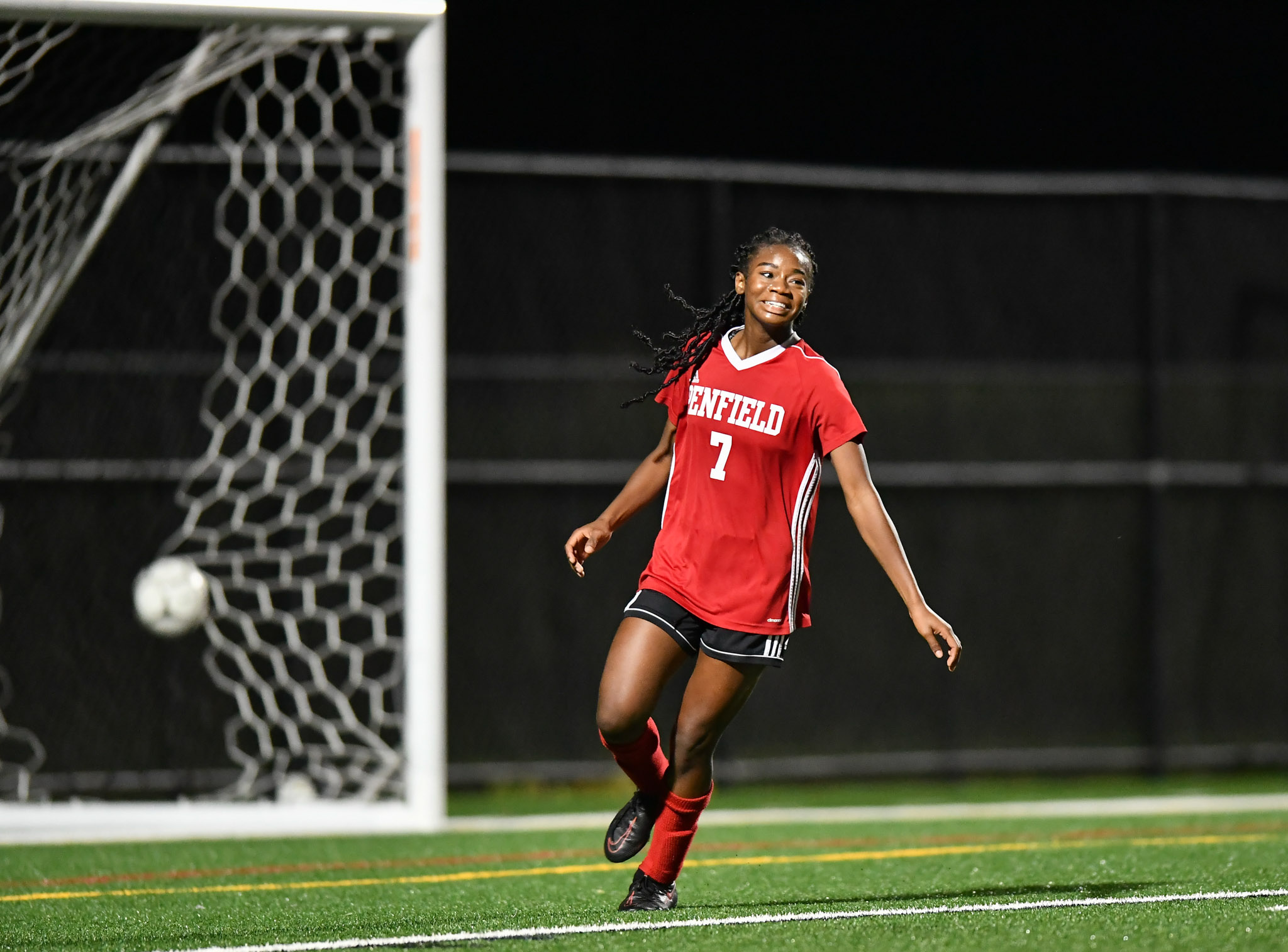 BOYS
WILSON MAGNET/MONROE/EARLY COLLEGE (4-9) 0
HONEOYE FALLS-LIMA (10-4-1) 5
David Brassie paced a balanced Honeoye Falls-Lima offense with one goal and two assists as the Cougars ended the regular season with four straight wins. The senior midfielder did all his damage in the first half by assisting Nolan Dudley's and Sam Emerson's goals, then applying the dagger himself. Madut Mathuc and Zackery Tuller rounded out the scoring thanks to Chris Colgan and Valentino Maiola.
CHARLES G. FINNEY (6-6-2) 2
WHEATLAND-CHILI (12-3) 1 (2 OT)
Ryan Lewin chipped in the game-winner in the 99th minute to lift Charles G. Finney to its second straight win to end the regular season. Junior midfielder Martin Helguera assisted the goal. Sophomore midfielder Octavio Gefell netted the Falcons' other goal in the first half on an assist by James Sidorishin.
1:09 left in OT, Finney's Ryan Lewin scores the game winner, 2-1, Falcons the final. @PickinSplinters pic.twitter.com/gUWTnpchZJ

— Tim Irving (@Irvish5) October 13, 2021
EAST ROCHESTER (7-7-1) 1
PEMBROKE (6-10) 3
Jon Suro scored a pair of first-half goals to lead Pembroke in its regular season finale. Danny Curtis, who assisted Suro's second goal, applied a dagger himself in the second period. Henry Richley and Austin Wood both provided an assist. For East Rochester, senior attacker Ian Szemcsak scored the team's lone goal in the 67th minute.
SODUS (7-3-2) 1
NORTH ROSE-WOLCOTT (7-6-2) 2
AJ Anthony scored in each half, including on a penalty kick in the first period, to lead North Rose-Wolcott to its second win in three games to end the regular season.
HAMMONDSPORT (1-14) 1
CAMPBELL-SAVONA (6-7) 3
For Hammondsport, junior midfielder Luke Szathmary scored the team's lone goal 48 seconds into the second half.
JASPER-TROUPSBURG (1-13-1) 1
CANISTEO-GREENWOOD (4-8-2) 3
For Jasper-Troupsburg, Brennan Walters scored the team's lone goal in the second half.
GREECE ATHENA (2-14) 1
AQUINAS (7-6-2) 3
Phillip Wohltorf scored twice, and Bennett Valentino added a goal to lead Aquinas. Ali Shabani, Mike DeCaro and Elvir Odzakovic contributed an assist apiece in the win.
VIEW MORE DENNIS JOYCE PHOTOS HERE.
GIRLS
WARSAW (15-0) 2
GENESEO (12-3) 0
Emma Tangeman snapped a scoreless with 13:36 remaining in the first half, and Taylor Howard added another score early in the second half as Warsaw (No. 2 NYSSWA Class C) improved to 15-0-0 on the season. READ MORE.
HOLLEY (10-4-2) 2
WHEATLAND-CHILI (6-7-3) 1
Holley girls soccer had all the motivation they needed to finish the regular season on a strong note, facing Wheatland-Chili for the second time in five days. READ MORE.
EASTRIDGE (6-8) 2
BATAVIA (8-6-1) 1
For Batavia, sophomore midfielder Anna Varland scored the team's lone goal in the 60th minute on an assist by Grace Parker. Senior goalkeeper Maddie Barone had four saves.
SPENCERPORT (14-0) 5
BRIGHTON (11-4) 1
Lily Brongo, Bre DeHond and Aleena Solano all recorded a goal and an assist to lead Spencerport to a season sweep of Brighton. Solano led with two assists, including one to Brongo. Solano's goal accounted for the Rangers' lone score of the second half and was courtesy of Brongo. DeHond's helper was for Lindsay Lenhard. Senior midfielder Alyssa Hackett rounded out the scoring. Sophomore midfielder Emma Watson chipped in an assist for DeHond. Cate Burns amassed eight saves.
GREECE ATHENA (12-4) 10
GREECE ARCADIA (2-12-1) 0
Isabella Astudillo, Wrianna Hudson and Abby Ranalletta all scored two goals to lead Greece Athena's offensive outburst and fourth straight win to end the regular season. Astudillo and Ranalletta both produced their goals in the first half while Hudson scored in each period. Hudson amassed five assists as well, including for both of Asudillo's goals. Ranalletta chipped in an assist. Ashley Accorso, Grace Devine, Larissa Johnston and Julie Welling rounded out the scoring. Welling contributed a pair of helpers as well, including one of Ranalletta's goals.
HONEOYE FALLS-LIMA (8-6-1) 1
GREECE OLYMPIA (13-2) 3
Kuditra Derosa paced a balanced Greece Olympia offense with a goal and an assist as the Spartans notched their seventh consecutive victory. The senior forward wasted no time putting the team on the board in the 10th minute before assisting Amanda Paniccia's goal 20 minutes later. Morgan Welch rounded out the scoring with a point in the 73rd minute. Senior defender Madison Walker was credited the helper for Derosa's goal. Sophomore goalkeeper Elizabeth Faulkner provided three saves.
CANANDAIGUA (4-9-1) 0
PITTSFORD SUTHERLAND (10-5) 4
Eight different players (Alexandra Bova, Abby Cappotelli, Meghan Joerger, Eva Mihalitsas, Ava O'Neil, Aaron Ricketts, Tiana Schantz and Ella Wilmot) contributed with either a goal or assist in Pittsford Sutherland's sixth straight win. Bova, Joerger, O'Neil and Ricketts scored the goals while Cappotelli, Mihalitsas, Schantz and Wilmote provided the assists. Bova and Joerger netted their goals in the first half and O'Neil and Ricketts in the second. Junior goalkeeper Moran Pochtar only needed one save to record a shutout. For Canandaigua, Payton Malec and Molly Perdan combined for 20 saves in goal.
PITTSFORD MENDON (11-3-1) 2
BROCKPORT (10-4-1) 1
Rachel Lee scored and assisted Bridget Merkel's goal in a five-minute span to lead Pittsford Mendon to its fifth win in six games. Both goals came in the first half.
NOTRE DAME BATAVIA (11-2-2) 6
ALEXANDER (6-7-1) 1
Autumn Mathisen amassed four goals to lead Notre Dame Batavia to its seventh straight win. The junior forward secured the hat trick in the first half with goals in the seventh, 13th and 15th minute and added one more point 31 minutes later. Sophomore midfielder Kate Ricupito scored the Fighting Irish's other two goals in the 28th and 80th minute. Junior midfielder Arabella Rogers assisted three of Mathisen's goals. Sophomore midfielder Emma Sisson applied a helper to one of Mathisen's and Ricupito's goals. Cayleigh Havens assisted Ricupito's other shot. Junior goalkeeper Rebeka Nickerson registered eight saves. For Alexander, junior forward Jayden Mullen scored the team's lone goal in the 23rd minute. Senior goalkeeper Sam Kabel accumulated 13 saves.
CALEDONIA-MUMFORD (6-8-1) 4
MOUNT MORRIS (2-12) 0
Holly McGinnis recorded two goals and one assist to lead Caledonia-Mumford to its second straight win. The sophomore forward scored in each half and applied a helper to Bre Bishop's goal. Freshman midfielder Ava Amorese rounded out the scoring with the Raiders' first goal in the 12th minute. Adrianna DiSalvo and Marissa Roides assisted McGinnis' goals. Junior goalkeeper Avery DeMarco only needed one save to finish with a shutout. For Mount Morris, senior goalkeeper Briana Lang registered seven saves in goal.
DUNDEE/BRADFORD (6-8-1) 2
RED JACKET (3-12) 1
Kendall Parker scored the go-ahead goal in the 57th minute as Dundee/Bradford rallied to snap a three-game skid. After assisting Madison Hughes' game-tying point in the 48th minute, Parker applied the dagger herself. Hughes was credited a helper for the goal as well. Freshman goalkeeper Ellie Fleet contributed to the rally with 10 saves. For Red Jacket, Jenna North netted the first goal of the game in the 40th minute.
HAMMONDSPORT (1-10-2) 0
CAMPBELL-SAVONA (8-5-2) 3
Catrice Taft paced a balanced Campbell-Savona offense with a goal and assist as the Panthers won their regular season finale. The senior defender scored in the 12th minute, then assisted Mackenzie Hodder's goal eight minutes later. Paige McCann rounded out the scoring with the Panthers' first goal five minutes into the match. Donna Clark and Morgynn Hayes both applied a helper. Junior goalkeeper Karissa Champion provided three saves in the shutout.
GENESEE VALLEY/BELFAST (7-8) 0
CUBA-RUSHFORD/HINSDALE (9-6) 1
Macie Demick's fourth-minute goal was the difference in Cuba-Rushford/Hinsdale's third straight win. Senior midfielder Christy Childs was credited an assist. Junior goalkeeper Tara Duvall led the shutout effort with nine saves.
WATERLOO (7-5-4) 1
WAYNE (11-4-1) 3
Giana Ryndock netted a pair of goals to lead Wayne in its regular season finale. The junior midfielder wasted no time putting the Eagles on the board in the fourth minute and scored again in the 38th minute thanks to Alayna Biedenbach. Senior midfielder Riley Simpson rounded out the scoring with a shot in the seventh minute on an assist by Bailey Cook. Jillian Groff recorded six saves.
JASPER-TROUPSBURG (4-11) 1
CANISTEO-GREENWOOD (7-6-2) 2
For Jasper-Troupsburg, junior midfielder Emily McCaig wasted no time putting the team on the board in the sixth minute.
BATH-HAVERLING (14-1) 7
DANSVILLE (7-8) 2
Lillian Dickson and Keegan Smith both spun a hat trick to lead Bath-Haverling to its 14th consecutive victory. Smith assisted Dickson's second goal as well. Sophomore midfielder Ella Yartym rounded out the scoring and provided five assists, including all of Smith's goals and two of Dickson's. Junior forward Natalie Krelie applied a helper to Yartym's goal.
AVON (7-5-3) 6
LETCHWORTH (2-13) 2
For Letchworth, Mia Belkota and Lindsay Constable both scored a goal. Belkota netted her point in the 33rd minute and Constable buried the ball in the 62nd minute. Junior defender Victoria Franklin assisted both goals. Senior goalkeeper Kasey Krenzer amassed nine saves.
MARCUS WHITMAN (13-3) 6
SOUTH SENECA (0-14) 1
Zoelle Payne spun a hat trick as Marcus Whitman scored six unanswered goals and concluded the regular season with eight consecutive victories. The junior midfielder netted two of her three goals in the second half and overall in the sixth, 54th and 56th minute. Lana Burnett, Katherine Cline and Lily Morse rounded out the scoring. Burnett assisted Payne's second goal as well. Senior midfielder Evelyn Lambert applied helpers for Burnett and Morse. Junior defender Olivia Herod assisted Payne's first goal. Eighth-grade goalkeeper Sophie Snyder had four saves. For South Seneca, junior defender Ciera Babcock scored the team's lone goal two minutes into the match.
VICTOR (3-10-2) 0
PENFIELD (15-1) 3
RUSH-HENRIETTA (5-8-2) 0
WEBSTER SCHROEDER (8-5-2) 2
GATES-CHILI (5-11) 4
IRONDEQUOIT (2-13) 2
CHURCHVILLE-CHILI (6-7-1) 0
WEBSTER THOMAS (7-7-1) 1
FAIRPORT (6-8) 2
HILTON (5-10-1) 0
WAYLAND-COHOCTON (0-15) 1
LIVONIA (4-9-1) 5
KESHEQUA (9-3-3) 2
PERRY (4-10-1) 0
MIDLAKES (1-15) 0
PENN YAN (7-5-3) 4
ATTICA (6-8-1) 4
LYNDONVILLE/MEDINA (3-13) 2
NAPLES (9-7) 1
HONEOYE (11-5) 2
HARLEY-ALLENDALE-COLUMBIA (11-3-1) 2
BLOOMFIELD (9-6) 1
BOLIVAR-RICHBURG (8-7) 0
FILLMORE (15-0) 5
KENDALL (6-8-1) 1
OAKFIELD-ALABAMA/ELBA (8-6-1) 2
MYNDERSE (9-6-1) 0
PALMYRA-MACEDON (14-2) 4
YORK (8-1-3)
PAVILION (5-8-1)
GENEVA (3-10-1)
NEWARK (6-6-2)

To report scores, please email photos of that night's scorebook pages to scores.pickinsplinters@gmail.com.