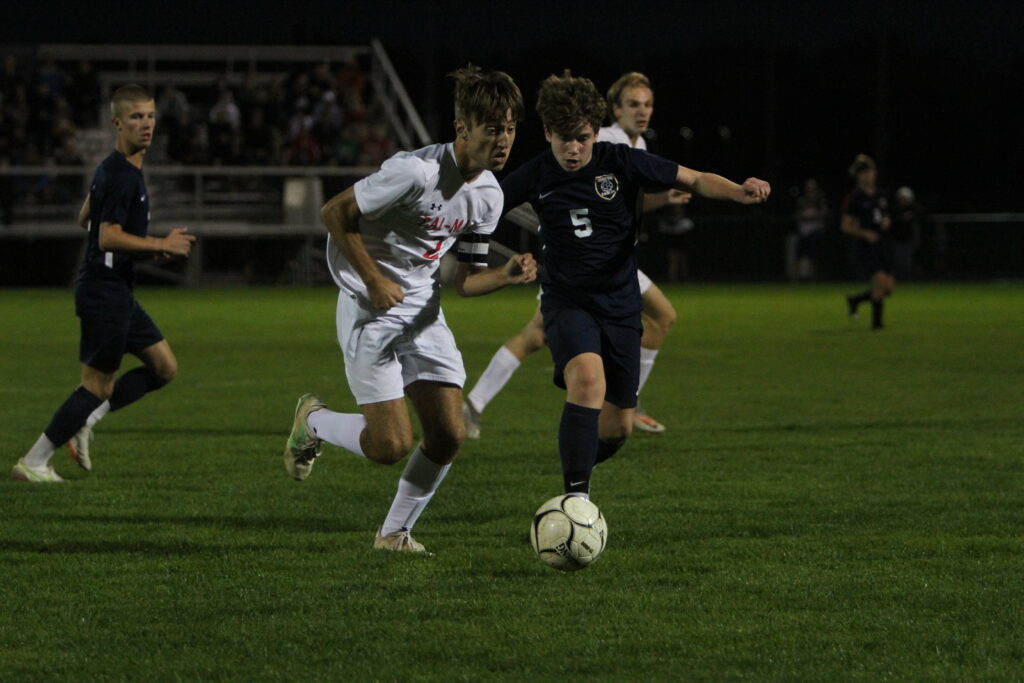 BOYS
PALMYRA-MACEDON (9-5) 0
WAYNE (13-2) 2
The win was the 12th straight for the Eagles which have now won seven consecutive league titles. Since joining the Finger Lakes League in 1999, Wayne has won or shared 16 of 18 titles. Wayne left the Finger Lakes for soccer and played as an independent from 2010-2014. READ MORE.
VICTOR (5-10) 0
PENFIELD (10-2-1) 3
Penfield picked up a bounce-back win as Jack Maness accounted for all three goals. Maness assisted Dino Jandric for the first goal of the game in the fifth minute, and scored his own goal in the 46th minute on a Cristiano Mounnarat assist. Mounnarat capped off the game's scoring in the 50th minute with an assist from Maness.
CHURCHVILLE-CHILI (10-2-2) 0
WEBSTER THOMAS (3-7-4) 0 
PITTSFORD MENDON (5-8-2) 3
BROCKPORT (10-5) 5
Jacob Miller netted all five goals for Brockport as the Blue Devils won their fourth straight. Miller scored four in the first half, and one in the second half. Jacob Cole and Henry Schultz picked up two assists apiece. Thomas Sidore had one assist.
GREECE ODYSSEY (8-6-1) 0
GREECE OLYMPIA (10-5) 2
Will Buttino and August Liveng scored one goal apiece to lead Olympia. Philipp Biermann had one assist. Dylan Mattice made seven saves for the shutout. Odyssey's Omar Ashkar stopped six shots.
GATES-CHILI (0-15) 0
IRONDEQUOIT (6-7-2) 5
Irondequoit snapped a four-game winless streak behind a balanced offense that featured five different goal scorers. Nevlyn Harper got the Eagles going with a goal in the seventh minute, and Josiah Claudio added another goal two minutes later. Jacob Ryan and Austin Fontaine both chipped in a goal to finish the first half. Justin Connor was the recipient of an own goal off a cross to round out the scoring in the 56th minute.
GREECE ATHENA (2-13) 0
GREECE ARCADIA (11-3-1) 1
Aidan Lewandowski led Arcadia to victory with a penalty kick. Julian Silva dished it to Lewandowski that set up the penalty kick. Goalkeeper Gave Taylor had six saves in the shutout, including a great save on a free kick.
RUSH-HENRIETTA (4-10-1) 2
WEBSTER SCHROEDER (5-8-2) 2 (OT)
Eli Boothby scored both goals for Webster Schroeder while Tom Stojanov and Cole Santiago scored for Rush-Henrietta to earn the tie. All goals came in the first half. Alexis Bolis and Brayden Piwko picked up assists for Schroeder. Santiago and Alex Herrera had assists for the Royal Comets.
CANANDAIGUA (6-9-1) 2
PITTSFORD SUTHERLAND (12-1-2) 5
Five different goal scorers led a balanced-offense for Pittsford Sutherland. David Adeleke-Adedoyin netted the first goal for Sutherland in the 33rd minute on a Devon Rashid assist. Billy Pinopoulos capped off the first-half scoring with an unassisted goal in the 37th minute. Ryan Petrone, Will Field, and Henry Leahy all scored in the second half. Sutherland picked up a bounce-back win from its lone loss of the year.
SPENCERPORT (7-5-2) 2
BRIGHTON (8-4-3) 2
Brighton rallied from a two-goal deficit to stay undefeated in its past five games. Daniel Barraclough-Tan got the Bruins on the scoreboard in the 60th minute. Will Kelly assisted on the play. Chase Alexandre leveled the match with help from Jared Liu 11 minutes later. Spencerport sophomore Kyle Milburn converted a penalty kick to start the scoring, and Andrew Wiebeld doubled the advantage with his first varsity goal. Sujan Rajamohan assisted on the play. Milburn leads Spencerport with 17 goals. The Rangers are unbeaten in their past four games.
EASTRIDGE (3-12) 3
BATAVIA (9-4-2) 4
Nick Grover netted two goals which paced Batavia to its third-straight win. Grover had the first two Blue Devil goals unassisted in the 19th and 39th minutes. Quintin Cummings had a goal in the 59th minute on a Owen Halpin assist. Casper Stewart scored the deciding goal in the 79th minute with an assist from Carter Havens.
FAIPORT (11-2) 1
HILTON (13-1-1) 4
Cody Cavouto had a hat trick as Hilton avenged its only loss of the season. Cavuoto scored one in the first half and two in the second. Jonathan Resnick, Kyle Cunningham, and Will DePrez recorded the assists. Alec Smith put the finishing touches on the game following an assist from Resnick.
ROCHESTER ACADEMY CHARTER (0-11) 0
AVON (9-3-2) 1
JORDAN-ELBRIDGE (IV) 1
RED CREEK (4-9) 2
Jordan Vertburg scored both goals for Red Creek as the Mules ended a six-game losing streak. Jace Brown assisted Vertburg's first goal, and Ethan Hanford assisted the final goal in the first half.
ATTICA (11-5) 0
PAVILION/YORK (10-5) 1
NORTHSTAR (8-4-1) 0
BISHOP KEARNEY (9-5-1) 1
WILSON/MONROE/EC (4-8) 0
MCQUAID (13-1) 8
Andrew O'Hern netted two goals to lead an offensive attack that featured seven different goal scorers. Elliot Aguirre scored and assisted on the first two goals of the game, Marco Pilato scored on the assist. Andrew O'Neill and Colin Shanahan rounded out the first half scoring. Casey Montesano and Khari Goulbourne Dias sandwiched O'Hern's second goal in the 50th minute. O'Hern scored his first goal in the 11th minute.
AVOCA/PRATTSBURGH (9-5-1) 3
ADDISON (14-1) 5
Addison picked up its fifth-straight win behind two goals from Brayden Bills. Bills scored both of his goals in the second half with one coming on a Jacob Howe assist. Trent Watson , Alberto Miranda, and Luke Pepper had the other Addison goals.
ARKPORT/CANASERAGA (10-4-1) 3
ALFRED-ALMOND (9-6) 2
Ki Steiner scored the game-winning goal on an assist from Nate Morey which handed Arkport/Canaseraga back-to-back wins. Morey and Steiner connected earlier in the game when Steiner found the goal on a Morey pass. Ethan Reynolds assisted Phil Chamberlin for the first Arkport/Canaseraga goal of the game. Aritz Balboa and Zack Ledbetter scored the two goals for Alfred-Almond.
FILLMORE (13-2) 6
BOLIVAR-RICHBURG (9-5-2) 0
Mitchell Ward recorded a hat trick as Fillmore won its 10th-straight game. Ward assisted Carter Sisson for the lone goal of the first half, and then scored his own goal on a Damon Wood assist to open the second half. Jack Cool and Graham Cahill both had a goal, and then Ward wrapped up the Eagles scoring with two goals in a row.
NEWARK (7-9) 6
MIDLAKES/RED JACKET (0-15) 4
BLOOMFIELD (7-6-1) 2
NAPLES (13-0-1) 7
Owen Hulbert helped keep Naples unbeaten with a game-high four goals. Hulbert got Naples on the board 19 seconds into the game, and then added his second goal in the 11th minute. Hulbert capped off his night with goals in the 43rd and 72nd minutes. Ryan Lester chipped in a goal in the 26th minute, and Austin Chapman netted two goals of his own in the 27th and 32nd minutes.
BRADFORD/DUNDEE (8-3-1) 4
HONEOYE (5-8) 0
Jacopo Paniga led Bradford/Dundee to its third-straight win with a game-high two goals. Paniga scored his first goal in the 11th minute on a Logan Ayers assist, and scored his second in the 16th minute unassisted. David Semans added on in 40th minute on a Joseph Tory assist, and Ayers ended the scoring with goal in the 75th minute.
MARCUS WHITMAN (2-11) 0
WATERLOO (1-13-1) 1
HOLLEY (4-9-1) 1
KENDALL (7-7-1) 0
GENESEO (9-3-2) 1
MOUNT MORRIS (8-7) 0
Ethan Bennett scored the lone goal of the game in the first half on a Caleb Rice assist that lifted Geneseo to its sixth-straight win.
KESHEQUA (13-2) 4
WAYLAND-COHOCTON (6-9) 2
Nathan Thayer scored a hat trick in the second half to lead Keshequa to its 11th-straight win. Thayer scored in the 58th, 70th, and 72nd minutes. Ian Hinrich scored the only other Keshequa goal in the 64th minute on a Reese Powers assist. Powers assisted two other goals. Sterling Strain grabbed an assist on the first Thayer goal.
LETCHWORTH/WARSAW (5-9-1) 0
BATH-HAVERLING (15-0) 5
Keefer Calkins netted three goals which helped keep Bath-Haverling undefeated. Jamie O'Neil had the first Rams goal in the 24th minute on a Braden Yartym assist. Calkins scored the next three goals on assists from o'Neil, Bram Pomplas, and Cayden Mattison. Ezra Hoad finished the scoring with an unassisted goal in the 65th minute.
PEMBROKE (5-10) 1
BYRON-BERGEN/ELBA (6-9) 2
Manny Aragon scored the decisive goal in the first half on an assist from Colin Rea which paced Byron-Bergen/Elba to a bounce-back win. Colin Martin assisted the first Byron-Bergen/Elba goal scored by Jack Farmer.
EAST/LAFYM/SWN/NE N DOUGLASS (3-8-0) 0 
WOIS/EDISON/FRANKLIN/SOTA (4-11-0) 4
GENEVA (3-12-0) 0
MYNDERSE (4-10-0) 1
ANDOVER/WHITESVILLE 1
HOUGHTON 8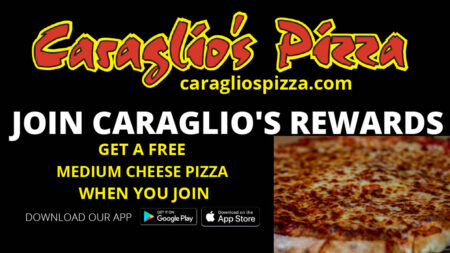 GIRLS
WILLIAMSON (10-4-1) 3
NORTH ROSE-WOLCOTT (4-10) 0
Alyssa Leaty had two goals which led Williamson to its fifth-straight win. Leaty had the first two Marauders goals on assists from Anna Henner and Andrea Hurtado. Henner assisted the final goal of the game scored by Elizabeth Brandt. Goalkeeper Chloe Jordan collected seven saves in the shutout.
SODUS (1-11) 0
MARION (13-2) 7
Abigail Marotta scored three goals and assisted two more pacing Marion to its 13th-straight win. Marotta assisted Hannah Roegiers for the first goal of the game, and Abby Conover extended the lead to two with an unassisted goal. Marotta scored the next three goals spanning between the two halves. One goal was unassisted, and the other two were assisted by Conover and Hayley Wurster. Isabela Vargas and Hayes finished the scoring for the Knights.
EASTRIDGE (5-8) 3
OAKFIELD-ALABAMA/ELBA (7-6-1) 2 (OT)
Sierra Manning netted the game-winning goal in the second overtime period on an assist from Nevaeh Bunch. The two connected for all three Eastridge goals, as Manning assisted Bunch for the first Lancer goal in the 47th minute, and Bunch assisted Manning for the last Eastridge goal in regulation. Christina Batholomew scored the tying goal in the 75th minute unassisted. Macy Altamirano scored the first Oakfield-Alabama/Elba goal on a Piper Hyde assist.
BATAVIA (8-5-1) 0
LE ROY (7-5-3) 3
Ashley Michel finished with two goals while Megan Benware had a goal and an assist to lead Le Roy. Bella Condidorio contributed an assist. Katelynn Everett stopped five shots for the shutout.
NORTHSTAR CHRISTIAN (6-6) 5
LIMA CHRISTIAN (0-13) 0
Northstar got back to .500 behind goals from five different scorers. Ava Thomas-Guzman got the Knights on the board first in the 10th minute, and Allie Skeval added a goal four minutes later. Lydia Demarest, Alisha Demarest, and Molly Livecchi finished the Northstar scoring with a goal each in the second half. Samantha Demarest, Thomas-Guzman, and Lydia Demarest were credited with the assists respectively. Esther Beshta had two saves in goal.
ALFRED-ALMOND (4-9-1) 0
ARKPORT/CANASERAGA (11-3) 1
Maureen Stuckey netted the game-winning goal in the 44th minute unassisted to pace Arkport/Canaseraga to its 13th-straight win. Goalkeeper Emily Fuller tallied 21 saves in the shutout.
ANDOVER/WHITESVILLE (8-6) 2
GENESEE-VALLEY/BELFAST (7-7) 0
Zoey Lee and Kennedy Bledsoe both scored a goal that paced Andover/Whitesville two games above .500. Lee scored in the first half on an Ava Grace assist, and Bledsoe found the goal unassisted in the second half. Brynn School collected two saves in the shutout for Andover/Whitesville.
HARLEY-ALLENDALE-COLUMBIA 3
SOUTH SENECA 0
BISHOP KEARNEY ()
OUR LADY OF MERCY ()
SOTA 0
C. G. FINNEY 1