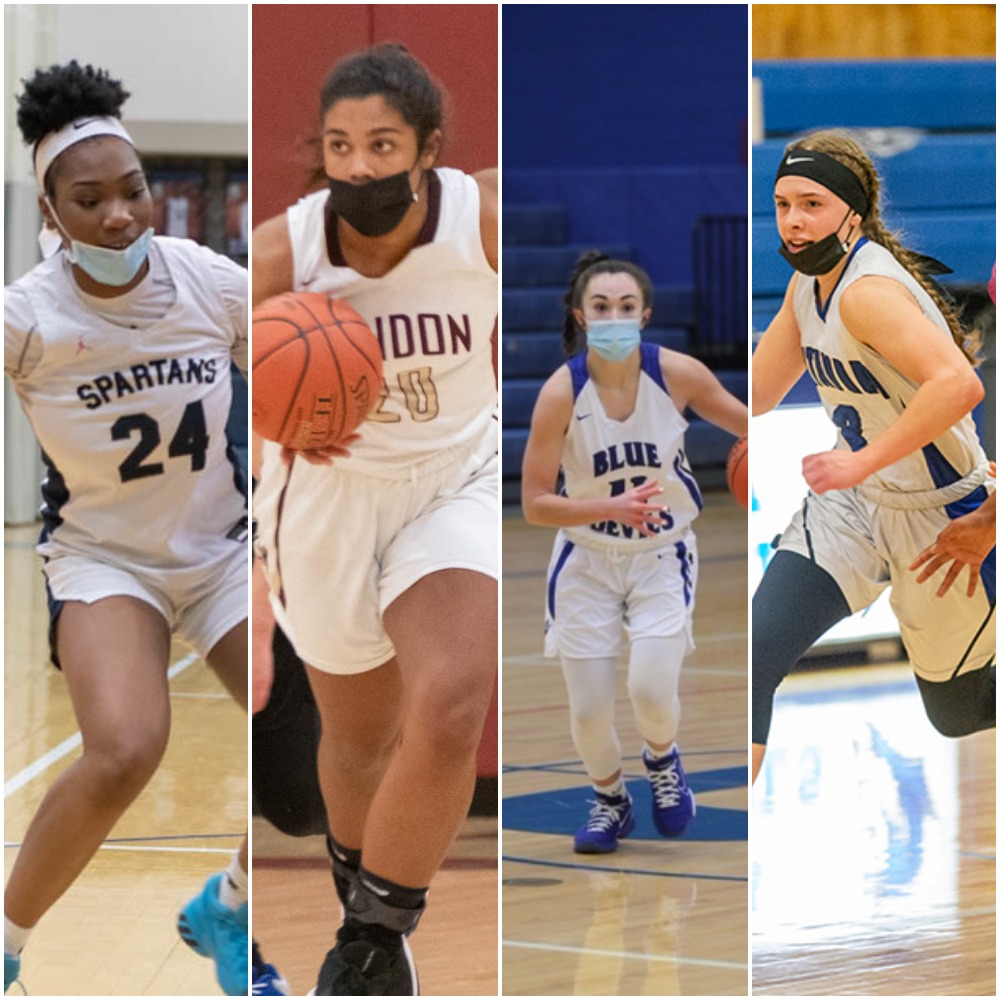 By PAUL CIFONELLI
Miriam Ibezim, Lexi Green, Ella Fadale and Mackenzie Reigle led their respective divisions in total points en route to earning Player of the Year awards. This was the second consecutive year Green and Reigle were given the honor.
Ibezim, Green and Reigle are all senior, meaning Fadale is the only player who can look for a repeat in the 2021-22 season.
Ibezim led Gates-Chili to the Class AA semifinals, where it lost to the eventual-champion in Penfield. The 6-foot-1 center won the Division I Player of the Year honor by averaging 20.9 points and 18.6 rebounds. The Oakland University commit also became the second active player to reach 1,000 career points and rebounds this season. Terah Echols joined her teammate on the Division I First Team by scoring 15.6 points per game and grabbing 7.1 boards. Echols also led the team in blocked shots with 24.
Ella Meabon and Bella Pucci represent Fairport on the Division I First Team. The dynamic duo finished third and fourth in the division in scoring, netting 17.4 and 17.2 points per game, respectively. Meabon also added in 9.4 rebounds per contest. Both players were only sophomores this season and have two more chances to bring a sectional title to Fairport.
VIEW MORE SUE KANE PHOTOS HERE. 
Anya Watkins and Mariah Watkins, both from Webster Schroeder, rounded out the Division I First Team. Anya Watkins averaged a double-double, netting 13.8 points and grabbing 10.1 rebounds. Mariah Watkins, just a freshman, was only behind Ibezim in Division I in scoring with 17.8 per game. She also ripped down 9.0 boards per contest. Mariah was also a force on defense, as she had 3.1 steals per game.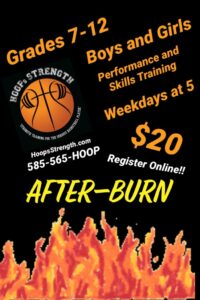 Paris Anthony (Gates-Chili), Emily Power (Victor), Lill Northrup (Webster Schroeder), Mallory Heise (Hilton), Sydney Carpenter (Hilton) and Abi Smith (Fairport) were named to the Division I Second Team. Anthony averaged 15.8 points for the Spartans, while Power paced Victor with 9.6 and Northrup had 6.3 for the Warriors. Carpenter was Hilton's leading scorer at 10.8 points per game and Heise followed close behind with 8.8. Smith pitched in 6.7 points per contest for Fairport.
VIEW MORE JODI ZUROWSKI PHOTOS HERE. 
Green helped Pittsford Mendon to its fifth straight Section V title by winning her second consecutive Player of the Year award. The Cornell University commit averaged 17.9 points, including a season-best 26 in the sectional final against Brockport. Anaya Coleman and Danielle Strauf were also on the Division II First Team, giving the Vikings three of the six players. Coleman scored 14.3 points per game, with Strauf contributing 10.6.
Haley Emmick and Elisa Faklaris were both named to the Division II First Team from Penfield. Emmick was the leading scorer for the Class AA champs, netting 10.9 per game. She averaged 14 points per game in the Patriots' three sectional matchups, including 22 points in a semifinal win over Gates-Chili and a double-double in the sectional final to earn Tournament MVP. Faklaris was Penfield's only other double-digit scorer with 10.3 per contest. Her season-high was 26 against Webster Thomas.
Kiara Anglin was the final Division II First Team performer. The Brighton junior scored 16.7 points, grabbed 8.2 rebounds and nabbed 2.9 steals per game. She had four double-doubles this year, including three in a row toward the end of the season.
Sydney Postell (Churchville-Chili), Mikayla Shipley (Churchville-Chili), Lily Kennedy (Pittsford Mendon), Sadie Scott (Brighton), Mady Kelly (Webster Thomas) and Emma Blumenstock (Penfield) made up the Division II Second Team. Postell and Shipley were the Saints' one-two punch offensively, with Postell averaging 11.4 points and Shipley 8.7. Kennedy scored 10.4 points per game, Scott had 7.8, Kelly notched 13.9 and Blumenstock had 7.6.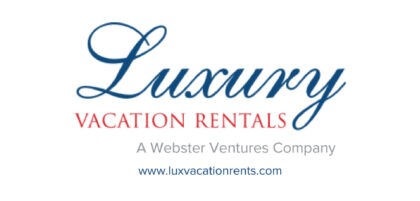 Fadale paced Brockport's offense as the Blue Devils made a run to the Class A finals. She earned the Division III Player of the Year award by averaging 18.4 points, 3.4 rebounds, 3.3 assists and 3.4 steals. She had a 28-point, 10-rebound double-double against Eastridge and scored 28 points on one other occasion. Ava Velletri was also named to the Division III First Team from Brockport by scoring 12.1 points and grabbing 6.8 rebounds.
Mya Herman was the only player from Canandaigua, the league champions, to make the Division III First Team. Herman scored 12.6 points per game and had between 12 and 17 points in 11 of her 13 games.
Amiyah Nunn represented Irondequoit on the Division III First Team. The junior guard led the Eagles' offense with 11.0 points and 6.9 rebounds per game. Kiera Osier was Greece Athena's lone First Team selection. She averaged 11.3 points and 2.9 steals in her final season. Nora Miller rounded out the Division III First Team. The sophomore guard finished second in the league with 14.8 points per game and added in 7.5 boards per contest.
Emma Laureano (Brockport), Gisela Allen (Brockport), Leah Memmott (Irondequoit), Abbey Herod (Canandaigua), Kyleigh Chapman (Canandaigua), Julia Smith (Irondequoit) and Jenna Ortiz (Eastridge) made up the Division III Second Team. Laureano and Allen averaged 7.6 and 8.0 points for Brockport, respectively. Herod and Chapman aided Herman's offensive efforts for the Braves, with Herod scoring 6.9 points and Chapman netting 7.8 per game. Memmott was the only player on the Second Team to average double digit points, contributing 10.3 per contest. Smith averaged 7.3 and Ortiz 9.8.
Reigle captured her second consecutive Division IV Player of the Year award while leading Batavia to a Class B1 finals appearance. The senior guard was a stat-sheet stuffer, averaging 18.0 points, 7.8 rebounds, 6.5 assists and 7.5 steals. She had a 14-point, 12-rebound, 14-assist triple-double to go with six double-doubles. Four of the double-doubles were with points and steals, while the other two were points and assists. Bryn Wormley was also a First Team performer from Batavia. Wormley scored 17.1 points per game for the Blue Devils.
VIEW MORE STEVE OGNIBENE PHOTOS HERE. 
Hannah Selke and Teagan Kamm were Honeoye Falls-Lima's dynamic duo and both made the Division IV First Team. Selke averaged 14.7 points and 4.3 steals, while Kamm went for 15.8 points, 13.4 rebounds and 4.6 blocks per game. Kamm had seven double-doubles with points and rebounds and two triple-doubles with points, rebounds and blocks.
Ellie Bergin from Pittsford Sutherland was the final member of the Division IV First Team. The sophomore guard was second in the division in scoring with 18.5 points per game. Additionally, she ripped down 10.3 boards and nabbed 4.5 steals per game. Bergin netted a season-high 30 points against Greece Odyssey and recorded four double-doubles.
Taylor Jung (Greece Olympia), Abby Dewar (Greece Olympia), Leora Cook (Pittsford Sutherland), Asia Phillip (Greece Odyssey) and Olivia Friedlander (Honeoye Falls-Lima) made up the Division IV Second Team. Jung was the division's leading scorer, averaging 21.7 points. The senior forward had games of 51 and 32 points to keep that average up. Dewar scored 6.9 points and grabbed 10.3 rebounds per game. Cook scored 9.2 points per game, Phillip netted 14.6 points and 10.8 rebounds per contest and Friedlander contributed 7.4 points per game for the Cougars.