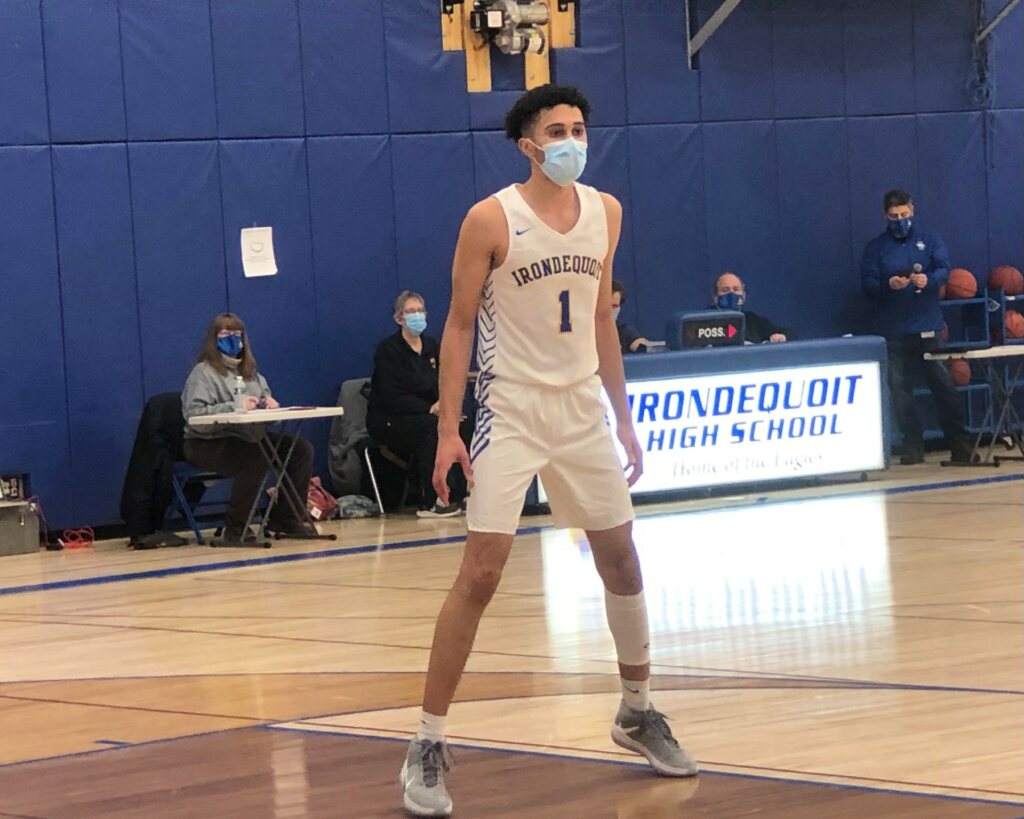 By BILLY HEYEN
IRONDEQUOIT, N.Y. — Keenan Robertson dinged up his left leg at Monday's practice and wore a wrap on it during Irondequoit's game Tuesday night. So when the senior got an opportunity at his first dunk of the year, it was less than perfect.
But the ball went through the rim for two of Robertson's 16 points, and it was that kind of everything-goes-right sort of evening for the Eagles.
"It's gonna get better," Robertson promised of his dunking.
Keenan Robertson narrowly sneaks in his first dunk of the year — he's got 14 and @wieagles @itownhoops leads 38-22 with 4:02 left in the third. @PickinSplinters pic.twitter.com/WigO2oz3sr

— Billy Heyen (@BillyHeyen) February 10, 2021
Irondequoit beat Spencerport, 55-29, behind the senior Robertson and sophomore Ryan Heath's additional 18 points. Together, that duo displayed the promise the Eagles still possess in this shortened 2021 season after eight seniors graduated from last year's sectional finalist. Mostly, they were just glad to be back on the court.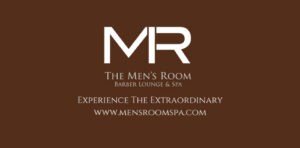 "This group has been really excited since day one," Irondequoit coach Chris Cardon said. "… I told the guys, you can climb the mountain again, you're just gonna have to do it a different way."
Robertson, no matter when this COVID-19-altered season began, was always going to be the top dog for Irondequoit. He averaged nearly 19 points per game as a junior, and the Eagles already ran much of their offense through him. 
After Gianni Pellett opened the scoring for Spencerport with a 3, Irondequoit scored the next 11 points. Robertson nearly dunked right-handed before laying the ball in, then scored two buckets off Heath assists before closing the first quarter with a spin and finish.
"I just definitely want to attack the basket," Robertson said. "Keep the tempo up, make sure all my teammates eat and get that win."
End of 1: @WIEagles 17, @Ranger_Sports 5

Keenan Robertson with the spinning bucket in the final minute gives him a game-high eight so far for @ITownHoops. @PickinSplinters pic.twitter.com/LxXErkmS7e

— Billy Heyen (@BillyHeyen) February 10, 2021
Irondequoit's 2021 upside depended on the players besides Robertson, though, like Heath. He was the Eagles' leading scorer and rebounder for the JV squad a year ago, and Cardon called him up for sectionals. Heath saw the floor in the postseason, too, scoring back-to-back buckets to close out the first half against Churchville in the sectional quarterfinal.
Tuesday was Heath's first chance to take the full varsity stage, and he fit in right from the outset. He had those early dimes to Robertson before knocking down a couple 3s of his own.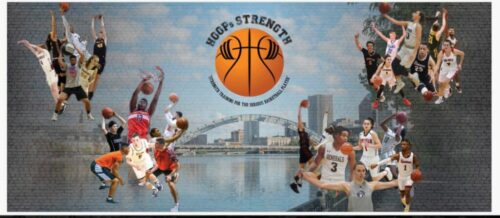 "I've been saying Ryan is gonna be the best to come out of Irondequoit ever since he was way younger," Robertson said. "He knows that, and I'm Ryan's biggest fan, so I just can't wait to see what comes this year and what comes in the future."
Three triples in the second for @wieagles so far, including the last two from sophomore Ryan Heath, who's up to 10 points.@ITownHoops leading Spencerport, 26-11, with 5:25 until half. @PickinSplinters pic.twitter.com/C2JoAhdeJY

— Billy Heyen (@BillyHeyen) February 10, 2021
The Rangers went on a mid-second quarter run behind seniors Pellett and Patrick Uebelacker, but from a 30-18 advantage, Irondequoit closed the game on a 25-11 spurt that left no doubt in the outcome.
Instead, the Eagles' season opener would be about the small things that are harder to implement after just a week of practice — talking on defense, running sets correctly, taking care of the basketball.
Cardon said the defense could still use work, Heath added that the Eagles should be more vocal at that end, and Robertson hopes for better defensive footwork. But offensively, Robertson and Heath proved that their talent can solve most woes.
Heath tried to match Robertson on a dunk midway through the second half but couldn't quite rise up before contact. He still finished the and-1, just one example of why Cardon said he's "different."
"He likes Kyrie (Irving), but I call him baby (Ja) Morant," Cardon said, comparing his sophomore point guard to two NBA stars. "He's just got that extra twitch to him, that extra gear, that extra twist… His game's beyond his years, and I know he worries about he's not too tall, but I tell him it's not the size of the wand, it's the magic behind it."
Ryan Heath drove with bad intentions and got it to go through contact. @wieagles @itownhoops @PickinSplinters pic.twitter.com/phFilvR1sS

— Billy Heyen (@BillyHeyen) February 10, 2021
From there, it was about getting everyone else involved. Starters Jason Jacobs and Jaleel Davis scored eight and five points, respectively, and then four Irondequoit players scored their lone buckets in the second half — Rowan McGwin, Damon Brumfield Jr., Darius Turner and Myron Thompson.
But @wieagles got the Darius Turner dunk, goodness. @PickinSplinters pic.twitter.com/5aJsARN5f8

— Billy Heyen (@BillyHeyen) February 10, 2021
There'd be tighter contests for Cardon and company to stress about. Tuesday night's Irondequoit win was all about being grateful.
"It feels great to finally be out here, even though it's late," Robertson said. "It still feels the same, to be honest you know, just to play."
Scoring totals
Irondequoit: Ryan Heath (18), Keenan Robertson (16), Jason Jacobs Jr. (8), Jaleel Davis (5), Rowan McGwin (2), Damon Brumfield Jr. (2), Darius Turner (2), Myron Thompson (2)
Spencerport: Gianni Pellett (8), Patrick Uebelacker (6), Justin Bryant (4), Zachary Laubacher (3), Andre Marianetti (3), Vincent Ranieri (2), Brendan Gillis (2), Bryon Streb (1)