The Section V Girls' Soccer Class C2 tournament begins Tuesday with six games followed up with four games on Friday. The title match is scheduled for Friday, Nov. 20. Here's the breakdown:
No. 1 seed GENESEO BLUE DEVILS (Livingston County Division III)
Record: 12-0-0
Streak: Have won 12 straight.
Last season finish: Lost to Wheatland-Chili 3-2 in C2 semifinals.
Opponent: Winner of No. 8 Oakfield-Alabama/Elba and No. 9 York.
No. 2 seed BYRON-BERGEN BEES (Geneseo County Division I)
Record: 9-4-0
Streak: Have won five straight.
Last season finish: Lost 1-0 to Williamson in the C1 semifinals.
Opponent: Winner of No. 7 Kendall and No. 10 Caledonia-Mumford
No. 3 seed RED CREEK LADY MULES (Wayne County Division I)
Record: 7-4-0
Streak: Three-game winning streak.
Last season finish: Lost 8-0 to Wheatland-Chili in the C2 quarterfinals.
Opponent: No. 14 Dundee/Bradford
No. 4 seed NAPLES BIG GREEN (Finger Lakes West Division)
Record: 6-3-0
Streak: Lost three out of the last four.
Last season finish: Lost 2-0 to Bolivar-Richburg in the C2 quarterfinals.
Opponent: No. 13 Pavilion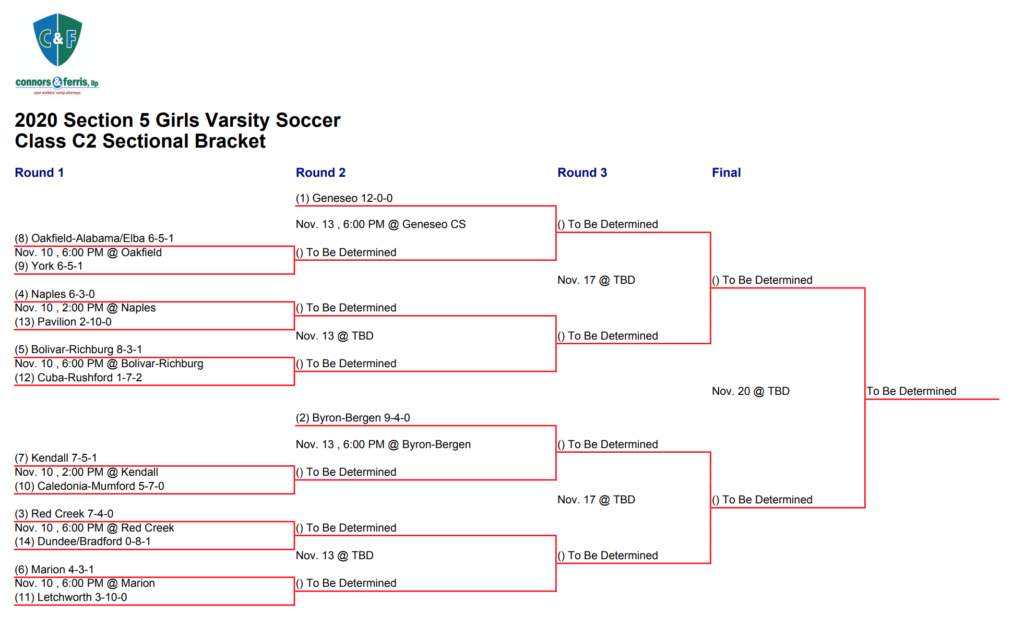 No. 5 seed BOLIVAR-RICHBURG WOLVERINES (Allegany County Division I)
Record: 8-3-1
Streak: Unbeaten in last five with four wins.
Last season finish: Lost to Marion 5-2 in the C2 semifinals.
Opponent: No. 12 Cuba-Rushford
No. 6 seed MARION BLACK KNIGHTS (Wayne County Division I)
Record: 4-3-1
Streak: Won three out of the last four.
Last season finish: Won the C2 sectional championship, lost to Stillwater in states.
Opponent: No. 11 Letchworth
No. 7 seed KENDALL EAGLES (Genesee County Division I)
Record: 7-5-1
Streak: Won four out of the last five.
Last season finish: Lost to Fillmore in the D1 semifinals 3-0.
Opponent: No. 10 Caledonia-Mumford

No. 8 seed OAKFIELD-ALABAMA/ELBA HORNETS (Genesee County Division I)
Record: 6-5-1
Streak: Won two straight.
Last season finish: Lost 2-0 in the C1 quarterfinals to Williamson.
Opponent: No. 9 York
No. 9 seed YORK GOLDEN KNIGHTS (Livingston County Division III)
Record: 6-5-1
Streak: Lost three straight.
Last season finish: Lost 2-1 to Red Creek in the first round of C2 sectionals.
Opponent: No. 8 Oakfield-Alabama/Elba
No. 10 seed CALEDONIA-MUMFORD LADY RAIDERS (Livingston County Division III)
Record: 5-7-0
Streak: Won three out of the last four.
Last season finish: Lost 4-2 to Naples in the first round of C2 sectionals.
Opponent: No.7 Kendall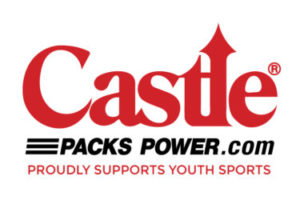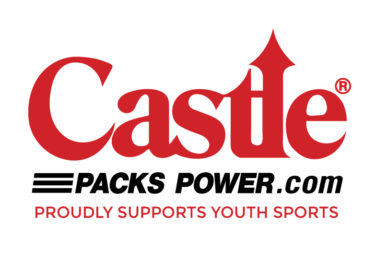 No. 11 seed LETCHWORTH INDIANS (Livingston County Division II)
Record: 3-10-0
Streak: Won two out of the last three.
Last season finish: Lost in the first round of C1 3-0 against Warsaw.
Opponent: No. 6 Marion
No. 12 seed CUBA-RUSHFORD REBELS (Allegany County Division I)
Record: 1-7-2
Streak: In last four, two ties and two losses.
Last season finish: Lost 8-0 to Byron-Bergen in the C1 first round.
Opponent: No. 5 Bolivar-Richburg
No. 13 seed PAVILLION GOPHERS (Livingston County Division III)
Record: 2-10-0
Streak: Lost two out of the last three.
Last season finish: Lost to Finney 3-0 in the D1 first round.
Opponent: No. 4 Naples
No. 14 seed DUNDEE/BRADFORD SCOTSMEN (Finger Lakes West Division)
Record: 0-8-1
Streak: One tie following eight losses.
Last season finish: Lost 7-0 in the C2 first round to Geneseo
Opponent: No. Red Creek