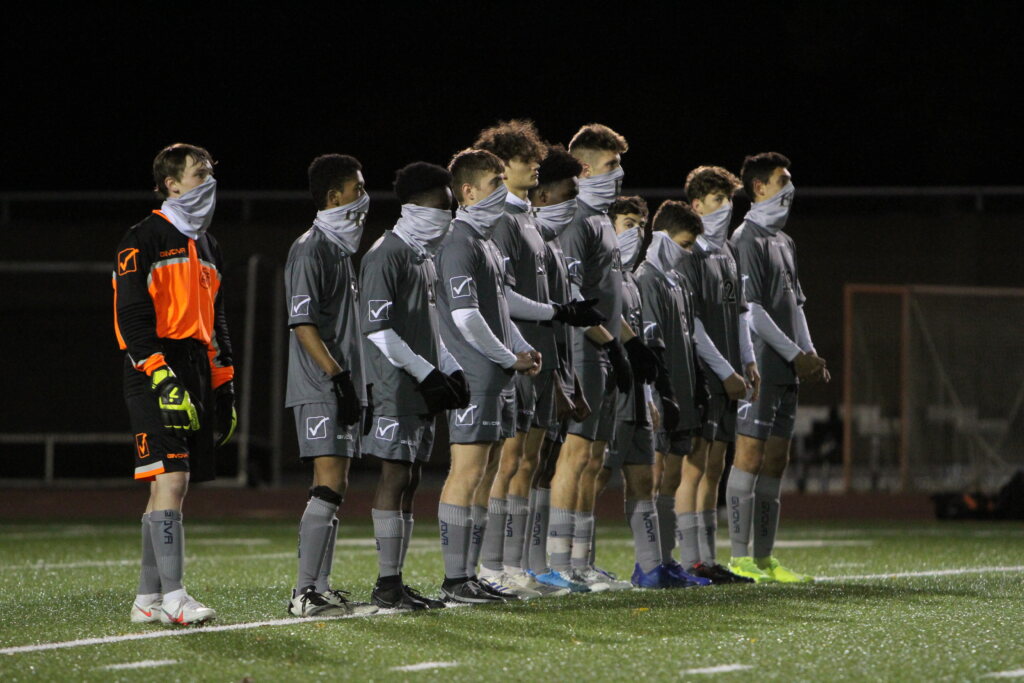 GIRLS
CANANDAIGUA (4-5-0) 0
PITTSFORD MENDON (6-0-0) 2
Deadlocked in a scoreless tie, Mendon found the back of the net twice in the final 17 minutes of play. READ MORE.
GREECE ATHENA (4-4-1) 0 
GREECE ARCADIA (2-7-0) 1
Haley Bly scored an unassisted goal in the 30th minute leading Arcadia to its second straight win. Arcadia posted its second straight shutout thanks to Sophomore Hailey Romansky collecting 11 saves.
BROCKPORT (3-4-0) 0
PITTSFORD SUTHERLAND (4-2-1) 1
Ashley Finkbeiner netted the lone goal in the 33rd minute on an assist from Laura Bennett. Goalkeeper Emma Kaczorowski posted the third shutout of the year with four saves.
CHURCHVILLE-CHILI (4-2-1) 3
IRONDEQUOIT (0-6-1) 0
Amelia Breton paced the Churchville-Chili offense scoring all three goals. Breton got started in the 13th minute on a pass from Hannah Shipley and gave Churchville a 2-0 lead with an unassisted goal in the 35th minute. Breton connected with Shipley again in the 76th-minute putting the game away for Churchville's second straight victory.
BRIGHTON (5-1-1) 2
WEBSTER THOMAS (1-4-2) 1
Junior Amelia Adiutori scored the game-winning goal in overtime on an assist from Sutsdah Khounpachasmy. Maggie Cregan paired up with Merydith Reynolds to score the equalizing goal in the 70th minute.
GREECE ODYSSEY (2-4-1) 1
EASTRIDGE (4-2-0) 3
Junior Sierra Manning started the game off with Eastridge's lone goal of the first half. Madison Harisis gave Eatridge the lead in the 49th minute. Manning netted the insurance goal in the 59th minute ending the scoring. Maira Bulmahn collected two saves. Sienna Tyo netted the only goal for Odyssey.
WEBSTER SCHROEDER (2-4-1) 1
FAIRPORT (3-3-1) 1
Webster Schroeder's Stefanie Sellitto netted a goal in the 20th-minute giving a 1-0 lead. The equalizer was scored in the 62 minute by Lilian Hicks. Both goalies Eliana Ockrin and Brigid Mulhollan recorded seven saves.
HILTON (6-0-1) 2
PENFIELD (4-3-0) 0 
Hilton remains undefeated thanks to the fourth straight shutout. A goal in the first half scored by Sydney Hayward and a goal in the second half scored by Caitlin Nelson was all the offense Hilton needed. Victoria Cangialosi and Hannah Robinson combined for the shutout.
NAPLES (5-2-0) 0
HONEOYE (7-1-1) 1
Grace Hall connected with Ava Higgins to deliver the lone goal in the 26th minute. Gabriella Trippi had a clean sheet in goal with seven saves leading Honeoye to its fifth win in six games.
MARION (1-2-1) 1
RED CREEK (4-3-0) 2
Senior Jessica Bolton netted the game-winning goal in overtime on a pass from Mackenzie Ferguson. Lizetta Myers scored the lone regulation goal  for Red Creek in the first half on a pass from Bolton. Isabella Wilbur recorded 17 saves.
KESHEQUA (6-2-1) 0
GENESEO (9-0-0) 1
Geneseo kept its undefeated season going thanks to a Morgan Walton second-half goal assisted by Abby Kreher. Senior Faith Hainsworth had six saves in Geneseo's eighth shutout of the year.
PALMYRA-MACEDON (8-0-0) 4
MIDLAKES (2-6-1) 1
A well-balanced offensive attack led Pal-Mac to its eighth straight win. Reagan Diehl, Molly Seither, Grace Seither, and Maya Ikewood all scored a goal apiece. Senior-Goalkeeper Clare Boesel recorded three saves.
LYNDONVILLE/MEDINA (2-8-0) 1
KENDALL (4-4-1) 7
Seven different goal scorers pace the Kendall attack to its third win in four games. Madison Jacob, Brianna Wakefield, ReganVanDusen, Angelina Aguirre, Megan Gates, Alezya Brown, and Grace Levett all scored one goal. Goalkeeper Kailie Regan had five saves.
PEMBROKE (4-6-0) 3
WHEATLAND-CHILI (7-3-0) 5
Niyah Rosado netted four goals for Wheatland-Chili's third straight win. Rosado gave Wheatland the lead in the 16th minute breaking a 1-1 game. Rosado followed that up with goals in the 18th, 21st, and 26th minutes. Angelina Burry scored the only other goal to begin the game. For Pembroke, Karly Houseknecht, Heather Penkszyk-Naylor, and Madilyn Godzala all scored.
MOUNT MORRIS (0-8-0) 1
CALEDONIA-MUMFORD (3-6-0) 6
Six second-half goals helped end a three-game losing streak for Cal-Mum. Holly McGinnis and Ava Amorese scored twice, Marissa Roides and Kat Beachel added a goal. Goalkeeper Madison Wyskiel collected one save.
MARCUS WHITMAN (4-4-1) 3
DUNDEE/BRADFORD (0-7-0) 0
Sophomore Zoelle Payne paced the Whitman offense by scoring two goals. Payne netted one in each half. Lana Burnett scored the final goal on an assist from Payne. Abby Kornbau recorded four saves in the shutout for Whitman's third win in four games.
GANANDA (7-1-0) 0
WILLIAMSON (6-1-2) 1
Junior Paige Jordan delivered the game-winning goal in regulation on a pass from Andrea Hurtadocto hand Gananda their first loss.
NORTH ROSE-WOLCOTT (4-4-0) 6
SODUS (0-8-0) 0
Freshmen Rely Batzold paced the North Rose-Wolcott offense by scoring a hat trick. Autumn Cole, Hanna Stubbe, and Tori Cooper all chipped in with a goal of their own.
ALEXANDER (5-4-1) 1
NOTRE DAME BATAVIA (5-3-2) 1
Notre Dame's Arabella Rogers and Alexander's Allison Mileham matched each other with goals in the final 10 minutes of regulation.
SPENCERPORT (9-0-0) 3
GATES-CHILI (0-5-3) 0
Alyssa Hackett broke a scoreless tie in the second half off an assist from Corynna Rotoli 14 minutes after the break. Rotoli found the back of the net with her team-high 11th goal of the season. Lily Brongo assisted on the play. Amy Canaan capped the scoring with an unassisted marker in the 74th minute. Kailee DiGiacco and Cate Burns combined on the shutout, Spencerport's fifth straight and eighth of the season.
WAYNE (2-6-1) 2
WATERLOO (4-5-0) 3
DANSVILLE (2-5-2) 0
BATH-HAVERLING (8-1-0) 4
AVON (9-0-0) 7
LETCHWORTH (1-8-0) 0
The shutout was the sixth of the season for Avon.
CHARLES G. FINNEY (5-1-0) 6
LIMA CHRISTIAN (0-7-0) 4
HORNELL (8-1-1) 3
WAYLAND-COHOCTON (3-6-0) 1
BISHOP KEARNEY (7-2-1) 4
NORTHSTAR CHRISTIAN (2-4-0) 0
Kaia Goode collected a pair of goals while Elizabeth Tantalo and Katie O'Gara added a marker apiece as Kearney won its second straight and fifth in the last six games. Akon Awouk, Caroline O'Gara and Sophia McMullen each had an assist. Kennedy Boston made four saves for the shutout, Kearney's second clean sheet of the season.
PAVILION (1-7-0) 0
YORK (6-2-1) 1
BATAVIA (2-6-0) 0
HONEOYE FALLS-LIMA (7-0-0) 3
Maria Karipidis paced the offense scoring a goal and assisting one goal. Karipidis assisted Kailey Annesi on the first goal in the 5th minute. Karipdis scored in the 57th minute on an assist from Izabela Woloszuk. Abby Zollo netted an unassisted goal in the 55th minute. Goalkeeper Mari Spitz had four saves.
VICTOR (2-4-1) 1
RUSH-HENRIETTA (2-5-0) 0
Junior Sydney McKinnon scored the only goal of the game in the 20th minute on an assist from Maggie Galeski. Ava Lattimer recorded nine saves to help Victor win its first game since the season-opener.
PENN YAN (5-2-0)
GENEVA (1-6-0)
AQUINAS (4-3-0)
NICHOLS (VI)
LIVONIA (2-8-0) 1
LEROY (4-4-1) 4
Three second-half goals led LeRoy to its first win in three games. Maddie Keister, Megan Rinker, and MaKayla Grant all scored a goal in the second half. Bryn Luckey netted the lone goal in the first half for Livonia.
WARSAW (7-2-0) 4
PERRY (1-8-0) 1
Chloe Hubbard led the Warsaw offense by scoring two goals in the first ten minutes. Taylor Howard and Jorjia Caltraux netted a goal each in the third straight victory for Warsaw. Goalkeeper Sarah Cox recorded nine saves.
NEWARK (7-2-0) 3
MYNDERSE (2-7-0) 0
Junior Kaleigh Pettit paced the Newark offense with two goals scored for a third straight win. Megan Napoleon netted an unassisted goal early in the second half. Kathryn Verdine and Devina Bueg were credited with an assist.
OAKFIELD-ALABAMA/ELBA (4-4-1) 1
HOLLEY (7-1-2) 1
Holley's Halee Passarell netted a goal in the 27th minute on an assist from Samantha Bates. Caitlynn Ryan tied up the game in the 57th minute for Oakfield-Alabama/Elba. Senior Brynn Walczak recorded 27 saves in 100 minutes of work in goal for Oakfield-Alabama/Elba. For Holley, Emma Brady had four saves.
ATTICA (2-7-1) 0
BYRON-BERGEN (6-4-0) 3
Mackenzie Hagen led Byron-Bergen with two second-half goals for the second win in a row. Eden Goff netted a goal in the 39th minute on a pass from Mia Gray. Brooke Jarkiewicz and Emma Starowitz assisted on the two Hagen goals.
RED JACKET (1-7-0) 0
BLOOMFIELD (5-2-2) 3
Three separate goal scorers led to a win after back-to-back ties. Lauren Bell, Jessica Cody, and Ashley Bell all scored a goal in the victory. Cody, Kailee Lewis, and Liv Caspersson all recorded an assist.
BOYS
FRIENDSHIP (1-6-0) 1
HINSDALE (1-4-2) 0 
Senior Pehyton Moore netted the only goal in the 36th minute on an assist from Dekota Stewart giving Friendship the first win of the year.
FILLMORE (9-0-0) 7
SCIO (2-5-2) 3
Mitchell Ward recorded a hat trick in the first half increasing Fillmore's win streak. Carter Sisson added two goals, both assisted by Ward. Isaiah Voss and Alex Ellsworth netted a goal each. For Scio, Cam Loucks scored twice and had one assist. Jordan White scored on the assist.
ANDOVER/WHITESVILLE (3-4-1) 2
HOUGHTON (3-3-0) 0
Spencer Cook netted a pair of goals in the first half securing Andover/Whitesville's third straight win.
ROCHESTER ACADEMY (0-6-0) 0 
NORTHSTAR CHRISTIAN (3-3-0) 5
Jerry Milled accounted for four goals in the bounce-back win. Miller assisted on all three first-half goals, Hugo Laczny cashed in two and Lorenzo Danesi had the other goal. Larry O'Neal and Miller added the last two goals in the second half.
ARKPORT-CANASERAGA (3-2-1) 5
HAMMONDSPORT (0-3-3) 2
Mikah Hoyt, Joe Bauch, Kaiden Holley, Ki Steiner, and Josh Abraham paced a well-balanced offense scoring a goal apiece. Hoyt and Konnor Stuckey assisted a pair.
EAST ROCHESTER (9-1-0) 6
NORTH ROSE-WOLCOTT (6-3-0) 1
Chuck and Russell Domm paced the East Rochester offense to its sixth straight win. Chuck Domm recorded two separate hat tricks by scoring three goals and assisting three goals. Russell Domm scored once and assisted a pair of helpers. Jalen Patterson and Ian Szemcsak netted a goal apiece.
BOLIVAR-RICHBURG (3-4-2) 0
WELLSVILLE (5-1-1) 1
JASPER-TROUPSBURG (4-1-0) 2
AVOCA/PRATTSBURGH (2-3-2) 1
Tyler Flint scored the decisive goal in the second overtime period that delivered a second straight win. Tyler Flint assisted on the lone goal in regulation scored by Mason Terwilliger.
CAMPBELL-SAVONA (0-2-1) 4
CANISTEO-GREENWOOD (0-4-2) 4
For Canisteo-Greenwood, Anthony Loper recorded a hat trick. Pjotr Otten netted the other goal for Canisteo-Greenwood in the first half. Hunter McCaffery was credited with a pair of assists, Ben Edwards had one assist.