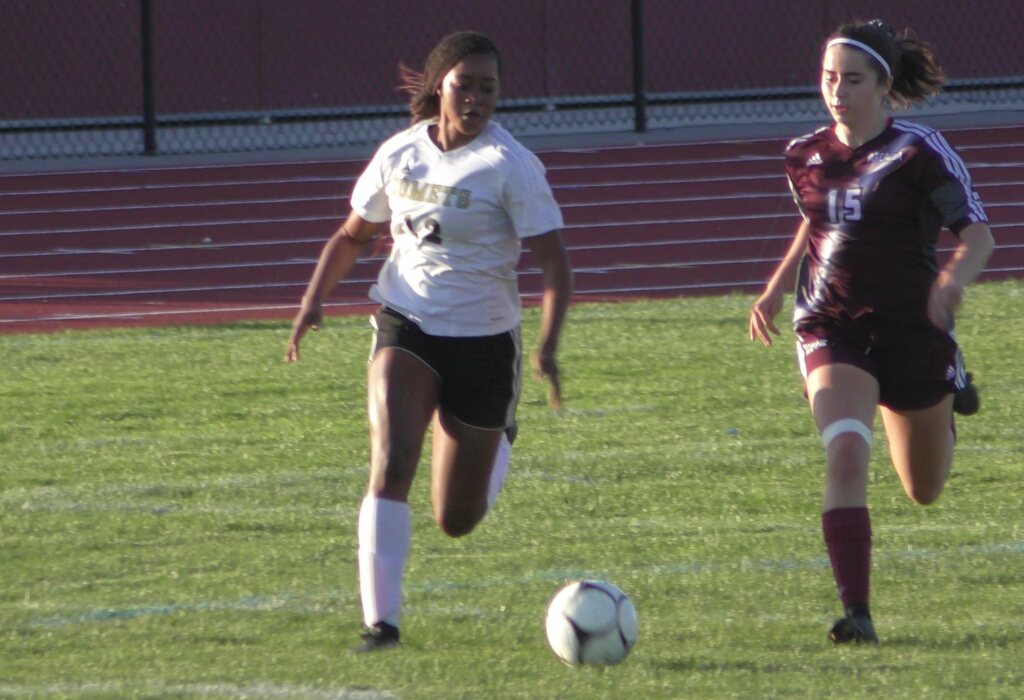 BOYS
GATES-CHILI (1-4-0) 2
EASTRIDGE (1-4-1) 0
Mustafa Alshuiabi and Owen Curley scored a goal apiece and the Spartans finished off their first win of the season – a 2-0 victory over Eastridge. READ MORE.
GENESEO (2-4-0) 3
MOUNT MORRIS (1-5-0) 0
Sebri Fantauzzo and James Thomas both posted a goal and an assist as Geneseo notched its second win in three games. Fantauzzo netted one of the Blue Devils' two first-half goals and assisted Thomas' point. Thomas was credited a helper for Ethan Bennett's shot as well. Senior defender Matthew Stout added an assist.
ROCHESTER ACADEMY (0-5-0) 0
NORTHSTAR CHRISTIAN (2-1-0) 6
Jerry Miller paced Northstar Christian with one goal and four assists. The junior attacker assisted the Knights first three points of the match before burying one in the back of the net himself. Miller assisted Derrick Martin's goal as well. Lorenzo Danesi, Trevor Nasso, Larry O'Neal and Kai Rosenberry all scored a goal. Nasso and Rosenberry added a helper apiece.
ANDOVER/WHITESVILLE (1-4-1) 6
FRIENDSHIP (0-2-0) 1
Spencer Cook paced Andover/Whitesville to its first win with a goal and two assists. The senior attacker netted the second of five first-half Panthers goals. Cook assisted Conner Philips' and Tommy Thorp's shots as well. Cormac Brown, CJ Estep and Will Kent all scored a goal. For Friendship, sophomore midfielder Garrett Miller scored the team's lone goal in the 39th minute.
GREECE OLYMPIA (2-2-0) 2
NEWARK (2-3-1) 4
Junior attacker Zachary Herd led Newark to its second win in three games with a pair of goals. Addison Bump and Elijah Malach both scored a goal.
HOLLEY (5-1-0) 0
KENDALL (3-3-0) 2
Zach Barret and Hayden VanDusen scored a goal apiece as Kendall won its second straight. Tory Raufeisen had an assist.
ATTICA (5-1-0) 3
PEMBROKE (0-6-0) 1
Jonah Clark, Simon Lamparelli and Matthew Parkhurst all scored a goal for Attica. Junior midfielder Evan Dickhut added two assists.
WAYLAND-COHOCTON (1-5-0) 4
LETCHWORTH/WARSAW (4-2-0) 9
Junior midfielder Nik Eustace ignited Letchworth/Warsaw to its second win in three games with four goals. Adam Grover and John Mertsock scored twice apiece. Senior defender Kolby Van Slyke buried a shot of his own. Mike Schafer was credited with four assists. Nick Thompson recorded two helpers and Hunter Elliott one. For Wayland-Cohocton, Brogan Cotter and Titan Rocha both scored two goals.
HORNELL (2-3-0) 0
BATH-HAVERLING (4-1-0) 6
Keefer Calkins notched a hat trick as Bath-Haverling secured its fourth straight win and second straight shutout. The junior attacker netted both first-half goals in the opening 22 minutes and added another in the 69th minute. Senior attacker Tony Orfanidis buried back-to-back goals. Jose Englert rounded out the scoring with a 47th-minute shot. Brady Dickson was credited two assists and Braden Yartym one.
AVON (5-1-0) 2
CALEDONIA-MUMFORD (4-2-0) 1
Carson Williams scored a pair of goals – one in each half for Avon. The senior attacker buried a shot in the 10th minute and followed up again in the 75th.
IRONDEQUOIT (2-1-1) 1
CANANDAIGUA (1-2-1) 1 (2 OT)
For Canandaigua, junior attacker Dominick Spychalski broke a scoreless tie in the 61st minute on an assist by Aidan Furmansky. For Irondequoit, Glodi Mata tied the game on a penalty kick in the 72nd minute.
WILLIAMSON (5-2-0) 2
RED CREEK (0-5-0) 0
Noland Alvarado and Jonathan Hayes scored a goal apiece as Williamson notched its second straight shutout. Junior attacker Tyrone Walker assisted both goals.
EAST ROCHESTER (4-1-0) 8
NORTH ROSE-WOLCOTT (4-2-0) 4
Russell Domm led East Rochester's offense with four goals and an assist. The senior attacker netted two shots in each half and was credited with a helper on one of Chuck Domm's three goals. Chuck Domm buried the Bombers' first point of the match in the eighth minute and back-to-back shots in the second half. The senior attacker added four assists as well. Max Wagner rounded out the scoring with a goal and assist. For North Rose-Wolcott, Schuyler Cole and Caleb Murray netted two goals each, including one in both halves. Jack DeFeo and Gilbert Seager both had a helper.
LIVONIA (6-1-0) 12
DANSVILLE (0-5-0) 0
AQUINAS (1-4-1) 1
PITTSFORD MENDON (2-1-1) 2
CHARLES G. FINNEY (2-2-0) 1
BISHOP KEARNEY (4-1-1) 8
Bishop Kearney won its third straight and fourth in the last five.
YORK/PAVILION (2-3-0)
PERRY (0-5-0)
WHEATLAND-CHILI (3-3-0) 3
BYRON-BERGEN/ELBA (2-4-0) 0
GIRLS
WEBSTER SCHROEDER (1-3-0) 2
RUSH-HENRIETTA (2-2-0) 3
Senior forward Oumou Donzo scored back-to-back goals in the second half for Rush-Henrietta. Sophomore midfielder Avery Roberts assisted both points. Freshman midfielder Alivia Day netted a goal with a helper by Courtney Rowe. Sophomore goalkeeper Eva DiDomenico recorded 11 saves.
GENESEE VALLEY (5-1-0) 3
CUBA-RUSHFORD (1-5-0) 1
For Cuba-Rushford, junior midfielder Macie Demick scored the team's lone goal in the 75th minute. Eighth-grade midfielder Cloey Larabee assisted the point. Sophomore goalkeeper Tara Duvall posted six saves.
FRANKLINVILLE (VI) 1
FILLMORE (7-0-0) 7
Hope Russell and Sophia Templeton both recorded hat tricks to lead Fillmore to another victory. Templeton scored all three of her goals in the first half: in the second, 15th and 37th minutes. The junior midfielder assisted Russell's second goal as well. Russell's first point gave the Lady Eagles a 2-1 lead and then she capped off the scoring with a 55th-minute goal. Freshman midfielder Grace Russell netted a shot of her own. Senior midfielder Shelby Beardsley added four assists. Rachel Hatch was credited a helper. Freshman goalkeeper Preslee Miller had two saves. For Franklinville (VI), Sofia Bentley tied the game in the third minute on an assist from Kaylee Brennan.
SCIO (0-4-1) 1
HINSDALE (1-4-1) 5
Ava Belec led Hinsdale to its first win with a hat trick and an assist. The senior forward scored the Lady Bobcats' first two goals of the match within the opening 11 minutes. Belec capped off the scoring with a 48th-minute point. The senior forward assisted Jaylee Jimerson's goal. Lindsey Veno rounded out the scoring. Senior goalkeeper Haylee Jozwiak had three saves. For Scio, freshman forward Lexi Crossley netted the team's lone goal in the 23rd minute.
ARKPORT-CANASERAGA (3-0-0) 4
CANISTEO-GREENWOOD (2-2-0) 1
Maureen Stuckey buried a pair of goals to lead Arkport-Canaseraga to its third straight win. Jenna Mess and Emily Pfaff netted a shot apiece. Julia Flaitz and Guilianna Smith had two assists each. Junior goalkeeper Emily Fuller posted four saves. For Canisteo-Greenwood, freshman midfielder Lillian Mullen scored the team's lone goal in the 70th minute. Senior goalkeeper Destiny Reese compiled 15 saves.
LETCHWORTH (0-5-0) 2
WAYLAND-COHOCTON (2-3-0) 5
Miranda Cartwright recorded a hat trick as Wayland-Cohocton snapped a three-game skid. The senior midfielder scored the first two goals of the match and added another in the 51st minute. Hannah Fairbrother assisted Cartwright's first two goals. Sophomore goalkeeper Mackenzie Pickard posted seven saves. For Letchworth, sophomore forward Hana Gill netted both goals in the second half.
GANANDA (5-0-0) 3
NEWARK (4-2-0) 2
Julia Pitolaj netted a pair of goals as Gananda held on for its fifth straight win. Both of the senior midfielder's points came in the second half: in the 44th minute to extend the lead to 2-0 and 75th minute for a 3-1 advantage. Yadleen Gil scored the lone goal of the first half in the 19th minute. The senior defender assisted Pitolaj's first shot as well. Elaina Ginsberg and Aberlyn Parulski each added a helper. Sophomore goalkeeper Lydnsey Valetta recorded six saves. For Newark, Natalie Bates and Isabel Robson scored a goal apiece. Junior defender Gabby Taylor had an assist. Senior goalkeeper Sadie DeTaeye had four saves.
WAYNE (2-3-1) 0
AQUINAS (3-1-0) 5
Chanel Alexander and Sarah Kretchmer scored two goals apiece as Aquinas secured its third straight victory. Alexander netted both of her goals as part of the Lady L'il Irish's three-goal first half. Kretchmer netted both second-half points. Sophomore midfielder Emily Silverstein scored in the 15th minute and assisted Kretchmer's goals. Hanna Fenton recorded two helpers as well. Senior goalkeeper Isabelle Schifano only needed two saves for the clean sheet.
OUR LADY OF MERCY (2-1-0) 2
PITTSFORD SUTHERLAND (3-2-0) 1 (OT)
Senior midfielder Anna Costello scored two goals, including the go-ahead shot in the 84th minute for Our Lady of Mercy. Junior goalkeeper Molly Maxwell posted four saves.