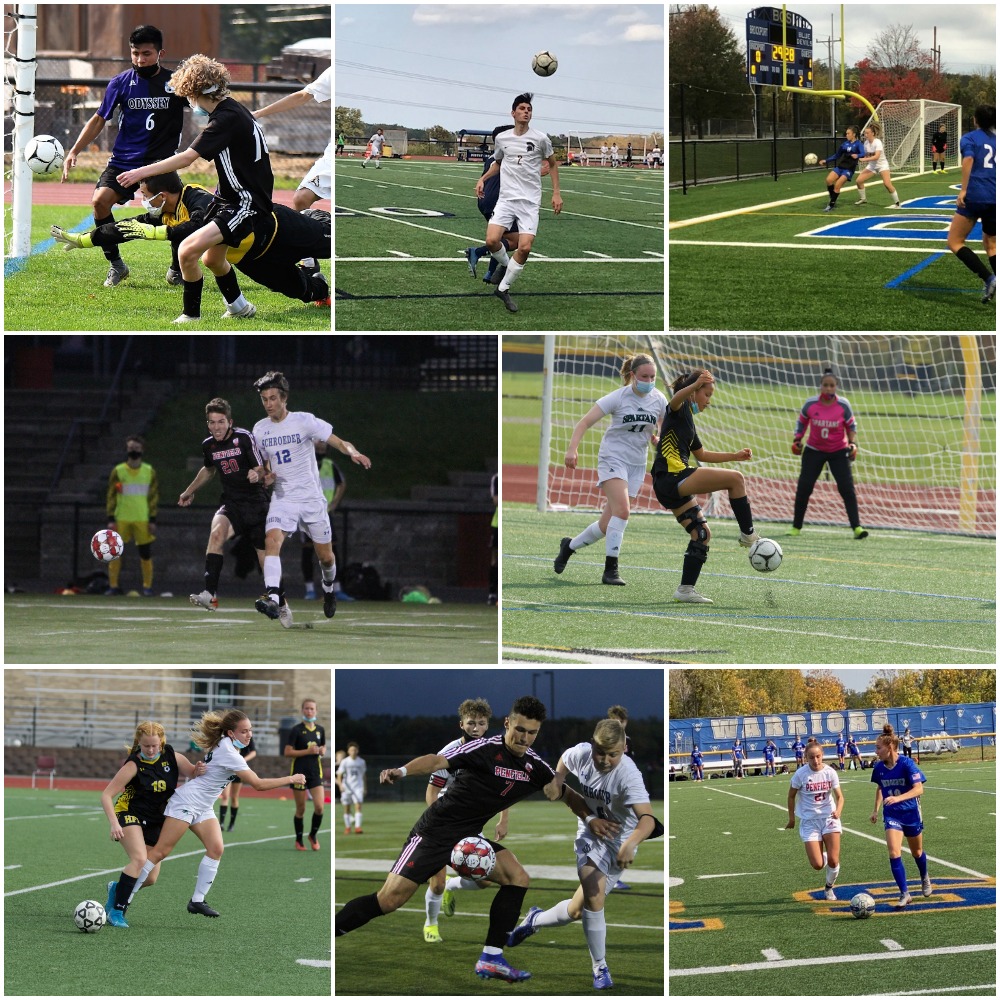 GIRLS
GREECE OLYMPIA (0-1-0) 0
HONEOYE FALLS-LIMA (1-0-0) 3
Liana Torpey wasted no time scoring in the game's fourth minute. The senior forward who was sidelined with ACL injury for the entirety of the 2019 season, gave the Lady Cougars all the offense needed. READ MORE.
PENFIELD (0-1-0) 0
WEBSTER SCHROEDER (1-0-0) 1
Mackenzie Wesley, a junior playing her first varsity game, broke through. Wesley won the ball near the penalty spot off a long deflected pass from Abby Neill and shot into the left corner, past a diving Crane, with 5:42 remaining. READ MORE.
PITTSFORD MENDON (1-0-0) 2
BROCKPORT (0-1-0) 1
Thanks to Grace O'Hara's game-winning goal with eight minutes left, the Vikings escaped Brockport with a 2-1 victory and moved to 3-2-2 against the Blue Devils in the last four seasons. READ MORE.
GATES-CHILI (0-1-0) 1
BRIGHTON (1-0-0) 3
Dilara Lenio, Meghan Marangola and Jamie McPherson each scored a goal in the first half as Brighton surged to a season-opening win. All three goals came in the first 24 minutes of the match. Niamh McDade Clay, Maggie Cregan and Sutsadah Khounpachamsy were each credited an assist. Senior goalkeeper Alice Yawman recorded nine saves. For Gates-Chili, senior forward Alyssa Diaz scored the team's lone goal in the 50th minute. Angeleana Doumouxis and Abby Unson split time at goalie and combined for eight saves.
BYRON-BERGEN (2-1-0) 2
ELBA/OAKFIELD-ALABAMA (1-1-0) 1
Eden Goff tallied a goal in each half as Byron-Bergen won its second straight. The senior midfielder struck quickly with a point in the first two minutes before following up with another in the 50th minute. Emma Starowitz and Ava Wagoner each had an assist. Senior goalkeeper Hope Hersom posted five saves. For Elba/Oakfield-Alabama, senior midfielder Madison Harrington knotted the match at one apiece in the 17th minute. Brynn Walczak had seven saves.
GENEVA (0-3-0) 2
MIDLAKES (1-2-1) 3 (OT)
Freshman forward Stella Delpapa scored the game-winning goal in the 87th minute to lift Midlakes to its first win. Senior defender Adrianna Bezzek assisted the point. Victoria Rose sent the game into overtime with her 60th-minute goal. Sophomore midfielder Kate Mahoney scored the Lady Screaming Eagles' first point with the help of Mary Givens. Hanna Godkin recorded 11 saves. For Geneva, Natalie McFadden and Kaitlyn Wright both scored a goal. Mikayla Myer and Fabiola Santiago each had an assist. Sophomore goalkeeper Natalie Budgar had 12 saves.
PENN YAN (3-0-0) 5
MYNDERSE (0-3-0) 1
Hayley Andersen exploded for four goals as Penn Yan won its third straight. The senior forward secured a hat trick in the first half before adding another goal in the 66th minute. Freshman midfielder Hailey Hassos netted a shot thanks to Morgan Andersen. Marrianna Dalglish, Sierra Harrison and Sam Lane-Tomion all had an assist. Junior goalkeeper Elle Harrison posted five saves.
LYNDONVILLE/MEDINA (1-2-0) 2
ALEXANDER (2-1-0) 5
Samantha Sawyer spun a hat trick to lead Alexander to a home-opening victory. The junior midfielder scored all three of her goals consecutively, including two to end a four-goal first half for the Lady Trojans. Carly Burgess netted a shot and recorded two assists: one to Madison Fuller and the other on Sawyer's first goal. Fuller helped Sawyer bury her second goal as well. Senior midfielder Allison Mileham added a helper. Junior goalkeeper Sam Kabel posted four saves.
LEROY (1-1-0) 3
LETCHWORTH (0-2-0) 0
Amara Condidorio and Maddie Keister paced LeRoy to its first win with a goal and an assist apiece. Keister netted the Lady Oatkan Knights' first point thanks to Condidorio. Condidorio capped off the scoring with an assist by Maura Dambra. Senior forward Bryn Luckey buried a goal of her own.
HOLLEY (2-1-0) 3
KENDALL (0-2-0) 2
Hayley Skidmore buried back-to-back second-half goals to lift Holley to a road win. The senior midfielder tied the game at two apiece after Halee Passarell's 55th-minute goal and gave the Lady Hawks the lead 11 minutes later. Freshman goalkeeper Emma Brady helped the comeback effort with three saves. For Kendall, Megan Gates and Madison Jacob each scored a goal in the first half. Senior midfielder Brianna Wakefield recorded an assist. Junior goalkeeper Kailie Regan had 10 saves.
NEWARK (3-0-0) 5
WATERLOO (0-3-0) 1
Kaleigh Pettit paced Newark's offense with two goals and two assists. The junior midfielder netted a shot in each half: first in the 33rd minute and again in the 47th minute. Pettit handed out a helper to both Devina Bueg and Isabel Robson as well. Bueg, Megan Napoleon and Robson rounded out the scoring for the Lady Reds. Bueg, Emma Robbins and Kathryn Verdine were each credited an assist. Senior goalkeeper Sadie DeTaeye had nine saves.
NAPLES (3-0-0) 2
HONEOYE (2-1-0) 1
Senior midfielder Meaghan Gerstner scored the go-ahead goal in the 63rd minute as Naples rallied for its third straight win. Trailing 1-0 at halftime, junior midfielder Grace Uhlen buried the game-tying shot in the 53rd minute. For Honeoye, senior midfielder Grace Hall scored the team's lone goal in the 15th minute. Mickayla Scheele and Gabriella Trippi split time at goalie and combined for 11 saves.
EASTRIDGE (1-0-0) 4
BATAVIA (0-1-0) 1
Nevaeh Bunch and Sierra Manning both posted two goals and one assist as Eastridge won the season opener. Manning scored both of her goals consecutively as part of the Lady Lancers' four-goal second half. The junior forward assisted on Bunch's second point as well. Bunch netted the Lady Lancers' first goal in the 46th minute and was credited the helper for Manning's second goal. Alexa Ange and Madison Harisis both had an assist. Junior goalkeeper Isabella Barbosa recorded seven saves.
RUSH-HENRIETTA (0-1-0) 1
HILTON (1-0-0) 2
Caitlin Nelson scored a pair of goals, including the go-ahead shot in the 64th minute to lead Hilton in the season opener. The junior forward broke a scoreless tie with a 23rd-minute point. Senior goalkeeper Victoria Cangialosi procured seven saves. For Rush-Henrietta, senior forward Oumou Donzo scored the team's lone goal in the 57th minute.
FAIRPORT (0-1-0) 1
VICTOR (1-0-0) 2
Alaina Andre and Paige Ford each netted a first-half goal as Victor won the season opener. Ford scored the Lady Blue Devils' first point in the 13th minute before Andre followed up six minutes later. Sophomore goalkeeper Ava Lattimer compiled seven saves. For Fairport, sophomore midfielder Isabella Pucci scored the team's lone goal in the 54th minute. Brigid Mulholland converted seven saves.
GREECE ARCADIA (0-1-0) 1
CANANDAIGUA (1-0-0) 4
Bella Schorr and Alexa Tenney both scored a pair of goals to lead Canandaigua to a season-opening victory. Schorr got the scoring started in the seventh minute thanks to Tenney and netted the Lady Braves' last point of the match. Tenney buried back-to-back goals in a four-minute span – both assisted by Ellie Teerlinck. Freshman midfielder Abigail Cangemi was credited an assist. Senior goalkeeper Destiny Lippincott only needed two saves for the win.
GANANDA (3-0-0) 2
WILLIAMSON (1-1-2) 0
Courtney Camp and Isabella Hoffmann both scored a goal within the first 12 minutes of the match as Gananda won its third straight out of the gates. Freshman midfielder Nicole Cruz had an assist. Sophomore goalkeeper Lydnsey Valetta preserved the shutout with four saves.
NORTH ROSE-WOLCOTT (2-1-0) 6
SODUS (0-4-0) 0
For Sodus, senior goalkeeper Shalena Masser had 12 saves.
WEBSTER THOMAS (0-1-0) 0
CHURCHVILLE-CHILI (1-0-0) 2
Alaina Reina scored two first-half goals to lead Churchville-Chili to a season-opening win. The junior midfielder netted her first point in the 28th minute and followed up seven minutes later. Skylar Donohue and Kayla Silverstein were each credited an assist. Senior goalkeeper Skylar Williams compiled 10 saves in the shutout effort.
IRONDEQUOIT (0-1-0) 0
SPENCERPORT (1-0-0) 6
ATTICA (0-3-0) 0
WHEATLAND-CHILI (3-0-0) 5
Ella Chitaphong and Morgan Parker both netted a pair of goals as Wheatland-Chili won its third straight to start the season. Chitaphong added an assist. Eighth-grade forward Reghan LaMere scored a goal. Freshman midfielder Emily Parker was credited three assists.
NOTRE DAME-BATAVIA (1-2-0) 1
PEMBROKE (2-1-0) 2
For Notre Dame-Batavia, sophomore midfielder Autumn Mathisen scored the team's lone goal in the 51st minute. Rebeka Nickerson recorded seven saves.
PITTSFORD SUTHERLAND (0-0-0)
GREECE ATHENA (0-0-0)
BOYS
GREECE ATHENA (1-0-0) 3
PITTSFORD SUTHERLAND (0-1-0) 2
Brothers Dylan and Gavin Rice figured in on all the offense as Athena downed rival Pittsford Sutherland, 3-2. READ MORE.
BRIGHTON (1-0-0) 3
GATES-CHILI (0-1-0) 0
While holding Gates to one shot on goal, three different Barons found the back of the net to lead Brighton in its season opener. Senior midfielder Francis Bahk registered his squad's first goal of the year 15 minutes into the match. In the second half Adrian Storozynky and Barak Kane each added another 20 minutes apart. Josh Ulloa, Liam McGuire and Daniel Barraclough-Tan dished out an assist apiece. Brighton finished with 18 shots and nine corners. Cal Oberst made one save for the shutout victory.
CANANDAIGUA (0-1-0) 1
GREECE ARCADIA (1-0-0) 2 OT
Aidan Lewandowski converted a penalty kick for the golden goal. Adam Strand connected in the first half for the Titans with an assist from Anthony DiMaggio. Dominick Spychalski scored Canandaigua's lone goal of the night. 

HILTON (1-0-0) 3
RUSH-HENRIETTA (0-1-0) 0
Tied at 0 after the first half, Alec Smith buried two shots and dished out an assist to down Rush-Henrietta by three. Anthony Inglese assisted on both of Smith's tallies. Junior midfielder Cody Cavuoto registered the final goal of the game.
BROCKPORT (0-1-0) 0
PITTSFORD MENDON (1-0-0) 2
Following an uneventful first half, Mendon jumped out with two quick goals to overtake Brockport in their season openers. Nurican Sarbudak opened Vikings' scoring in the 45th minute using an assist from Dom Tabechian. Jeremiah Anandarajah added the insurance tally four minutes later. Milan Blaakman was tasked with four saves in the shutout victory.
VICTOR (0-1-0) 1
FAIRPORT (1-0-0) 2 OT
Tied at one through regulation, Jonathan Mussumeci found the back of the net in the first overtime to spoil Victor's season opener. Jude Rouhana picked up the game-winning assist on the play. Rouhana also opened scoring for Fairport with the help of a feed from Myles Palmer.
NAPLES (3-0-0) 3
HONEOYE (2-1-0) 1
Donivan Todd scored a goal and collected an assist to push Naples past Honeoye. He found Owen Hulbert three minutes before the half to take a 1-0 lead. As Todd's fourth assist of the season, it was his third to Hulbert. Todd found the back of the net early in the second and Austin Chapman followed up with an unassisted tally. Evan Waldies picked up an assist for Naples as well. Jack Reynolds scored Honeoye's only goal with less than two minutes remaining in regulation. Jake Jarosinksi picked up his first assist of the year on the play. Junior keeper Max Ryan made five saves for his third victory of the year.
BATAVIA (1-0-0) 2
EASTRIDGE (0-1-0) 1
Trailing 1-0, Carter Havens connected on a 40-yard free kick to level the match. Alexander Childs scored the game winner nine minutes later. Alex Wood converted a first-half penalty kick to give Eastridge the early lead.
PAL-MAC (1-1-1) 1
WAYNE (3-0-0) 4
Junior midfielder Josh Bolt scored twice and collected an assist to lead Wayne to its third consecutive victory. His first came on a penalty kick 14 minutes into the second half, giving Wayne a 3-0 lead. Kaleb Glessing later connected with Bolt to make it 4-0. Alex Cook opened scoring using Bolt's assist 13 minutes in and Dylan Cook registered his first of the year on a free kick to close out the first half. Zach Mazurkiewicz made one save in the contest and gave up his first goal in three games to start the year.
CHURCHVILLE-CHILI (0-1-0) 2
WEBSTER THOMAS (1-0-0) 3
Zach Wolfe netted the game winner in the 70th minute with an assist from Isaac Buckley. Buckley and Wyatt Dutro connected on first-half tallies to give the Titans a 2-1 lead heading into the break. Taner Goren assisted on Buckley's marker. Caleb Bailey registered both goals for Churchville-Chili using helpers from Gaven Egan. 
WEBSTER SCHROEDER (0-1-0) 0
PENFIELD (1-0-0) 3
Emre Aktas scored twice in Penfield's season opener to down Webster Schroeder. The senior got the Patriots on the board in the second minute and once again in the 70th. After remaining 1-0 for the majority of the game, Shane McMillan doubled the lead 20 minutes after halftime on an assist from Tahj Mounnarat. Cristiano Mounnarat and McMillan collected assists on Aktas' tallies.
CANISTEO-GREEENWOOD (0-3-0) 1
ALFRED-ALMOND (2-0-0) 4
Freshman Jack Emo scored on a penalty kick in each half to lead Alfred-Almond over Canisteo-Greenwood. The midfielder already has three goals to begin his second campaign at the varsity level. Ayden Burdick registered his second of the year on a feed from Dylan Coots to open the half. Captain Carsen Hann closed out the Eagles' scoring in the 58th minute with his first of the year. Canisteo-Greenwood's only tally came in the second-half on a shot from Ayden Burd.
ROCHESTER ACADEMY CHARTER (0-2-0) 0
GREECE ODYSSEY (1-0-0) 7
Greece Odyssey exploded for five goals in the first half of its season opener to down Rochester Academy Charter. Mayken Aguilar Perez tallied twice within three minutes while Josh Hossenlop, Jaden Ercolino, and Cameron Schneider each registered their first goals of the season. By the 25th minute, Odyssey possessed a five-goal lead. Ryan Michelsen and Jason Clohessey finished off scoring in the second half. Gavin Watt, Gabriel Cobo and Alexander Bonin picked up assists. Hossenlopp, Michelsen and Clohessey also dished out a helper apiece for their second points on the night. Omar Ashkar made five saves in the shutout victory.
BELFAST (2-2-0) 0
SCIO (2-1-1) 1
Senior Cam Loucks scored his fourth goal of the season to lead Scio over Belfast at home.