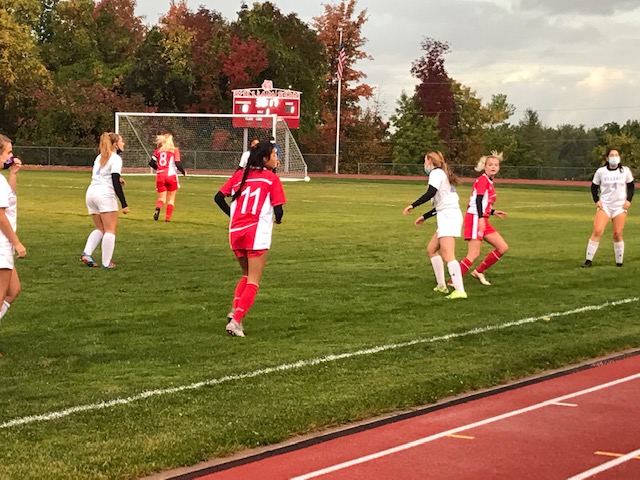 GIRLS
BISHOP KEARNEY/CHESTERTON (0-0-1) 1
WILLIAMSON (0-0-1) 1 (OT)
Kaia Goode scored in the sixth minute to give Bishop Kearney/Chesterton an early lead. The junior forward took a Morgan Williams lead along the left side, cut back just inside the 18-yard box and tucked a a shot under the crossbar for the first goal of the season.
The game stayed that way into halftime before senior co-captain Cadie Newby finished from inside the 6-yard box to level the match in the 46th minute. Shaylyn Miller assisted on the play. READ MORE.
NORTH ROSE-WOLCOTT (0-1-0) 0
GANANDA (1-0-0) 2
Yadleen Gill and Isabella Hoffman both scored a goal apiece in the second half to lead Gananda in its season opener. Gill struck in the opening minute of the half to break the scoreless tie. Hoffman gave the Lady Blue Panthers insurance by finding the back of the net in the 68th minute. Nicole Cruz and Eisele Schachtner were credited assists. Sophomore goalkeeper Lydnsey Valetta made three saves.
SODUS (0-1-0) 0
RED CREEK (1-0-0) 7
Jessica Bolton led the Red Creek attack with three assists and one goal in a season-opening victory. The senior midfielder netted the second of five first-half goals in the 12th minute. Bolton then helped three of her teammates find the back of the net: Mackenzie Ferguson, Abigail Sanzotta and Isabella Wilbur. Keeley McConkey contributed a goal and an assist. The sophomore midfielder scored the Lady Mules' third goal in the 19th minute after assisting Bolton's. Senior midfielder Riley Shaffer ignited the offense with her fourth-minute goal. Mikalah Bliss and Wilbur split time at goalie and combined for five saves.
WHITESVILLE (0-0-0)
HINSDALE (0-0-0)
SCIO (0-0-0)
GENESEE VALLEY (0-0-0)
BOYS
MIDLAKES/RED JACKET (0-0-0)
SODUS (0-0-0)