By PAUL CIFONELLI
Dave Vineyard's 1962 semifinals against the Jacksonville Suns was filled with lots of 1-2-3 innings. However, the Red Wings lost his first start in the 16th inning and needed an extra frame to steal his second start.
Vineyard, who carried a no-hitter into the seventh inning before surrendering a game-tying homer in the ninth earlier in the series, was dominant for most of the game. He got 26 outs in his first 26 batters despite allowing a leadoff hit in the second inning. That runner was wiped off the base paths by a double play. After allowing the hit, Vineyard set down 22 batters in a row.
With just one out left to get a 1-0 shutout win, Vineyard surrendered a 390-foot home run to Duke Sims that knotted the game at one. It was the second time in a week that Vineyard allowed a solo shot in the ninth to allow the game to be tied up.

The Red Wings' offense rebounded in the 10th for a tune of five runs, starting with a solo home run by Pete Ward to kick off the inning. With two outs and two runners on, Ozzie Virgil smacked an RBI single. Ron Kabbes, the next batter, welcomed John Gabler to the game with a three-run homer that broke the game open.
Vineyard went back out for the 10th inning despite signs of fatigue. He allowed two runs on three hits and Alex Castro was summoned into the game to get the final out.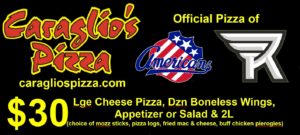 Rochester's victory set up a Game Seven against Jacksonville. The winner of the series advanced to take on the Atlanta Crackers in another best-of-seven series for a chance to win the Shaughnessey Cup.
Rochester hitting
| | | | | |
| --- | --- | --- | --- | --- |
| Player | AB | R | H | BI |
| Bowens CF | 4 | 1 | 2 | 0 |
| Ward 3B | 5 | 1 | 2 | 1 |
| Emery 1B-RF | 4 | 0 | 1 | 0 |
| Easter 1B | 5 | 0 | 2 | 1 |
| Narum PR | 0 | 1 | 0 | 0 |
| Lonnett C | 0 | 0 | 0 | 0 |
| Kravitz C | 4 | 0 | 0 | 0 |
| Durham RF | 0 | 1 | 0 | 0 |
| Valentine LF | 5 | 0 | 1 | 0 |
| Virgil 2B | 5 | 1 | 3 | 1 |
| Kabbes SS | 5 | 1 | 3 | 3 |
| Vineyard P | 5 | 0 | 1 | 0 |
| Castro P | 0 | 0 | 0 | 0 |
Jacksonville hitting
| | | | | |
| --- | --- | --- | --- | --- |
| Player | AB | R | H | BI |
| Davalillo CF | 4 | 0 | 0 | 0 |
| Martinez SS | 4 | 1 | 1 | 0 |
| Barker 1B | 4 | 1 | 1 | 0 |
| Chiti C | 4 | 0 | 1 | 1 |
| Morejon RF | 4 | 0 | 0 | 0 |
| de la Hoz 3B | 4 | 0 | 1 | 1 |
| Alvarez LF | 3 | 0 | 0 | 0 |
| Brown 2B | 4 | 0 | 0 | 0 |
| Taylor P | 2 | 0 | 0 | 0 |
| Sims PH | 1 | 1 | 1 | 1 |
| Donnelly P | 0 | 0 | 0 | 0 |
| Kay P | 0 | 0 | 0 | 0 |
| Gabler P | 0 | 0 | 0 | 0 |
E- Chiti, de la Hoz  PO-A- Rochester 30-11, Jacksonville 30-13  DP- Brown, Martinez, Barker, Virgil, Kabbes, Easter, de la Hoz, Barker  LOB- Rochester 9, Jacksonville 2  HR- Sims, Ward, Kabbes  SB- Bowens
Rochester  1 0 0 0 0 0 0 0 0 5- 6
Jacksonville  0 0 0 0 0 0 0 0 1 2- 3
Rochester pitching
| | | | | | | |
| --- | --- | --- | --- | --- | --- | --- |
| Player | IP | H | R | ER | BB | SO |
| Vineyard W | 9.2 | 5 | 3 | 3 | 0 | 5 |
| Castro | 0.1 | 0 | 0 | 0 | 1 | 0 |
Jacksonville pitching
| | | | | | | |
| --- | --- | --- | --- | --- | --- | --- |
| Player | IP | H | R | ER | BB | SO |
| Taylor | 9 | 11 | 1 | 1 | 0 | 6 |
| Donnelly L | 0.1 | 2 | 2 | 2 | 0 | 1 |
| Kay | 0.1 | 1 | 2 | 2 | 1 | 0 |
| Gabler | 0.1 | 1 | 1 | 1 | 0 | 0 |
HBP- by Taylor (Emery)  Time- 2:38  Attendance- 4,159