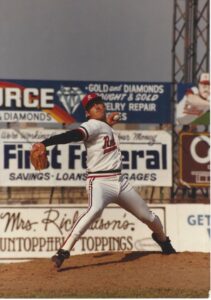 By TOM GARIGEN
Sept. 10, 1986
Rookie Jeff Ballard tossed six effective innings, the bottom of the batting order came up big, and the Rochester Red Wings defeated the Richmond Braves 5-2 to take a 2-1 lead in the best-of-5 Governor's Cup series on this day 34 years ago.
Ballard had joined the Wings from Double-A Charlotte on Aug. 25. Despite the lack of experience at the Triple-A level, the young hurler sparkled in what was his biggest professional start to date.
"I was here in the pennant race, and that didn't work out," said Ballard, who lost two starts down the stretch. "Now we're in the finals. I wanted to do something. I finally got my call."

Ballard allowed two runs on three hits over six innings, walking just one while minimizing a potent Richmond offense. He turned it over in the sixth after allowing a leadoff hit, and Tony Arnold came on to dazzle for three innings to earn the save.
"We felt he'd done what we wanted him to do," Rochester manager John Hart said of Ballard. "He got us into the seventh. We felt it was time to go to Tony."
Arnold gave up a single hit and struck out four over three scoreless innings for the save.
The Red Wing offense was clicking, but struggled to come through with the big hit to break it open. Rochester had 14 hits on the game, but left 11 runners on base.
Despite the output with the bats, it took until the fifth for the Wings to break through on Richmond starter Steve Ziem. Rex Hudler hit a one-out single, stole second, and scored when Tom O'Malley blooped a single the opposite way to left for a 1-0 lead.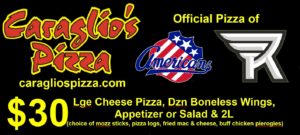 Rochester then added three in the sixth to chase Ziem and take control. Dave Falcone led things off with a single and Donnie Scott added a two-out base hit to put two runners aboard. Kelly Paris then ripped a triple to the left-center field wall to score a pair.
"I was running three-quarter speed. I knew I had a double," Paris said of his game-changing hit. "When I saw it hit the wall, I knew I could get three with it."
Hudler singled to chase home Paris as Rochester led 4-0.
The Wings tacked on an unearned run in the ninth. Ted Wilborn reached on an error, moved to second on a balk, and scored on a base hit by O'Malley.
Scott, Paris, and Hudler, the 7-8-9 hitters in the Rochester lineup, were at the heart of each Red Wing scoring rally. The trio combined to go 7-for-13 with three runs scored and three RBIs to put the team on the precipice of a title.
Falcone finished 3-for-5 with a run scored, and O'Malley had two hits and drove in two.
Red Wings 5, Braves 2
Rochester
AB
R
H
BI
Richmond
AB
R
H
BI

Wilborn dh

5

1

1

0

Tiburco cf

4

0

0

0

O'Mally 3b

5

0

1

2

Runge 2b

4

1

1

1

Gerhart lf

5

0

0

0

Perry lf

4

0

0

0

Falcone 1b

5

1

3

0

Rabb rf

4

1

1

0

Hart cf

4

0

1

0

Heath dh

3

0

0

0

Simmons rf

5

0

0

0

Kommnsk lf

3

0

2

0

Scott c

5

1

2

0

Struchr 1b

2

0

0

0

Paris ss

4

1

2

2

Tumpne 1b

1

0

0

1

Hudler 2b

4

1

3

1

Blauser ss

2

0

0

0

 

Holman ph

1

0

0

0

Rbrtsn ss

0

0

0

0

Yost c

2

0

0

0

Estes ph

1

0

0

0

Owen c

0

0

0

0

Totals

42

5

14

5

 

Totals

31

2

4

2

Rochester
                                              0 0 0    0 1 3   0 0 1  – 5
Richmond
 
 
                                              0 0 0    0 0 1   1 0 0  – 2

GWRBI – O'Malley. E – Eichelberger 2. DP – None LOB – Rochester 11, Richmond 3. 3B – Paris. HR – Runge (2). SB – Hudler, Paris.

Rochester
IP
H
R
ER
BB
SO

Ballard W 1-0

6

3

2

2

1

2

Arnold S 1

3

1

0

0

0

4

Richmond
IP
H
R
ER
BB
SO

Ziem L 1-1

5.2

10

4

4

0

4

Eichlbrgr

2.2

4

1

1

0

1

Hodge

.2

0

0

0

1

2

Ballard pitched to one batter in the seventh. BLK – Eichelberger. T – 2:31. ATT. – 4,652