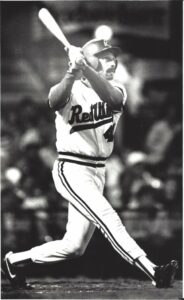 By PAUL CIFONELLI
After a 5-0 win over Indianapolis in the 1988 Triple-A Classic, Rochester was up 2-0 in the series and a win away from securing the title. While that would typically be cause for celebration, it was how the Red Wings won that kept them focused and determined postgame.
Rochester put all five of its runs across in the second inning. Jeff Stone, who exited the game after the sixth inning with hamstring tightness, led off the inning with a single and stolen base. Steve Finley, the next batter, singled him home to open up a 1-0 lead. Wade Rowdon followed that up with a double and Keith Hughes was intentionally walked to load the bases for Ken Landreaux. Landreaux, who was 3-for-15 with seven RBI in the playoffs after this game, pounced on a 2-1 changeup and swatted a grand slam, his second home run of the playoffs. Despite going deep twice in the series, Landreaux knew that he wasn't hitting particularly well in the postseason.

"When you're going well, you don't miss," Landreaux told the Democrat & Chronicle. "When you're going bad, the pitcher makes a bad pitch and you foul it off… You can't predict it."
Landreaux's home run gave Red Wings starter Pete Harnisch some room to work. Harnisch managed to throw his second complete game of the playoffs despite not pitching his best, according to catcher Jerry Narron.
"He didn't have as good stuff tonight as he did in Tidewater," Narron said. "When a pitcher goes out with his best stuff, it should be easy. You see what kind of pitcher you have when you don't have your best stuff."
Harnisch worked himself in and out of trouble, surrendering five hits, five walks and a hit by pitch while also committing an error. His lack of control on the bump compounded any other mistakes he made.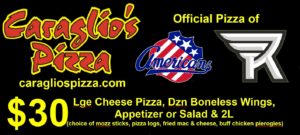 "I get antsy when I'm not throwing consistent strikes and not getting ahead of the hitters," Harnisch said. "It makes me jumpy when I have trouble throwing the ball over the plate."
Indianapolis loaded the bases in the fifth and sixth innings but were unable to push anything across. Harnisch also allowed baserunners in the seventh and eighth innings but nothing came of that either.
With the win, Rochester had just one more home game in the season, with a chance to seal the series at stake.
Indianapolis hitting
| | | | | |
| --- | --- | --- | --- | --- |
| Player | AB | R | H | BI |
| Daugherty 1B | 3 | 0 | 1 | 0 |
| Paredes 2B | 4 | 0 | 0 | 0 |
| Motley LF | 4 | 0 | 0 | 0 |
| Shines DH | 3 | 0 | 0 | 0 |
| Moore RF | 3 | 0 | 1 | 0 |
| Hewlett 3B | 4 | 0 | 0 | 0 |
| Pevey C | 3 | 0 | 1 | 0 |
| Noce SS | 4 | 0 | 1 | 0 |
| Taylor CF | 4 | 0 | 1 | 0 |
Rochester hitting
| | | | | |
| --- | --- | --- | --- | --- |
| Player | AB | R | H | BI |
| Stone LF | 4 | 1 | 2 | 0 |
| Cimo LF | 0 | 0 | 0 | 0 |
| Finley CF | 4 | 1 | 2 | 1 |
| Rowdon SS | 3 | 1 | 1 | 0 |
| Hughes RF | 2 | 1 | 0 | 0 |
| Worthington 3B | 4 | 0 | 1 | 0 |
| Landreaux DH | 3 | 1 | 1 | 4 |
| Narron C | 4 | 0 | 2 | 0 |
| Padget 1B | 4 | 0 | 0 | 0 |
| Salcedo 2B | 4 | 0 | 0 | 0 |
GWRBI- Finley E- Harnisch DP- Indianapolis 1 LOB- Indianapolis 11, Rochester 6 2B- Rowdon, Narron, Worthington HR- Landreaux SB- Stone, Taylor, Paredes
Indianapolis 0 0 0 0 0 0 0 0 0- 0
Rochester 0 0 5 0 0 0 0 0 X- 5
Indianapolis pitching
| | | | | | | |
| --- | --- | --- | --- | --- | --- | --- |
| Player | IP | H | R | ER | BB | SO |
| Fischer L(0-1) | 3 | 6 | 5 | 5 | 2 | 0 |
| Pollack | 2.2 | 3 | 0 | 0 | 1 | 2 |
| Chambers | 2.1 | 0 | 0 | 0 | 1 | 1 |
Rochester pitching
| | | | | | | |
| --- | --- | --- | --- | --- | --- | --- |
| Player | IP | H | R | ER | BB | SO |
| Harnisch W(2-0) | 9 | 5 | 0 | 0 | 5 | 6 |
HBP- Pevey (by Harnisch) Time- 2:32 Attendance- 4,345