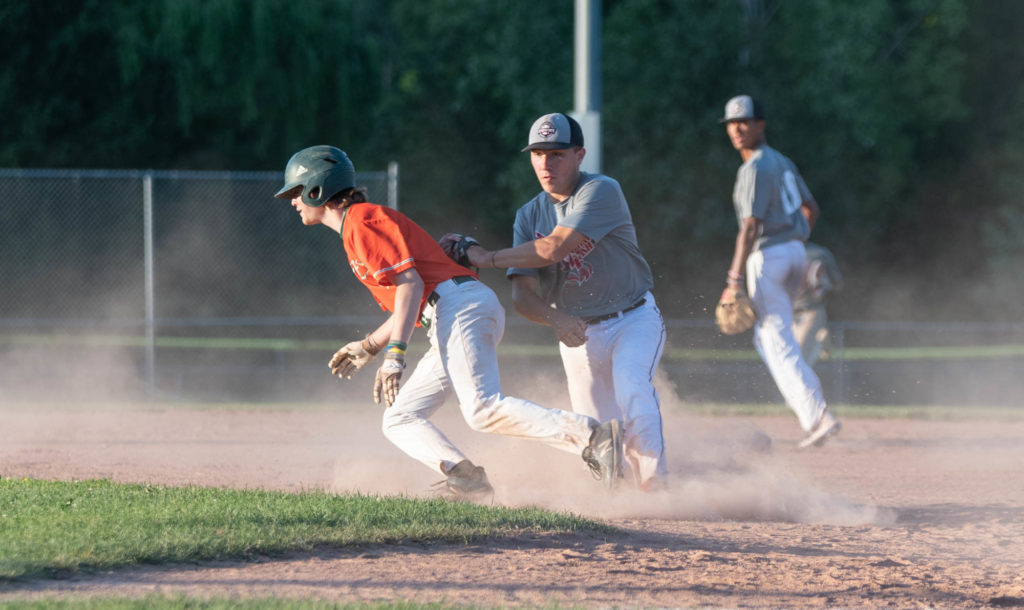 FLYIN FISH 7
DP GREEN 4
Trevor Robinson (Tompkins County Community College) capped off a five-run first inning for the Flyin Fish with a two-RBI single to lead his team past DP Green for the second time this week. Robinson finished the game 2-for-2 with the two RBI.
Sam Werth (Alfred State College) and Zach Harter (Finger Lakes Community College) also collected an RBI apiece in the first, on a sacrifice fly and single, respectively.
In the second inning, Jesus Baez extended the Flyin Fish lead to 7-0 after he singled in a run then scored on a wild pitch.
Gage Ziehl led a comeback attempt for DP Green that started in the third inning by driving in two runs on a single then touching home on a bases loaded walk. Tanner Degrazia tacked on DP Green's final run in the sixth with an RBI single.
VIEW MORE SUE KANE PHOTOS HERE. 
Michael Jamele (Merrimack College) went 2-for-4 with two runs scored and Nate Sanderson's (Hilbert College) double was the Flyin Fish's only extra base hit of the day. Tyrone Woods logged the final three innings for the victors and struck out three batters.
Max Heil was the only player for DP Green to notch two hits in the game, while both Degrazia and Ziehl drew two walks apiece. Camden Chierchella and Braden Consaul combined for four scoreless innings to close out the game for DP Green. Chierchella threw three innings and got the first five batters he faced out and Consaul only allowed a walk in the seventh inning.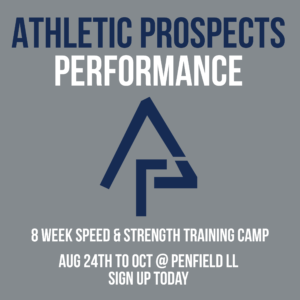 CARDINALS 0
SNOW CATS 9
A.J. Gartland (Alfred State College) ran his string of innings without allowing an earned run to 30 with a complete game, three-hit shutout. The 6-foot-1 lefty retired 16 batters in a row from the second inning to the seventh and recorded four of his six strikeouts during that span. Gartland's season ERA continues to drop, going to 0.20. He improved to 5-0 on the season.
Offensively, the Snow Cats got out to a 4-0 lead in the first inning despite not getting a hit. David Bermudez (Rider University) hit a sacrifice fly, Gil Merod (Ithaca College) and Lachlan Charles (Cornell University) drew bases loaded walks and Buzz Shirley (Ithaca College) was hit by a pitch with the bases juiced.
Shirley lengthened the lead in the third with a two-RBI double and Branden Myers (St. Bonaventure University) closed the scoring with an RBI triple in the fifth inning.

Merod also hit a double in the game for the Snow Cats and James Cronin (St. Lawrence University) and Patrick Blackall (Rochester Institute of Technology) also notched hits in the victory.
Maxwell Yale, Jackson DeJohn (St. Bonaventure University) and Daniel Tirabassi (University of Rochester) recorded all of the Cardinals hits. Jake Wamser (Tompkins County Community College) threw a scoreless seventh, striking out two while surrendering a walk.
| | | | | | | |
| --- | --- | --- | --- | --- | --- | --- |
| ICBL Standings 2020 | | | | | | |
| Rochester East Division | W | L | Pct. | GB | Last 10 | Strk |
| Monarchs | 13 | 7 | .650 | 0 | 6-4 | L2 |
| Blue Jays | 13 | 8 | .619 | 0.5 | 6-4 | W2 |
| DP Orange | 9 | 12 | .429 | 4.5 | 3-7 | L2 |
| Orioles | 8 | 12 | .400 | 5 | 7-3 | W3 |
| | | | | | | |
| Rochester West Division | | | | | | |
| Snow Cats | 18 | 3 | .857 | 0 | 10-0 | W11 |
| Cardinals | 11 | 9 | .550 | 6.5 | 5-5 | L4 |
| Flyin' Fish | 8 | 12 | .400 | 9.5 | 3-7 | W2 |
| DP Green | 1 | 18 | .053 | 16 | 0-10 | L16 |
ICBL Upcoming Schedule
August 15
Blue Jays vs. Diamond Pro Green
Diamond Pro Green vs. Monarchs
Monarchs vs. Snow Cats
Snow Cats vs. Diamond Pro Orange
August 16
Diamond Pro Orange vs. Flyin' Fish
Flyin' Fish vs. Orioles
Orioles vs. Cardinals
Cardinals vs. Blue Jays
END OF REGULAR SEASON