BLUE JAYS (13-8) 11
DP ORANGE (9-12) 2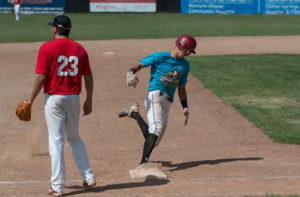 Owen VanNewkirk (Misericordia College) finished 2-for-4 while driving in three runs and scoring another as the Blue Jays won their second straight game too keep pace in the ICBL East. VanNewkirk got the Blue Jays scoring early in the first with a single that scored Jason Story (Utica). Noah Campanelli (St. John Fisher), Trent Wasserman (Niagara CCC) and VanNewkrik all scored on errors to put the Blue Jays up 4-0 after one. The Blue Jays added to the lead with a two-run second inning thanks to a VanNewkirk RBI single and a Campanelli sacrifice fly. The Jays put the finishing touches with a three-spot in the sixth inning. Story scored on a wild pitch and VanNewkirk followed up with an RBI scoring Wasserman. The inning was capped off by Campanelli scoring on a Amaury Samalot (Alfred State) ground ball.
Ryan Smith (Ithaca College) got the ball on the mound for the Blue Jays and threw the first five innings. The right-hander allowed just two earned runs on three hits. Smith struck out two in his work. Hayden Smith (North Eastern) finished the game with two shutout innings. Smith struck out two and retired six of the seven batters he faced. Story and Wasserman both finished the game 2-for-3, Jeff Wilson (Lemoyne) had a base-knock and Tanner Frank (FLCC) went 2-for-2 with two RBI and a run scored.
For DP Orange, Keeghan Cummings (Pittsford Sutherland) and Wilson Brauer (McQuaid) drove in a run apiece. CJ Phelps (McQuaid), Tanner Degrazia (McQuaid), Will Taylor (McQuaid) and Keeler Thomas (McQuaid) all had base hits in the game.
Hayden Smith closes it out with his second scoreless frame. Hayden Smith and Ryan Smith combine to limit DP Orange to 4 hits. Blue Jays come away with an 11-2 victory @interstateCBL pic.twitter.com/Gdel1tgF7u

— Paul Gotham (@PickinSplinters) August 13, 2020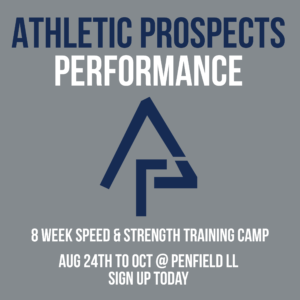 MONARCHS (13-7) 4
ORIOLES (8-12) 9
Sean Flannery (Monroe CC) highlighted a six-run first inning when the Orioles sent ten batters to the plate and went on to win their third straight game. Aiden Wallace (Ithaca College) got the scoring started with an RBI double. Philip Ferranti (Mercyhurst) followed up with a single that drove in a run. Flannery continued the inning with a two-run single. Flannery came around to score on a wild pitch, and Shane Hariris (Brockport State) a passed ball. The Orioles added three insurance runs in the fourth inning. Jack Scanlon (Washington Jefferson) and Wallace both scored on wild pitches and Kenny Murphy (FLCC) came around to score on an error.
Troy Leibert (Niagara CCC) got the start and threw four innings. The right-hander allowed one earned run on three hits while striking out nine. Dylan Boprey (Houghton) and Donnie Moffat (St. Bonaventure) combined to throw the next two shutout innings. Boprey struck out the side and Moffat struck out two in their respective innings. The win was the fourth in five games for the Orioles which crept within a half game of third place DP Orange.
For the Monarchs, Ryan Hill (MCC) and Ray Specht (NCCC) both went 2-for-3 and drove in two runs. Lucas Sulimowicz and Jourdan Plaisted (Elmira) both had base hits.
Phil Ferranti goes the other way to bring home the second run of the inning. @interstateCBL pic.twitter.com/I7uZ35mZq1

— Paul Gotham (@PickinSplinters) August 13, 2020
| | | | | | | |
| --- | --- | --- | --- | --- | --- | --- |
| ICBL Standings 2020 | | | | | | |
| Rochester East Division | W | L | Pct. | GB | Last 10 | Strk |
| Monarchs | 13 | 7 | .650 | 0 | 6-4 | L2 |
| Blue Jays | 13 | 8 | .619 | 0.5 | 6-4 | W2 |
| DP Orange | 9 | 12 | .429 | 4.5 | 3-7 | L2 |
| Orioles | 8 | 12 | .400 | 5 | 7-3 | W3 |
| | | | | | | |
| Rochester West Division | | | | | | |
| Snow Cats | 17 | 3 | .850 | 0 | 10-0 | W10 |
| Cardinals | 11 | 8 | .579 | 5.5 | 6-4 | L3 |
| Flyin' Fish | 7 | 12 | .368 | 9.5 | 3-7 | W1 |
| DP Green | 1 | 17 | .056 | 15 | 0-10 | L15 |
ICBL Upcoming Schedule
August 13
Flyin' Fish vs. Diamond Pro Green
Cardinals vs. Snow Cats
August 15
Blue Jays vs. Diamond Pro Green
Diamond Pro Green vs. Monarchs
Monarchs vs. Snow Cats
Snow Cats vs. Diamond Pro Orange
August 16
Diamond Pro Orange vs. Flyin' Fish
Flyin' Fish vs. Orioles
Orioles vs. Cardinals
Cardinals vs. Blue Jays
END OF REGULAR SEASON