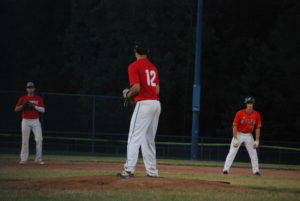 CARDINALS (8-4) 6
FLYIN' FISH (5-7) 4
Joseph Alphonse and Curtis Shultz (Cazenovia College) combined for six innings of two-hit baseball and Santino Rosso (Hofstra University) cracked a three-run triple to lead the Cardinals to their fourth straight win. Alphonse punched out five in his four frames of work. The 5-foot-11 right-hander retired six consecutive batters between the first and third innings.
Shultz struck out two hitters in two innings of one-hit ball. He retired the side in the sixth as well. The Cardinals got on the board in the second inning when Jagger Nucci (St. Bonaventure University) singled home Frank McCabe (Hilbert College). Rosso's triple broke a one-all tie in the fourth. The 5-foot-10 infielder scored on Will Porter's (Rochester Institute of Technology) single two pitches later.
Drew Bailey (Mercyhurst University) knocked in Jackson DeJohn (St. Bonaventure University) in the seventh as an insurance run.
The Flyin' Fish attempted a five-run rally in the seventh inning. Ryan Ballard (Tompkins County Community College) singled in Zach Harter (Finger Lakes Community College) and moved Nate Sanderson (Hilbert College) to second.
Tristian Murray scored Trevor Robinson (Tompkins County Community College) on a groundball to short. Tyrone Woods (Genesee Community College) pitched three innings of one-run ball in relief and allowed just one run on a hit and two walks.

SNOW CATS (10-3) 5
DP GREEN (1-10) 1
A.J. Gartland (Alfred State College) and Rojo Prarie (College of William & Mary) combined for a two-hitter as the Snow Cats defeated Diamond Pro Green for the second time this week. Gartland started on the bump and threw five innings with seven strikeouts. The 6-foot-1 left-hander set down the first eight of the first nine batters he faced and pitched 4.2 scoreless innings before allowing an unearned run in the fifth. With that effort, Gartland ran his consecutive innings without surrendering a run to 17, a stretch consisting of four appearances on the mound. His ERA over 22 innings of work is 0.31.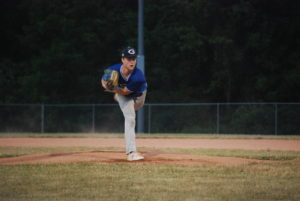 Prarie followed Gartland and finished out the game by striking out five of the seven batters he faced. The 5-foot-11 right-hander walked the first batter of the seventh inning but avoided any other trouble.
The Snow Cats scored four of their five runs in the third inning. Mark Trotta (College of William & Mary) singled home Brandan Myers (St. Bonaventure University) to put the West Division leaders on the board. Patrick Blackall (Rochester Institute of Technology) knocked in Trotta two batters later and Gil Merod's (Ithaca College) single scored both Blackall and Lachlan Charles (Cornell University).
Cam Vozel (Gannon University) plated Nick Franceschi (Cayuga Community College) in the seventh as an insurance run.
Zach Prior scored Diamond Pro Green's lone run on a wild pitch in the fifth inning. Keenan Calenzo and Tanner Degrazia notched the team's only hits of the game. Carter Clark struck out three in two scoreless innings of relief.
AJ Gartland registers his second K of the night. Through 3: Snow Cats 4 DP Green 0 @interstateCBL pic.twitter.com/EsKFcZ4Ao1

— Paul Gotham (@PickinSplinters) July 31, 2020
| | | | | | | |
| --- | --- | --- | --- | --- | --- | --- |
| ICBL Standings 2020 | | | | | | |
| Rochester East Division | W | L | Pct. | GB | Last 10 | Strk |
| Blue Jays | 8 | 4 | .667 | 0 | 6-4 | W3 |
| Monarchs | 7 | 5 | .583 | 1 | 7-3 | L2 |
| DP Orange | 7 | 6 | .538 | .5 | 5-5 | L1 |
| Orioles | 2 | 9 | .182 | 5 | 2-8 | W1 |
| | | | | | | |
| Rochester West Division | | | | | | |
| Snow Cats | 10 | 3 | .769 | 0 | 8-2 | W2 |
| Cardinals | 8 | 4 | .667 | 1.5 | 8-2 | W4 |
| Flyin' Fish | 5 | 7 | .417 | 3.5 | 3-7 | L3 |
| DP Green | 1 | 10 | .091 | 7 | 0-10 | L8 |
ICBL Upcoming schedule
July 31
DP Orange vs. Orioles
Blue Jays vs. Monarchs
August 1
Flyin' Fish vs. Orioles DH
Cardinals vs. Blue Jays DH
August 2
Snow Cats vs. DP Orange DH
DP Green vs. Monarchs DH