SNOW CATS (9-3) 11
DP GREEN (1-9) 2
Patrick Blackall (Rochester Institute of Technology) paced the offense, and the Snow Cats maintained their lead in the ICBL West Division. Trailing 2-0, the Snow Cats tied the game up in the bottom of the second when Lachlan Charles (Cornell University) drove in a run with a sacrifice fly, and Branden Myers (St. Bonaventure University) scored off an error.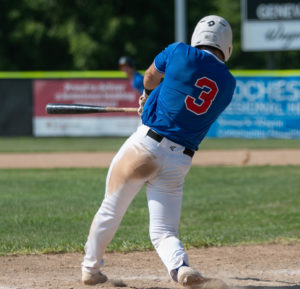 Blackall highlighted a four-run third when the Snow Cats sent nine batters to the plate. David Bermudez (Rider University) scored off a fielder's choice from Buzz Shirley (Ithaca College), and Cam Vozel (Gannon University) drove in Mark Trotta (College of William and Mary). Blackall followed with his first home run of the season, a two-run shot.
Zach Morrison (Finger Lakes Community College) capped a four-run fifth as the Snow Cats put the game away.  Charles and Gil Merod (Ithaca College) drove in a run with a single, Myers scored on a fielder's choice, and Morrison followed with an RBI triple.
Vozel ended the game 3-for-4 with one RBI and two runs scored. Blackall had three RBI on the night. Charles finished with one hit and two RBI. Trotta went 1-for-2 and scored two runs.
Garret Bell (Ithaca College) allowed one hit and struck out four over two and two-third innings of relief to pick up the win. Buzz Shirley (Ithaca) registered the save finishing the last three innings allowing one hit and striking out four. Tanner Degrazia, Keenan Calenzo, James Stanek, and Zach Prior collected a hit apiece for Diamond Pro Green. Degrazia scored on a sacrifice fly in the first inning, and Stanek scored on a wild pitch in the second inning.
Devin Cannon hits a sac fly to right to score 1 for Diamond Pro

Snow Cats coming to bat! pic.twitter.com/2q39qurKMU

— Interstate CBL (@interstateCBL) July 28, 2020

CARDINALS (7-4) 12
FLYIN' FISH (7-4) 3
Drew Delaney (Slippery Rock University) hurled five solid innings of one-run ball as the Cardinals notched their third straight win. The 6-foot-4 right-hander retired ten of the first 12 batters he faced. Delaney struck out three and allowed only one hit as well.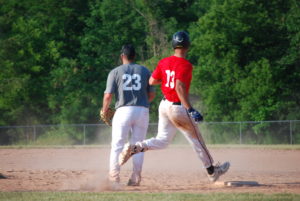 A six-run fifth inning put the game away for the Cardinals. Nicholas Nealon (Niagara County Community College) ignited the scoring with an RBI double. Seth Vigneri (SUNY Cortland) kept the line with a sacrifice fly. Drew Bailey (Mercyhurst University) ripped a double to score one and Joshua Ferris (Finger Lakes Community College) followed up with an RBI single.
Bailey paced the offense with the RBI double and a two-run homer. The 6-foot-3 right fielder crossed the plate three times as well. Matt Kerchemski (Erie Community College) and Will Porter (Rochester Institute of Technology) scored on a passed ball and wild pitch, respectively, for a 5-0 lead in the third inning.
Overall, Porter went 2-of-3 with two runs scored. Nealon and Daniel Tirabassi (University of Rochester) both added a hit and an RBI. Nealon scored a run.
For the Flyin' Fish, Zach Harter (Finger Lakes Community College) and Sam Werth (Alfred State College) both produced a base knock. Harter crossed the plate once. Luke McNamara (Rochester Institute of Technology) collected an RBI. Tyler Griggs (Central Arizona College) and Nate Sanderson (Hilbert College) both scored a run apiece.
Drew Bailey makes it 3-0 with this oppo shot. @interstateCBL pic.twitter.com/CozBB8PFOV

— Paul Gotham (@PickinSplinters) July 29, 2020
| | | | | | | |
| --- | --- | --- | --- | --- | --- | --- |
| ICBL Standings 2020 | | | | | | |
| Rochester East Division | W | L | Pct. | GB | Last 10 | Strk |
| Blue Jays | 8 | 4 | .667 | 0 | 6-4 | W3 |
| Monarchs | 7 | 5 | .583 | 1 | 7-3 | L2 |
| DP Orange | 7 | 6 | .538 | .5 | 5-5 | L1 |
| Orioles | 2 | 9 | .182 | 5 | 2-8 | W1 |
| | | | | | | |
| Rochester West Division | | | | | | |
| Snow Cats | 9 | 3 | .750 | 0 | 7-3 | W1 |
| Cardinals | 7 | 4 | .636 | 1.5 | 7-3 | W3 |
| Flyin' Fish | 5 | 6 | .455 | 3.5 | 4-6 | L2 |
| DP Green | 1 | 9 | .100 | 7 | 1-9 | L7 |
ICBL Upcoming Schedule
July 29
Blue Jays at Monarchs
Diamond Pro Orange at Orioles
July 30
Flyin' Fish at Cardinals
Diamond Pro Green at Snow Cats
August 1
Flyin' Fish vs. Orioles DH
Cardinals vs. Blue Jays DH
August 2
Snow Cats vs. Diamond Pro Orange DH
Diamond Pro Green vs. Monarchs DH