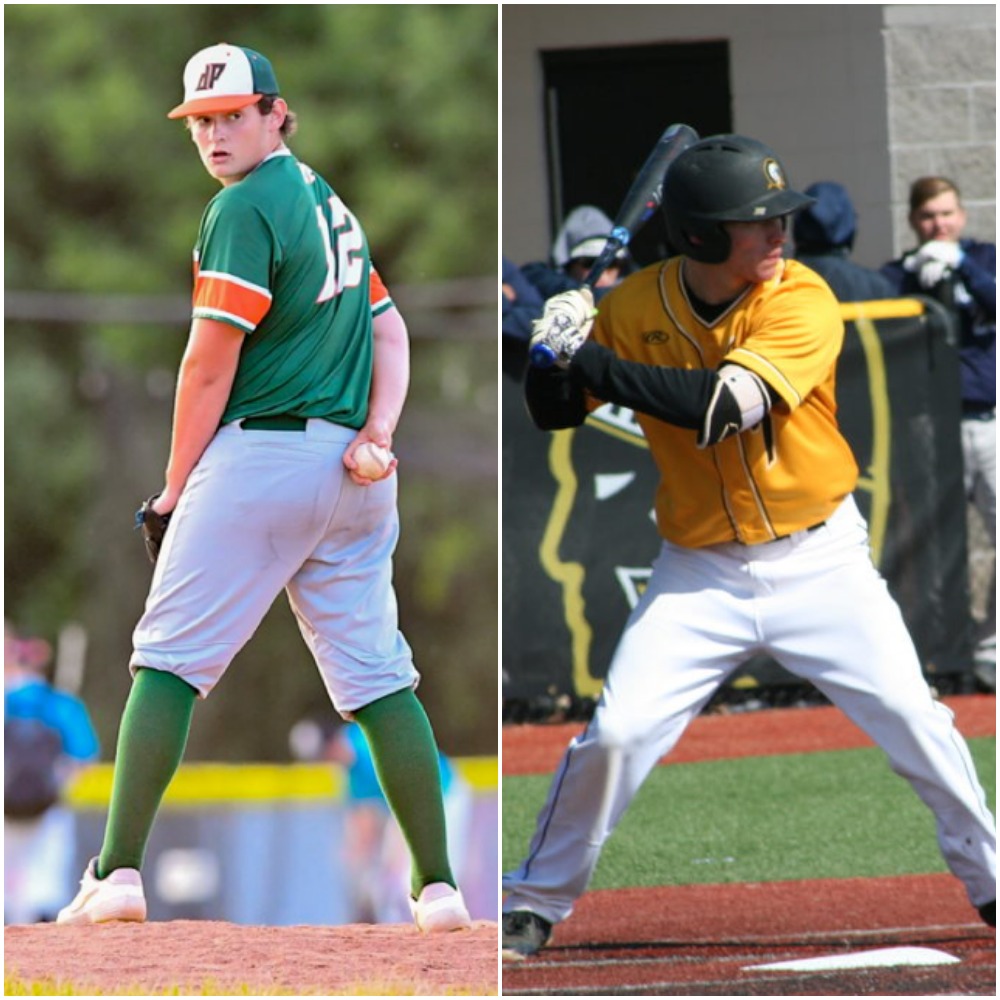 By JOHN LIKANJE
Braden Consaul (Diamond Pro Green) and Sean Flannery (Monroe Community College) earned Interstate Collegiate Baseball League (ICBL) Pitcher and Player of the Week, respectively, for July 20-26. Consaul hurled seven scoreless innings over two appearances. Flannery compiled six hits in four games over the week.
PLAYER OF THE WEEK (7/20-7/26) Rochester East Division
Sean Flannery, Orioles/Monroe Community College
INF Wayne Central High
Flannery collected six hits in 11 at-bats (.546 batting average), including two doubles and a triple, over four games. The 5-foot-11 infielder drove in six runs as well. Last Monday against the Monarchs, Flannery doubled, tripled and plated a run. He followed up with three singles, three RBI, a stolen base and a walk on Wednesday.
Honorable Mentions
Phil Ferranti, Orioles/Mercyhurst 6-foot-1 Jr. Catcher 6-of-13 (.462/.553/.538); Aiden Stewart, Diamond Pro Orange 6-of-12 (.500/.571/.917); Mark Trotta, Snow Cats/College of William and Mary 6-foot-1 Fr. INF 7-of-11 (.636/.667/.727).

PITCHER OF THE WEEK (7/20-7/26) Rochester West Division
Braden Consaul, Diamond Pro Canes Green
Consaul combined for 15 strikeouts and two hits allowed over seven scoreless innings in two appearances. Last Monday, he fanned 12 batters in five frames of a 4-0 victory over the Blue Jays. After surrendering a two-out walk in the opening inning, Consaul retired 10 consecutive hitters, including five straight via strikeout. He threw first-pitch strikes to 10 of 19 batters faced as well. Consaul followed up with three strikeouts and one hit allowed over two frames of relief Saturday against the Blue Jays. After giving up a one-out double in the fifth, the right-hander retired five straight batters.
Honorable Mentions
Rojo Prarie, Snow Cats/College of William and Mary 5-foot-11 So. RHP 2 G, 5 1/3 IP, 1 R, 8 K; Will Taylor, Diamond Pro Orange 2 G, 6 2/3 IP, 1 R, 13 K, 1 SV
ICBL Standings 2020
Rochester East Division
W
L
Pct.
GB
Last 10
Strk
Blue Jays
7
4
.636
0
6-4
W2
Monarchs
7
4
.636
0
7-3
L1
DP Orange
7
5
.583
.5
5-5
W1
Orioles
1
9
.100
5
1-9
L5
Rochester West Division
Snow Cats
8
3
.727
0
7-3
W1
Cardinals
6
4
.600
1.5
6-4
W2
Flyin' Fish
5
5
.500
2.5
5-5
L1
DP Green
1
8
.111
6
1-8
L6
ICBL Upcoming Schedule
July 27
Orioles at DP Orange
Monarchs at Blue Jays
July 28
Snow Cats at DP Green
Cardinals at Flyin' Fish
July 29
Blue Jays at Monarchs
DP Orange at Orioles
July 30
Flyin' Fish at Cardinals
DP Green at Snow Cats
August 1
Flyin' Fish vs. Orioles DH
Cardinals vs. Blue Jays DH
August 2
Snow Cats vs. DP Orange DH
DP Green vs. Monarchs DH